Kyoto was the capital of Japan located in the center of Kansai region and the emperor's home from 794 until 1868. As of now, Kyoto is the ninth largest city in Japan with a population of around 1.5 million people. Kyoto is one of the few places where Japanese traditional architecture remains in abundance. In English, Kyoto is an anagram of Tokyo but in Japanese Kanji, where Kyoto is written as 京都 and Tokyo is written as 東京, it is not. Translating 京都 and 東京 would be 'Kyouto' and 'Toukyou' respectively.
Interesting Facts About Kyoto Japan
The Kyoto Protocol
The Kyoto protocol was finalized at Kyoto, Japan in 1997 and went into force in 2005. The Kyoto protocol is an agreement where industrialized nations pledged to lower their yearly emissions of the six greenhouse gasses- carbon dioxide, methane, nitrous oxide, sulfur hexafluoride, HFCs, and PFCs, by 5.2% compared to 1990.
The protocol didn't become international law until more than halfway through the 1990–2012 period. Global emissions had risen substantially by that point. Some countries and regions, including the European Union, achieved or exceeded their Kyoto goals by 2011 but other large nations failed. The two biggest emitters of all are the United States and China, which produced more than enough extra greenhouse gas to erase all the reductions made by other countries during the protocol period. According to the Netherlands Environmental Assessment Agency, emissions worldwide soared by nearly 40% from 1990 to 2009.
The Historical Kyoto Imperial Palace
The Kyoto Imperial palace is the Japan's Emperor's former ruling palace. The preservation of the Kyoto Imperial Palace was ordered in 1877 after the Emperors transferred at the Tokyo Imperial Palace in 1869. Nowadays, the grounds are open to the public and public tours in Kyoto Imperial Palace are hosted by the Imperial Household Agency every day.
The Kyoto Imperial Palace is considered as one of the Kyoto best historical attraction that is located in Kyoto-gyoen, a huge rectangular enclosure 1,300 meters by 700 meters, which also contains the Sento Imperial Palace gardens. Kyoto-gyoen dates from the early Edo period when the court nobles gathered and lived within the area. At the point when the capital of Japan becomes Tokyo, the residences of the court nobles were demolished and most of the Kyoto-gyoen is now parks that are open to the public.
Like many of the oldest and most important infrastructures in Japan, the Kyoto Imperial Palace was also destroyed by fire and rebuilt many times over the course of its history. It has been destroyed and reconstructed eight times. The currently standing was completed in 1855 and patterned from the original style of Dairi or Heian Palace, the original imperial palace of Kyoto.
Monthly Kyoto Weather
People can visit Kyoto at any time of the year because the weather is temperate, but the best times to visit Kyoto are during fall, usually October and November, and spring, usually March, April, and May. Winter season in Kyoto is every December, January, and February while the summer season is every June, July, and August. The rainy season starts from mid-June to late July; however, it doesn't rain every day so people can still travel.
Every January, Kyoto tends to be clear and cold. It rains or snows a couple of times amid the month. From December 29 to January 3, most establishments are closed because of the Shogatsu or New Year's holiday. Things are quiet and uncrowded for the rest of the month so this is a good time to visit. February is still part of the winter season, so it might rain or snow from time to time during this month. February is also a good time to visit Kyoto because if you do not like crowds. On March, Kyoto warms up nicely. Be prepared for anything because it might be cold, cool or warm during this month. The plums blossom in mid-March and the cherries usually start to bloom in late March, making this month a great time to visit. The last week of March tends to be busy with domestic tourists but most of the month, Kyoto is uncrowded. The first 10 days of April are the greatest time for sightseeing and expect the city to be packed. On the first week of April, the cherries usually reach their peak. The weather tends to be warm during this month but prepared for the odd cold day and cold evenings. The second half of April tends to be uncrowded and lovely. May is apparently the most wonderful month in Kyoto. It is warm, has many clear days, lots of flowers blossoms and the new green of spring is stunning. Best thing is it is not particularly crowded.
Another good month to visit Kyoto is June. It is generally warm yet not hot. There are numerous sunny days, but toward the end of the month, the rainy season begins. Nevertheless, it does not normally rain every day and take note that afternoon showers are common during the rainy season. Even July is part of the rainy season; Kyoto is usually hot and humid with frequent rains. It is still possible to travel in Kyoto during this month and it is not crowded. The rainy season ends toward the end of July and then the weather in Kyoto becomes sunny, hot and humid. If you are prepared for the heat, August can be a good time to travel because it is generally very hot, humid and sunny. Kyoto is not crowded during this month and there are lots of things going on. September is a month that is usually sunny, hot and humid at the beginning of the month but moderating to sunny and warm at the end of it. September is an excellent month to travel in Kyoto because this month is a low season for tourism and hotels can be bargained. During September, the traditional bull fighting or what they call bull sumo is one of the festivals people are excited to see. The best weather in Kyoto for some is in the month of October. Kyoto has sunny and warm days with cool evenings during this month, making people's travel very comfortable. At the end of October, the leaves start to change color. The weather in Kyoto is usually warm or cool and sunny skies predominate during the month of November. Kyoto's famous fall foliage is lovely during the mid to late of this month. The skies are often clear during December even the winter sets on this month. The temps differ from cool to cold in the day with cold temps in the evening. This is a good time to visit if you don't like the crowd, but remember that some businesses are closed from December 20 until January 3.
Exploring Kyoto
Types of Kyoto Sushi
Sushi is probably one of the first food comes to one's mind when thinking of Japanese food. Sushi roll can now be found everywhere throughout the world; however, the best sushi is still found in Japan. What most people do not know about sushi is its various regional styles such as the Kyoto-style sushi.
In the past, it is hard to acquire fresh fish because Kyoto is located in inland Japan so people only used cured fish or fish that did not spoil too rapidly. The Kyoto-style sushis are Saba Sushi, Hamo Sushi, and Temari Sushi. Saba Sushi is composed of cured mackerel and sushi rice formed in an oval pole and wrapped in kelp. Hamo Sushi is composed of grilled pike conger and rice formed in an oval pole. Both Saba and Hamo Sushi are cut in individual pieces. Lastly, the Temari Sushi is composed of cooked and cured ingredients with simmered vegetables that are formed into balls. One restaurant that serves Kyoto sushi is Izuu, which has dishes considered as the finest by some Japanese chefs, locals, and visitors.
The Kyoto Station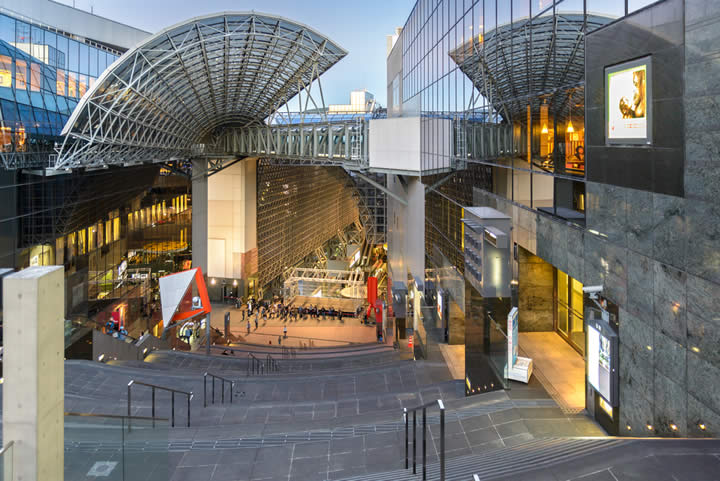 The Shinkansen or the bullet train, the Haruka airport express train and several other train lines operate in Kyoto Station, so arriving and departing from here is easy. The main activities in Kyoto station are shopping and visiting vast temples that are close or walking distance from the station. Some of the temples near the station are the Higashi-Hongan-ji Temple, Nishi-Hongan-ji Temple, and the To-ju Temple. The Kyoto station includes the Granvia Hotel that comprises of a department store, theater, exhibition space, a museum and numerous shops and restaurants. The Sky Garden on the 15th floor gives incredible views of the city. One famous attraction in this station is the Kyoto tower, which is illuminated at night and located directly outside the Kyoto station. There are English-, Korean-, and Chinese-speaking staffs at the Kyoto Tourist Office located on the second floor of the station that can provide tips and guides on your tour around Kyoto. In addition, there are numerous economy hotels and cheap guesthouses around Kyoto station, making this area a good base for any visit to the city.
Recommended Kyoto Gardens to Visit
Kyoto is famous and packed with Japanese gardens, which is a must part of Japan itinerary for most. Gardens are often part of temples or imperial retreats and spread around Kyoto. Most gardens are crowded on afternoons, especially on weekends. Bike rental is offered on most gardens to get around easily.
One of the recommended gorgeous places to visit in Kyoto is Ninna-ji. It is founded in 886 as an imperial villa and later converted into a Buddhist temple. Ninna-ji features several impressive buildings and huge separated gardens. It is accessible from Kyoto station and from Keihan Sanjo station. The garden is open year round from 9:00 to 16:30. The entrance fee is free for the temple grounds and 500 Yen for the garden entrance.
Another famous destination is the Ryoan-ji. The garden usually gets packed but is still impressive and a must-visit. The surrounding park is less crowded and great to walk around on sunny days. You can go to Ryoan-ji from Kinkaku-ji by walking, which will take about 30 mins or you can take a bus from Kinkaku-ji from Keihan Sanjo Station. The garden is open from 8:00 to 17:00 daily and has 500 Yen entrance fee.
Another recommended garden in Kyoto is Nanzen-in. This garden is much less famous but is still very worthwhile garden to visit. The garden is located at the foot of a mountain and revolving around a pond. Nanzen-in is part of the large Nanzen-ji temple complex. It is accessible from Kyoto station with bus 5. The garden is open 8:40 to 17:00 (Mar-Nov) or 8:40-16:40 (Dec-Feb) daily and has aentrance fee of 300 Yen.
You might also want to consider visiting the Tenryuji Temple in Arashiyama, Kyoto. This temple is at the foot of mountains and features teahouses and expansive gardens.
Traveling from Kyoto to Osaka
There are buses that can take people from Kyoto to Osaka but it cannot compete in terms of time, comfort and cost against the rail. There are several options when using rail and it will depend on the person's location in Kyoto and destination in Osaka. You will need to decide which station is most convenient for you because Osaka is a huge city with many stations.
One way to travel from Kyoto to Osaka is by using the Shinkansen, also called the bullet train, from the Kyoto station to Shin-Osaka station. This option takes 12 minutes and the ticket costs 1420 Yen. Another way of going to Osaka from Kyoto is by taking the Special Rapid service on the JR Kyoto Line at Kyoto Station, which will take 28 minutes' travel time for a price of 560 yen. Another option is by using the Keihan Main line, which can bring you to Yodoyabashi Station in Osaka from Sanjo Station in central Kyoto in 55 minutes for 410 Yen. If you are traveling from central Kyoto, another option for you is to use the Hankyu Line's Limited Express train. This will take you to Umeda Station in Osaka from Kawaramachi or Karasuma Stations in Kyoto in only less than an hour travel, around 40 minutes, for 400 Yen.
Where to Stay in Kyoto Japan
Kyoto is loaded with wonderful hotels and ryokans, the traditional Japanese inns. Some of it will give you the taste of the seasonal Kyoto cuisine, some have onsen hot springs and much more. The city has more than 50 million people visiting yearly and most of them choose to stay in ryokan because it can give a full experience of Kyoto's traditional culture.
One of the best Ryokan in Kyoto is Tawaraya, which is the best ryokan in Japan for some because it gives the finest accommodation in the world. Another recommended ryokan is the Hiigragiya, which is home to foreign guests most of the time. If you are looking for a mid-range ryokan, you might want to consider the Hirashin Ryokan, which is located in the middle of Kyoto and is very close to shopping, transport, and nightlife. Also, try checking Nishiyama Ryokan and Ryokan Izuyasu, which can be your home during your trip to Kyoto without breaking the bank. Some offer tour guides if you are their guest that will fetch you from your room and accompany you to your wanted destinations.
Even you stay in a hotel or ryokan while you are in Kyoto, make sure to write the address of it and bring it wherever you go. Also, write a list of your wanted destinations and bring a map that will serve as a guide on your trip. Write a review of your stay in Kyoto for some other tourists considering Kyoto as next destination.