The Humble Beginning of the Japanese Ramen
When asked the question "What is your favorite cuisine?", it almost comes to no surprise that the answer "Japanese" pops out quite often. This is because the Japanese culture, along with their traditional cuisine simply just stands out among others. Who would have thought that raw uncooked fish would be delicious? The answer to that question is the Japanese. While the sushi is undoubtedly the most popular Japanese dish, a runner-up that does not fall far behind is the ramen. In the past years, Japanese ramen has made its way into the heart of many people, not just in Japan, but also all over the world.
One of the amazing things about Japanese ramen is that it is not Japanese at all. After all, much of what the ramen is now should be credited to the developments made by the Chinese. The noodle, which is half of the ramen, was invented by the Chinese way back in the prehistoric area. In the period of 300 to 400 B.C., the Chinese created broth as noodle accompaniments made from soybeans called the "hishio, and later on the "miso". Some three hundred years after its first development, the hishio and miso found its way to Japan and paved the way for the development of the noodles. Originally, the immigrated noodles were regarded as Chinese style noodles, earning the name "Shina soba" or "Chinese noodles". It was only in the 1900s when the official term "ramen" was coined. Ramen directly translates to hand pulled noodles. The popularity of Chinese food in Japan allowed ramen to earn more popularity starting from the 1920s – and from then on, ramen became more and more Japanese rather than Chinese.
How Healthy is Ramen? Ramen for the Health Conscious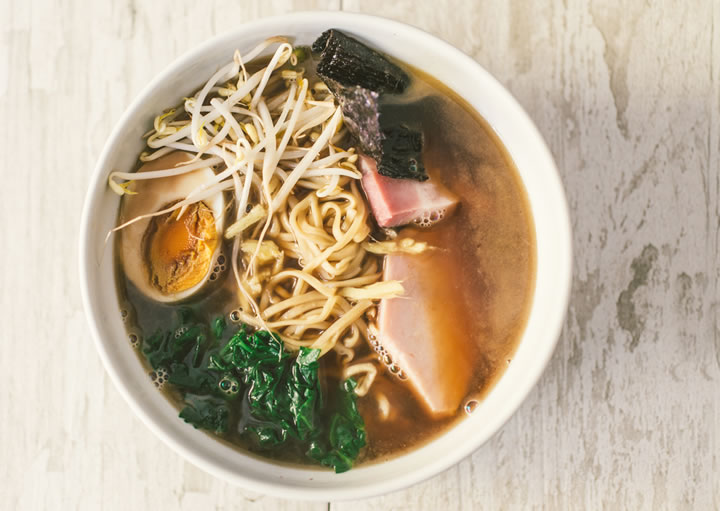 With the popularity of ramen around the world, it is not surprising to hear people ask about its health content. It is quite a mystery how bad or good they are exactly to one's health. For one, it is not advisable to eat instant ramen on very frequent occasions. It is quite alarming how popular instant ramen noodles have gotten in the past few years, especially with the rise of the millennial. College students stock them up in their dorm rooms, single young adults living far from home enjoy a cup of instant ramen for dinner. The combination of preservatives, high sodium content, as well as fat and calorie percentage, make instant ramen noodles a terrible option.
A healthier route for someone craving to eat ramen is to go for the real deal. Of course, it is still quite unhealthy due to some ingredients. Case in point, the presence of back fat and pork bone broth in the tonkotsu style ramen is not exactly healthy. However, eating ramen in a restaurant would give one the power to choose and customize his/her meal. For example, Ramen Nagi, a popular Japanese ramen chain all over the world would allow you to customize your ramen bowl to your heart's desire. One may opt for a less rich taste to reduce the salt content, choose pork shoulder instead of pork belly, add extra vegetables (at an extra cost, of course), and the like. That is a less sinful way to eat ramen. The miso ramen is a great option for those who are into healthier eating since it combines mostly vegetables and miso flavoring. The use of soy sauce to make broth can easily be reduced to make the ramen healthier and more vegetables such as kale, carrots, and ginger can be added since vegetables mix well with miso ramen. Though not as rich in flavor as pork, chicken may also be used as a substitute for fewer calories.
Shio vs Shoyu Ramen: How Different Are They? (And Other Ramen Flavors)
Two popular ramen flavors in Japan are the shio and the shoyu. Upon hearing these names, it is easy to confuse one with the other. In order to differentiate the two, one must take note that the difference lies in the broth base. The shoyu ramen is made primarily from shoyu (meaning soy sauce), which happens to be the origin of its name.The taste profile of shoyu can easily match chicken, beef, and even fish to create a medley of savory flavor coming from the meat, mixed in with the saltiness of the soy sauce. Traditional shoyu ramen does not make use of pork bones to add flavoring, but pork or beef slices can be used to complement the thin brown broth. In Japan, restaurant chefs do not just use pre-made soy sauce but opt to make homemade soy sauce instead so they can personalize it based on their own cooking style and taste profile.
On the other hand, shio ramen does not make use of soy sauce for its base. Instead, it uses salt. Like the shio ramen, shoyu when translated in Japanese means, "salt." Unlike the shoyu ramen, shio broth is clear and soup like, with a very thin consistency. In a way, it is quite similar to the tonkotsu since pork bones may also be used as a flavoring. However, they are not left in the broth long enough to form the thick consistency present in tonkotsu ramen, rather it results in a light flavor that goes well with a variety of off toppings, such as plums, chicken balls, or fish balls. The flavoring of this ramen may be too salty for some, due to the copious amounts of salt used, but it surprisingly has the least calorie content due to the light base.
The last two variants of ramen are miso and tonkotsu. While they did not become popular in Japan until the latter part of the 1900s, they are undoubtedly the more popular variants of ramen at present – not just in Japan, but worldwide. Famous ramen chains would usually carry both the miso and tonkotsu variant, however, some ramen chains opt to specialize in tonkotsu ramen alone. The next part of this article will not just describe the miso ramen and tonkotsu ramen in detail, but also provide instructions on how to cook two famous regional ramen variants – Sapporo and Hakata.
How to Enjoy Sapporo Style Ramen and Hakata Style Ramen at Home
In Japan, almost all areas have their own unique take on ramen. One of the popular iterations of the ramen is the Sapporo style ramen. Tracing its roots back from the 1950's and named after its place of origin – Sapporo in Hokkaido prefecture. Its simple miso base complements the vegetable toppings to make a medley of delicious broth. For those who want to try their hand at making homemade ramen, the miso is a great way to start since the ingredients are easy to find, and the process is fairly simple.
The first step in creating your own Sapporo ramen at home is to cook ramen noodles in boiling water – the whole process should not take more than five minutes. The second step is to create the broth. There are two key ingredients: miso and dashi. Of course, the miso paste is the star ingredient of the ramen, while dashi (a powdered form of fish stock), is mixed in to create the rich miso taste. Both the miso and the dashi are mixed in boiling water with soy sauce for a couple of minutes. The proportion of the ingredients can depend on one's own preference; some may opt to add a few more teaspoons of miso paste while boiling. Once the broth is ready, the last step would be to mix in the noodles along with the vegetable toppings. The vegetable toppings usually consist of bamboo shoots, corn kernels, spinach, beans, and chopped green onions. Hard boiled eggs are also a popular addition to the miso ramen, along with some chili oil for those who are not afraid of a little spice. Once this is all done, all that's left is to enjoy delicious Sapporo style miso-based ramen.
A less healthy, but undoubtedly delicious variant of traditional Japanese ramen is the Hakata ramen. Hailing from Hakata in Fukuoka, the Hakata ramen is basically noodles in a thick broth made from tonkotsu (pork bone). Unlike Sapporo ramen, preparing the noodles and the broth makes the Hakata ramen a tad bit more complicated. The recipe does not begin with cooking the noodles, because the broth, chasu, and tamago take at least a day to prepare. To begin making the broth, it would require cooking the chopped pieces of pork bones in a bowl of water. To complement the pork broth, some vegetables are added. Some onions, garlic, and ginger are added to the broth soup; however, it is important to note that the vegetables must be skillet-fried beforehand unless they will be too soggy. Before leaving the broth to slowly boil for another half a day, leeks, scallions, mushrooms and pork fat are added to the pot. The addition of pork fat, though some might find it horrifyingly unhealthy, adds up to the delicious juiciness of the tonkotsu broth. Another element of the Sapporo style ramen is the chashu, which is made from roasted pork shoulders. For homemade ramen, usually, store bought roast pork would do the trick. However, to get the authentic and rich chashu taste similar to that in authentic Japanese restaurants, pork loin and belly are marinated for at least six hours in soy sauce before it is oven roasted. Tied with a string, the pork is rolled and cooked inside the oven for around three hours. Once the broth and chashu are ready, the noodles can now be cooked.
The two elements of Hakata ramen that are on the easier side to make are the noodles and the soft-boiled egg (called tamago). The noodles are cooked until soft and tender in boiling water. While the noodles are cooking, it is time to burn crushed garlic in cooking oil. Some may opt to use olive oil as a healthier alternative, but vegetable oil is acceptable enough. Burning garlic might be an odd step in the process, but it is necessary to create the "mayu", which is a type of condiment that is added to the tonkotsu ramen. Only Japanese ingenuity could make burnt garlic oil delicious. Once it is done cooking, the water is strained from the noodles and the broth is added along with the chasu, tamago, and mayu. It is quite a long overwhelming process, and definitely not for those with a little patience, but the outcome is delicious homemade ramen that is sure to satisfy the strongest of cravings.
I'm in Tokyo! What is the Best Ramen Restaurant Near Me?
Tourists traveling to Japan would most likely go to Tokyo to experience the many things that it has to offer. Being a modern city, it is filled with big skyscrapers, busy streets and a lot of tourist attractions. One simply cannot go to Japan without going to Tokyo, and one simply cannot go to Tokyo without experiencing its local ramen. But what exactly are the options for tourists who want to eat ramen in Tokyo? For one, one of the more popular ramen joints in Tokyo is Ramen Jiro. Forty years ago, Yamada Takumi initially created a ramen shop aiming to fill the stomach of hungry university students of the nearby university. However, as it's popularity rose, branches sprawled all over the city, and their own ramen has been coined "Ramen Jiro" like it is an official ramen variety. A word of caution for those who want to visit Ramen Jiro though, it is notorious for having long queuing lines. Despite long lines, it continues to receive rave reviews from customers as it offers delicious ramen.
For those who want to enjoy the old-school ramen shop experience, Harukiya in Tokyo offers a special chicken and soy sauce based ramen fondly called as "Tokyo ramen". The whole experience itself can be quite memorable since the restaurant can only accommodate eight people at once, allowing customers to quickly consume their ramen; quickly slurping it down to fill the stomach.
By now, almost every continent in the world has an Ippudo branch, and that is because they offer delicious and tasty ramen. While Ippudo is easily accessible for people with branches in their home country, it is still a different experience to eat where it all started, which is in Japan. Technically, Ippudo started in Fukuoka, however since not everyone would be able to visit Fukuoka, a good option would be to eat at one of Ippudo's Tokyo branches.
A Quirky Way to Enjoy Ramen: Ramen Museum in Yokohama & Momofuku Ando Instant Ramen Museum in Osaka
While in Tokyo, eating ramen is a definite must. However, those who want to experience and immerse themselves in ramen (figuratively, of course), may opt to visit a couple of ramen museums in Japan. It is a great bonding experience for both friends and family alike, and there is nothing quite like the ramen museums compared any museums in the world. Though the ramen is not as traditional as the sushi, the Japanese' love for ramen can only be professed by creating museums dedicated to its existence. In Yokohama lies the most popular ramen museum in Japan called the Shin-Yokohama Ramen Museum. Unlike traditional museums, the main spectacle in Yokohama's Ramen Museum is the food court that was designed to look like on of Japan's many food alleys at night. Here, tourists can eat a variety of ramen served at different concessionaires, as well as buy souvenir items that are ramen-themed. The dedicated eating area is spacious, allowing a large number of people to enjoy their ramen, eat in the company of loved ones, and snap a photo of two to immortalize the trip. A popular souvenir in the museum is a customized ramen cup that was made based on the customer's preference.
Named after Momofuku Ando, the founder of the massive cup noodle empire now known as Nissin, it comes to no surprise that the museum located in Osaka focuses solely on what he (Momofuku Ando) has built his fortune with: instant cup noodles. The point of the Momofuku Ando Instant Ramen museum is to allow tourists from all over the world to experience and learn about instant ramen, from its history and how the instant ramen noodles rose to fame, instructions on how to prepare instant ramen, and a chance to create a customized cup of noodles as their Noodle Factory. Nothing beats coming home with a cup of Nissin specially made to one's own liking. The best thing of all is that admission to Momofuku Ando is completely free for children and teens, while those in collegiate level and above are only required to pay 500 yen.