The Gracery Hotel and the Sunroute Plaza: Long Term Hotels with Cheap Hotel Rates in Tokyo, Hokkaido, and many more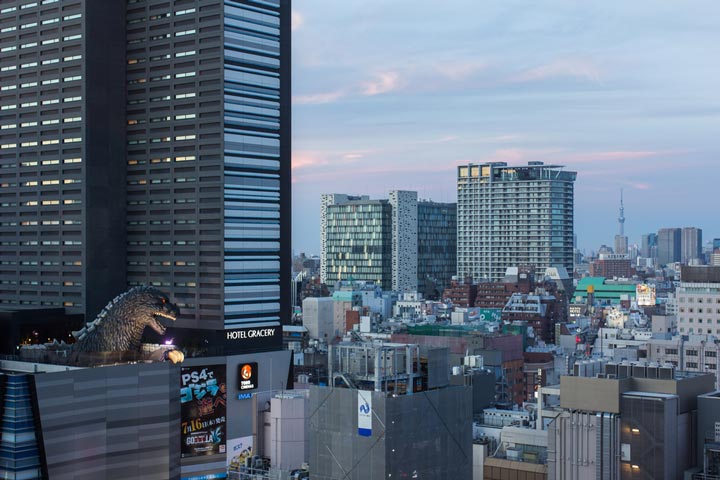 Tokyo is the capital of Japan and it is also one of the most famous cities to visit in this country. This is because of the diversity in the attractions to be found in this city. As it is a fact that this city gets a lot of attention from tourists, a commonly asked question is where to stay in this city. Luckily, that is not a problem at all because the accommodations in this city are as plenty as it is diverse. Let's jump right into it by talking about a few of the hotels that can be found in Tokyo.
The Gracery Shinjuku will definitely be a place you would want to check out if looking for a hotel to stay in. This place has 14 restaurants in it so food choices will definitely not be a problem. Along with the incredible amount of restaurants here, this hotel has an excellent location. It is in Kabukicho and it is also 23 minutes away (via walking) from the Meiji Jingu Shrine, 14 minutes away from the Tokyo Metropolitan Government Building, 17 minutes away from the Shinjuku Gyoen National Garden, 33 minutes away from the Yoyogi Park, and 41 minutes away from the Yasukuni Shrine. Reviews about this place indicate that its location is really what gives the Gracery its edge. A room in this hotel would cost at least $109 a night which is a pretty good price if you account all the benefits you get from staying here.
Luckily, if you happen to be looking for a place to stay in Sapporo Hokkaido, there is another branch of the Gracery Hotel there that has received a great amount of good reviews too! It's found in 1 Kita 4 Jo Nishi 4-chome, Chuo-ku, Sapporo and much like Gracery Shinjuku, their hotel here is located near the main JR station which is also pretty much in the middle of the shopping district in Sapporo. Talk about hitting two birds with one stone! The price for their branch in Sapporo costs a bit more being priced at around $150 a night.
The brand of Gracery really has made a name throughout Japan because aside from the previously mentioned branches of the Gracery hotels that the people liked a lot, there is another that is worth mentioning while on the topic of Gracery hotels. This branch is found in Naha, Okinawa. From the looks of how their hotels are placed, it is apparent that they see location as key and it truly is. this Gracery Naha is close to practically everything a tourist would want to be close to in Okinawa. It's walking distance from the main shopping streets, many great bars and restaurants, and the metro station. A night over in this establishment is around $127 and it really is a deal considering all mentioned above as well as they very clean rooms.
If it's not for your liking, worry not. Travelers usually have no probably picking one out of the many locations in Tokyo. Another hotel to look into would be the Sunroute Plaza Shinjuku. The restaurant in this place is rated as above average and its prices are set reasonably. It might not be near the certain attractions but it is 5 minutes away from the Shinjuku Station, which in Japan means that you'll probably be a ride or two away (via train) to any destination you have in mind. People also say that the staff in this place is extra nice which explains the perfect rating it got for service from previous customers. A room in this place costs about $115 a night.
Alternatively, there is also a Sunroute Hotel found in Osaka. it is found in Nippombashi Chuo-ku and a night over at this hotel will, at the very least, cost $97 which is a GREAT price. In addition to this cheap rate, this hotel is also near the Dotombori which is Osaka's famous food quarter. It also provides its customers with great transportation options because it is situated near a subway station. Definitely a place to consider if Osaka is where you will be staying.
The Sunroute brand, like the Gracery, is also one successful hotel business. This is so because their branches are usually the best in their area and in Hiroshima, the Sunroute hotel is also a hotel for long term stays with very affordable rates. It is found in Naka-ku, Hiroshima and staying at this hotel is priced at $119 a night which is relatively close to the prices of the other branches. Unlike the other areas, Hiroshima's attractions are not in the shopping but more of historic sight seeing and the Sunroute Hiroshima is located in a place that allows the guests to easily go to such attractions like the Peace Memorial Museum and the Peace Memorial Park. Attractions in Hiroshima may prioritize the historical landmarks but shopping has never been frowned upon when on an adventure so in line of this,it would also be a great detail to know that this hotel is also walking distance from the main shopping and food area so if you're looking for a trusted hotel in Hiroshima, look up the Sunroute Hiroshima.
Some Notable Small Luxury Hotels: The Imperial Hotel, Royal Park Hotel, and Keio Plaza Hotel
For travelers who are looking to literally stay in, or those who are looking for the luxury in the hotel they will be staying in, the Imperial Hotel would be a great place to look into. This hotel was rated 6th out of the 71 hotels found in Chiyoda. A room per night is priced at $340 which is pretty expensive compared to others but reviews say that it is worth every penny. All departments of the hotel were commended and it was also mentioned quite a bit that the rooms were large, which is a rare case in the hotels in Japan. This hotel would also be perfect to hold business meetings in with all the amenities it offers its customers. With all that being said, it is understandable why people would be willing to pay extra for the services they will get in return.
Next would be the Royal Park Hotel. It is in Nihombashi Kakgaracho, Chuo and it is ranked 11th out of the 90 hotels in Chuo. A booking for a night in this place would cost about $227 and reviews say that it is worth the stay because of the level of service they provided their guests. Checking in and out of the hotel was fast and efficient and the place was spotless in general. It should be noted that majority of the reviews said that it was great for business trips so if you're looking for a bit more luxurious place for a business trip, the Royal Park Hotel might be a perfect fit.
There is another branch of the Royal Park Hotel that is ranked even higher in its respective area. This branch is found in Nakamura-ku, Nagoya and it is making noise as a great place to stay in when in Nagoya. This is so because of the great location it is in having the subway near it, shopping malls around it, and convenient stores right below it. The rooms in this place are also commended a lot in the comments so that is a good point on their end. This branch also will be a cheaper stay because a night here is priced at around $155.
The Keio Plaza Hotel is found in Shinjuku and this hotel is 11th out of the 81 hotels in this area. A night over at this destination is worth $247 and people say that it is worth the price because of the location and the size of the rooms you get when booking this hotel. Shopping areas are in walking distance and so is the Shinjuku station. The staff in this establishment has also received great praise in the reviews, stating that they made the stay of their guests a lot easier with all the help they were able to give them. There are many more Luxury hotels in Japan but these mentioned above are those that stand out a bit more according to the reviews it received from previous guests and customers.
Cheap Hotels near Disneyland: The Hotel Okura, Shinagawa Prince Hotel, and Park Hotel
Again, because of the great efficiency of the train system in Japan, any destinations is practically one train ride away but if you want to find some of the nearest hotels to Disneyland, which is located in the Urayasu, then these following hotels would definitely be at the top of your list. The Hotel Okura is found in Toranomon, Minato and if service is important to you, then this place would be paradise. From the reviews, their services were commended over and over again. The staff in this hotel go out of their way to ensure that their customers are satisfied from the beginning to the end of your travel. Their staff are multilingual so communicating with them to inquire would be easy. A night over at this location is priced at $225. It is a bit pricier than the other hotels mention but it was rated a 4.5/5 so it must be worth the extra spending. Also, compared to the rates of the Disney Hotels, this is a great deal. This hotel also offers a bus to take their customers to and from the airport so the expensive trip via taxi is evaded by the people who would choose this establishment.
Coincidentally, there is another Hotel Okura in Kobe that has also been rated excellently but for different reasons. Hotel Okura Kobe, unlike Hotel Okura Tokyo, is known for the view and the great vicinities. It's the place to book if you're looking for a place to unwind and be away from the City because the view you get here is overlooking the harbour. Their rooms here are also bigger than the usual rooms in Kobe so it really is a great place. It's found in Chuo-ku and a night over at this hotel would be around $109 which is a great improvement compared to the price of this hotel in Tokyo. It might not be the closest hotel to Disneyland but if you want a different place to rest and relax at after a long day of fun riding all the rides you can then this place is definitely the nearest type of hotel for you.
The Shinagawa Prince Hotel is also found in Minato but nearer to Takanawa. This place is cheaper compared to Hotel Okura, having an overnight price of $120. The edge this place has is its location, more than anything else. It is situated near the Shinkasen Station which immediately links you to any other place you might want to see. This hotel also has a lot of food establishments at the ground level so variety for food is definitely a benefit for this place. It would be good to know that majority of the positive reviews for this hotel were submitted by folks on business trips so it is also recommendable for people who are staying in Tokyo for business.
Last but not least, the Park Hotel Tokyo. This establishment is found in Shiodome Media Tower in Minato and it is ranked 6th of the 108 hotels in Minato. With this being said and with the rates of this hotel being priced at $156 a night, it might be the best deal for travelers. Just like the others mentioned above, this place is also near the JR and Metro Stations so travelling would be easy. Aside from its location and the deal you would be getting because of the rates, this hotel has been rated as excellent because of the view of Tokyo that it gives you. Being in the Shiodome area allows the guests in this hotel to bask in the skyline of Tokyo.
The Disney Hotels: The Ambassador Hotel, Hotel Miracosta, and Tokyo Disneyland Hotel
Contrary to popular belief, there isn't one but three Disney Hotels in Japan. All three can be found in the Disneyland vicinity which is by the Tokyo Bay. Each of these hotels have their own style so let's discuss each one for you to know which one you'd like to go to if ever. Let's start with the Ambassador Hotel.
This Hotel offers Disney themed rooms such as the Mickey Mouse Room, Minnie Mouse Room, and Donald Duck Room. Along with themed rooms, the restaurant in this hotel has Mickey Mouse himself as the chef who goes around to check if their guests are happy and satisfied. This is the only hotel that showcases the core Disney characters (e.g. Mickey Mouse) so if you're going for a classic Disney feel for your children, then the Ambassador Hotel would be a great pick. The hotel itself has a lot of features in it. To mention some, it has a Palm Garden Pool to enjoy the sunlight and the gentle breeze of the outdoors. There is also a Medallion maker for guests to have a unique souvenir from their stay in the place. Since this hotel also offers the services of a bus to go to the parks, travelling to the resort itself would be hassle free and will also give you time to admire the beauty in this area. All these can be yours for a nightly price of $540 dollars. Note that it is rated as part of the top 10% of hotels in this area too so know that the money spent will be worth it.
If Mickey and the gang is not your liking, check out Hotel Miracosta. This hotel is found inside Tokyo DisneySea Park which is a great bonus on its own. Being situated in this position means that travelling is not a problem at all. If you want to reach the farther areas from Hotel Miracosta, they offer a ride on their Disney Resort Line monorail which is also an experience for the books, especially for children you might be with. Not only is the location great, the hotel itself is said to have all the fantasy you'd expect from a Disney Hotel, with the fascinating atmosphere of foreign places and the feeling of being in a faraway land you only hear of in cartoons. On some nights, they even have programs during dinner or in random times of the day to entertain their guests and give a feel of how it is to be living with these characters. A night over in this place is also priced at around $540 dollars, which again, is worth it considering all the perks their guests experience. If it still did not pass your standards, you can always try the Tokyo Disneyland Hotel.
The Tokyo Disneyland Hotel is the closest hotel to the Disneyland Park and like the Ambassador Hotel, it is also filled with themed rooms. The difference with these rooms though is that it is inspired by the other Disney characters such as Alice in Wonderland, Hercules, and many others. It is also near the Disney monorail so getting around is not an issue. Being that this is the nearest hotel to the main park, it is a great place to stay if you're adventure is touring and enjoying the many rides and attractions of Disneyland. Travelers can literally go home to rest a bit from their leisure time if they get too tired from all the fun at the park. Again, a night over in this hotel is priced at $540 dollars and since all the Disney hotels are practically priced the same way, it really is all a matter of preference for their guests. There is no email address for booking for these hotels but it can easily be done directly or via their website.
Unique Hotels in Japan: The Capsule Hotel of Tokyo and Hotel Run by Robots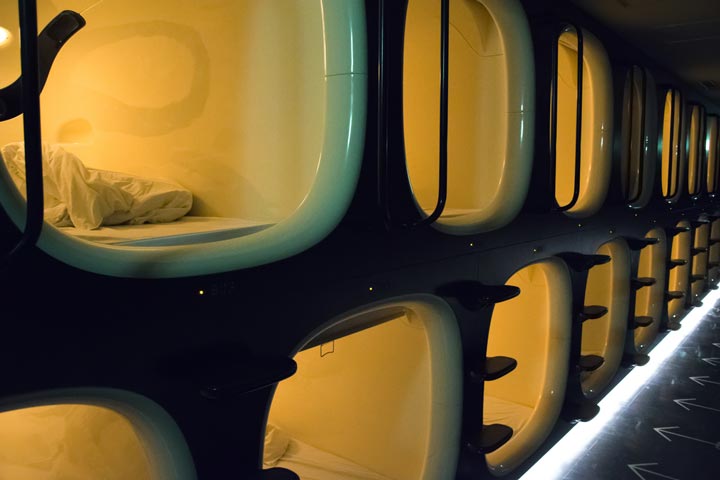 Japan has perfected the art of giving its tourists a "one of a kind" experience and the Capsule Hotel and the Henn-Na Hotel are proof that this is true. This Capsule Hotels has been in Japan since 1976 and it is unique then as it is unique now. It is only in Japan that you can experience going in a hotel where you literally sleep in a capsule like bed. Advances in technology has also enabled several upgrades to these capsule rooms to make it look better and more pleasurable to stay in. The Capsule Hotel Anshin Oyado Shinjuku is a great example for what a modern capsule hotel is. With new sets of gadgets and gizmos in the capsules, an overnight stay of around $130 would definitely be reasonable price. To add to the selling points of this hotel, it is situated in a dream spot because the JR Shinjuku Station is 2 minutes away. Again, Japan's train system is amazing so quick access to a train station means quick travels to practically anywhere in Japan.
If sleeping in a hi-tech capsule isn't your cup of coffee, then the Henn-Na hotel in Nagasaki might catch your attention. This place is an attraction and experience to be enjoyed by a child or an adult who still has the heart of a child because 90% of the staff in this hotel are robots. One might even say that this place is run by robots and it is a destination hotel not only because of the unique way it serves its customers. It is also because of the theme park that is walking distance from this hotel. Being this close to this theme park/resort allows their customers to enjoy the light show of the said theme park at night. Staying in this hotel for a night would cost $158 which, again, is a reasonable price for the experience one would receive from it. How often can a tourist say that they were served by robots after all?