One of the primary considerations that people take into account when making a decision is convenience. This applies to almost everything such as buying a house, getting a car, going to a certain place, or purchasing any household supplies to name a few. The idea is that when making a decision, it matters whether or not it would make things for the person more convenient. With the world going so fast and with the advancement of technology, the importance of convenience in everyday living is relatively high. One of the fastest growing countries when it comes to technology among other things is Japan. Hence, convenience is definitely of utmost importance to the Japanese people. In a country where almost everything is fast, from the people walking to their destinations to the trains that bring people to different places, convenience is something that would make the lives of the people easier. Therefore, it is no wonder that convenience stores in Japan are flourishing and almost anything can be found in these convenience stores.
History of Convenience Stores in Japan: How It All Started
More than three decades have passed since the first convenience store in the Land of the Sun opened. While the first convenience store was established in the United States more than 70 years ago, the first one for Japan opened in the year 1969. Just after 5 years, two huge companies joined forces in order to launch the first Seven-Eleven store in the country. These two companies were the Ito-Yokado Co. Ltd. from Japan and the Southland Corporation from the United States. After its first launch, the chain of convenience stores has grown through the years. In order to accomplish this huge success in Japan, management practices from the United States had to be initiated and business techniques had to be invented.
Two main factors played a big role in making convenience stores strong in the retail market, namely, innovative products and a distinctive distribution system. Because the Japanese are very much into traditional foods, the stores focused on creating their own recipes for onigiri or rice balls and oden or simmered foods. Upon the year 1980, there were around 10,000 convenience stores already in operation. Due to a very comprehensive sales system, refrigerated packed foods and other products were being delivered multiple times a day. Furthermore, with the Point of Sales or POS system being introduced by Seven-Eleven in the year 1982, inventory, product ordering, and deliveries were being managed hands-on.
Come the second half of the 1980s, more and more convenience stores were being opened especially due to the strong competition among different chains. The peak of store openings was reached during this time. A couple of chains strived to establish a strong presence in specific locations in order to increase the efficiency in terms of delivery and to obtain better visibility among Japanese customers. On the other hand, Japan was pushed into recession in the early 1990s. Still, the convenience store retail market kept growing and was able to meet the demands for the convenience of consumers.
With the growing popularity of Japanese convenience stores, this retail market made its way to other countries by the end of the 1980s. Today, various chains of Japanese convenience stores are in operation not just locally but abroad as well, with countries like Taiwan and Korea. Not only are the forms of making business being emulated in other countries, but foods like onigiri are also being transported and are growing popular overseas.
A List of Services Offered: Food, Bill Payments, Photo Prints
Convenience stores, known as konbini in Japan, are prevalent with more than 50,000 stores nationwide as of today. Most, if not all, of them are open 24 hours a day and 7 days a week, truly convenient for both early risers and night owls. People generally go to convenience stores for the range of food products that they offer such as onigiri, sandwiches, candy, lunch boxes or obento, microwavable meals, instant ramen, and even hot foods like oden and nikuman. Refrigerated food items can be heated up by the staff upon purchase. Drinks such as dairy milk, soda, tea, juice, coffee, water, and vitamin drinks are also available. What is great is that the range of drinks may also vary depending on the season. In addition, most Japanese convenience stores also offer alcoholic drinks such as happoshu, sake, wine, shochu, beer, and chuhai. The products of these products are relatively affordable and may cost only a few yen.
On the other hand, these are not the only things that convenience stores in Japan have to offer. True to the word convenience, there are also several services that they offer to customers. For one, most, if not all, convenience stores in the country have automated teller machines or ATMs in the store. These ATMs provide several banking services such as cash withdrawal and money transfer. It is important to note though that foreign debit and credit card are generally not accepted or recognized by these ATMs aside from those found in 7-Eleven convenience stores. As for those people who suddenly need to photocopy or fax a document, then no need to look further as convenience stores in Japan usually offer such services to customers.
For the people who wish to book and receive a ticket for a concert, a sporting event, a highway bus, a theme park, or other travel services, they can opt to drop by a Japanese convenience store as most of these stores offer such services. As for connectivity, most Japanese convenience stores offer free Wi-Fi to customers. This would be especially useful for tourists who have yet to purchase a SIM card for connection services such as text messages, calls, and internet usage. Paying the bills are also now very convenient as it can be done just by dropping by Japanese convenience stores. Bill payments for utility, cell phone, and even insurance can be paid inside these stores.
While a lot of people are contented with just storing their photos on their phones and laptops or other devices, there are also some who would like a tangible memento of that special moment taken by a camera. One supposes that a hard copy of the photo feels more sentimental when held by the hands. Hence, for the people who wish to print their photos, they no longer have to visit a photo-printing store because most Japanese convenience stores offer digital camera printing as part of their services. This can be done just by inserting the memory card into the store's multi-purpose terminal. These photo prints can either be printed instantly or would have to be picked up later depending on the convenience store. In addition, sending these prints, along with other types of parcels, can also be dropped off or picked up in the store as most convenience stores offer this type of delivery called takuhaibin.
Convenience Store Rankings: 7-Eleven, FamilyMart, and Lawson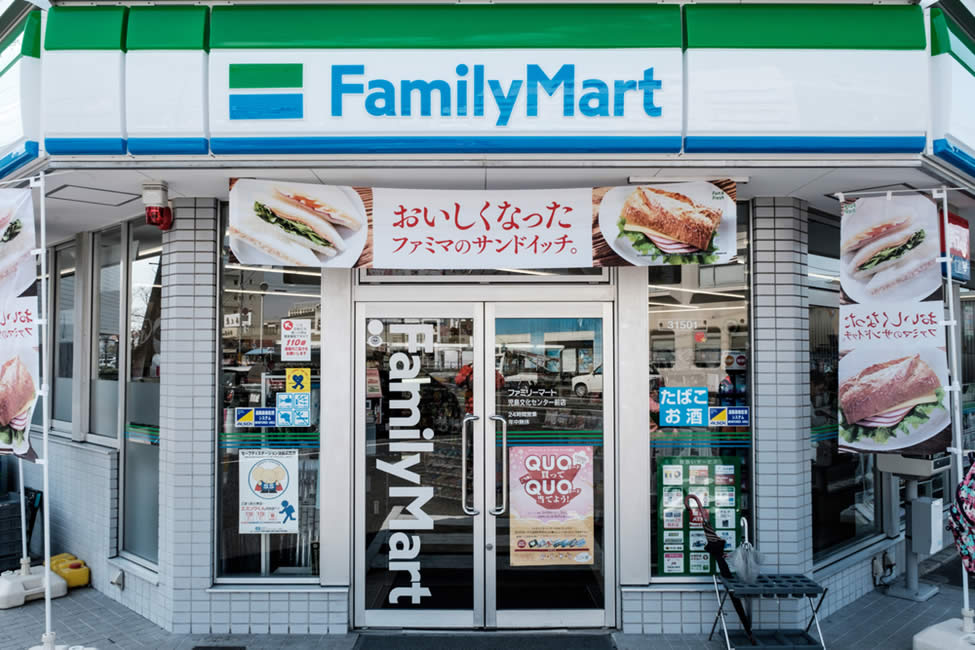 With a plethora of convenience stores spread all over Japan, one may wonder, which among the many chains is the best of them all? Which Japanese convenience store would be ranked at the top of the food chain? Deciding on that would be quite hard as each chain of convenience stores has its own distinct offerings and specialty that it is known for. There are three major chains of convenience stores in Japan that are so popular, they have branches overseas. Take a look at each one and try their specialty to get the most out of the top three convenience stores in the country.
First would be Seven-Eleven. Being the first convenience store to open in Japan, Seven-Eleven has the most number of convenience stores in the country as of March in the year 2016. It has its own private label called Seven Premium, which serves a wide range of high-quality products that can even be compared to specialty stores. The store's number one most popular food product is the White Fromage, a baked cheesecake that comes in a rich, creamy flavor and a smooth texture. Other popular specialty food products that they offer are the Hand-Rolled Tuna Mayonnaise Roll and the Salad Chicken. Another popular food item from this convenience store is its Fried Chicken, with its crispy skin and boneless meat. As for other services, Seven-Elevens have ATMs that accept not just local but also foreign debit and credit cards. This chain of convenience stores has more 2,000 stores in the city of Tokyo alone. A new holding company called Seven & I Holdings Co., Ltd. became its parent company in September of the year 2005.
Second would be FamilyMart. Being the second biggest chain of convenience stores in Japan, it opened its first store in Sayama, Saitama Prefecture. It is also known as CU and became the biggest convenience store chain in South Korea at one point in time. As the name suggest, FamilyMart has almost everything a family would need such as food, beverages, and other types of products and services. This convenience mart is famous for its FamiChiki, FamilyMart's version of fried chicken. It tastes so good with its crispiness, juiciness, and tenderness that some people go to FamilyMart just to buy this product and it is especially popular during the holiday season where it is customary to eat fried chicken. Another specialty would be the Oreno series of delectable desserts. Furthermore, some FamilyMart stores also have its special corner that showcases MUJI products. They are also innovating its services such as automating cashier stations, which are on trial in some stores.
Last but definitely not the least would be Lawson. Companies known as Consolidated Foods and Daiei Inc. signed a formal agreement in the year 1974 to open the first Lawson convenience store in the country. Daiei Lawson Co., Ltd. was then founded as a wholly owned subsidiary of Daiei Inc. in April of the year 1975 and the first Lawson convenience store officially opened in Sakurazuka in Osaka Prefecture in June of the same year. Today, Lawson is best known for its healthy foods and desserts. Their desserts are so popular that they even have their own dessert brand called UchiCafé SWEETS. One of the most popular desserts of Lawson that is definitely worth a try is the Premium Roll Cake, a cream-filled sponge cake that many people say is a must-try if one drops by Lawson. Another food item to try in Lawson is the Karaage-kun, which is minced chicken meat that is deep-fried. They are bite-sized and great to munch on as snacks.
Other Convenience Stores Like Cocostore and Sunkus
While the big three that almost everyone loves going to are Seven-Eleven, FamilyMart, and Lawson, there are also other convenience stores that are also worth dropping by. An example would be Cocostore, which is a smaller local convenience store chain that many Japanese also visit when they are hungry or need some specific services as mentioned above. Cocostore is a chain based in Nagoya with its first store opening in Kasugai, Aichi Prefecture in the year 1971. Another alternative would be the Circle K Sunkus, a chain of convenience stores that is a division of UNY Co., Ltd. They offer basic products and services as expected in Japanese convenience stores. Both Cocostore and Sunkus have seen been bought by FamilyMart Co. as part of its expansion.
Some people may not think twice about convenience stores, Japanese ones definitely bring the convenience store game to a whole new level. Not only are their services broad and very useful for customers, their food products are fantastic as well. They provide not just products and services, but also convenience and ease to consumers who are busy in their everyday living. Truly, these Japanese convenience stores offer the best quality of food and services that alleviate the everyday hassle and stress of Japanese people. Tourists should most certainly check out these Japanese convenience stores aside from just sightseeing and trying out new food in order to also experience the everyday life of the locals.