Tokyo, the capital of Japan, has many gorgeous sights and attractions for both its locals and tourists. If your flight to this metropolis during the evening, you will see the unique neon-like glow that emanates from Tokyo's many buildings, lighting up the night sky. It boasts of a massive underground transit system, countless theme parks, and shopping options. The activities, business projects, fun, and places to go to in Tokyo are figuratively endless – a mere glimpse of the thousands of unique concrete buildings gives you an idea of this.
If you look closely, however, one structure stands as the most special of them all. Erected tall and colored orange and white, the Tokyo Tower is one of the tallest edifices in Tokyo from a bird's eye view. At night, the tower lights up in a yellow-orange (or white) hue, stealing the spotlight in juxtaposition to the buildings around it. Read on for more information about the Tokyo Tower, its glory, history, use, and some tips on what to do when you visit it.
The History of the Tokyo Tower in Japan
The Tokyo Tower is found in Minato, Tokyo, built by the company Nippon Denpantō, was constructed out of steel, and mainly for both broadcast and tourism uses. As many as 400 specialized workers were hired for this job, and these traditional Japanese construction workers were referred to as "tobi". They started working on it in June 1957 and finished on the 23rd of December 1958. At that time, it cost about 8.4 million dollars to construct, and it has since cost them around 2.8 billion yen. The tower would be used to support a major antenna, which they would lease to both radio and tv networks. The reason it was so tall, especially for that time, was that the Japanese had intended for this tower to be capable enough to broadcast television airwaves to the entire region around it instead of creating many broadcast towers; saving precious real estate. Another explanation for its competitive height is because of Hisakichi Maeda's competitiveness. Maeda was the founder of the company that created and oversaw everything that had to do with the tower, and he wanted it to be as tall as the 381-meter (1250 ft) tall empire state building. Sadly, finances were a problem, and the tower was designed to be tall enough just to properly broadcast signals throughout a radius of 150 meters - perfect for the region of Kanto.
Why orange though? The tower was painted orange is because it had to comply with aviation regulations, as it may be hard to spot by incoming aircraft. It's repainted the same orange and white colors every five years and takes about 28,000 liters of paint and one whole year to complete the painting process. Though the color it is painted has not changed, the way it is lit at night has since been redesigned. When the tower turned 30 years old during 1987, Motoko Ishii (a renowned light designer) was hired to create a more attractive system of lighting to invite more people to visit the tower, and thus create more revenue. The light work was completed in 1989. The tower was equipped with a total of 176 floodlights, which are carefully and meticulously scattered across its frame. For this, she was recognized and awarded the Illuminating Engineering Society of North America Prize in 1990. She would later win again for decorating the Rainbow Bridge leading to Odaiba in 1994.
Tokyo Tower: It's Not Just About The Height
At 333 meters (well, 332.9 to be exact), it is an incredibly tall building even in today's standards – no wonder it's spotted so easily. Though this tower is very tall, it isn't the tallest in all of Japan. It was surpassed in 2010 by the Tokyo Skytree, which is 634 meters. Tokyo Tower isn't just about its height; it's also about the ingenuity behind its design, its usefulness for broadcasting different signals, its use as an observation tower, and the content it continues to create to attract tourists.
Tokyo tower was designed by Tachū Naitō, another famous architect during the 20th century. He was skilled at creating structures that would be able to properly withstand strong earthquakes. You may have noticed that the design of the tower mimics that of France's Eiffel Tower – and you are correct in the assumption that it was patterned after it. However, he was trying to squeeze inspiration from Western buildings, the reason he chose the design of the Eiffel Tower has nothing to do with the modern notion that the Japanese are interested in anything/everything French-styled. He deduced that the way the Eiffel Tower is built is perfect to withstand both high-speed wind gusts beyond 220 km/h, and earthquakes of super extreme intensity – beyond any normal reading on the Richter scale.
Every now and then, the tower displays different colors of lights at night to celebrate holidays, feasts, or successes. Breast Cancer Awareness month has been one of its ongoing themes since 2001, as it lights up a bright pink on the 1st of October. It did the same thing to commemorate St. Patrick's Day, Christmas, New Years, and even Coke's successful launch of a product. As for the color that stays constant; that entirely depends on what season it is. The tower glows orange during the winter (The 2nd of October to the 6th of July) and white during the summer (7th of July to the 30th of September). Sodium vapor is used to color them yellow-orange, and metal halide to give off a cool white. This is done to balance the moods that come with the changing weather; orange brings warmth to the cold nights, and white gives a chilly feel to a hot summer's evening.
Coordinates of Tokyo Tower: What You Will Find
In case you want to know the exact coordinates of the Tokyo Tower, they are 35°39′31″N 139°44′44″E. To get to these coordinates, you have four options; use a car, take the bus, go by foot, or take a train. As a general idea of how far it is; it'll take you 15 minutes to get here by walking if you're coming from Haneda airport. From the tower, a couple of the nearest stations are the Onarimon Station (Mita Line), the Akabanebashi Station (Oedo Line), and are only 5 minutes away from the Tower.
Once you get there, though, it's not just a tower you'll find – it's also an observatory. Take note though that one of the decks will be closed between the months of October 3, 2016, up until around August 2017. This is because the tower is undergoing renovations. Otherwise, you'd be able to go all the way to the top, checking out both of their observatories. The breathtaking, panoramic view will leave you speechless, with still some change to spare. Yes - it doesn't cost much to go up the main observation deck – 950 yen per head. There are two observation decks; one of them being a 150-meter high lower deck (also called the main observatory) that you can access through both stairs and elevator. The second observatory is named the "Special Observatory", is 250 meters up, and costs 1600 yen to visit (it's a bundled payment to have access to both observatories). In the special observatory, you have a wider range of sight, and if you go during clear weather, you may get to catch a glimpse of Mt. Fuji. Sadly, this observatory is not always open. The main observatory is quite enjoyable though, with glass floors that allow you to see all the way down, as well as a café that you may sit and relax in. For more Tokyo Tower-themed fun, pay a visit to the building underneath the tower called "Foot Town." Not only does it have an amusement park that kids of any age will enjoy, it's also got a wider variety of shops, galleries/museums, and bistros. The tower is open from 9 AM to 11 PM and rarely has any off-days.
Pure Manga Goodness in Tokyo One Piece Tower
About that amusement park in Foot Town – it's called the "One Piece Tower", and the admission fee is 3,200 yen. One Piece Tower is directly run by the same people in charge of Tokyo Tower. The entire amusement park is dedicated to the anime "One Piece" -, a manga-turned-anime series a guy who eats something (a "devil fruit") that lets his body take on the characteristics of rubber. Nothing Disney oriented here, folks. The park showcases art pieces and cinematic experiences of the characters and storyline of the show/manga and does this in the spirit of interactive fun. The park is open from 10 AM to 10 PM, and also doesn't have any days when it's closed, so you may visit any day of the week.
Tokyo Tower – Visit During Day or Night?
This has been the center of debate amongst travelers who want to make the best out of every spot they visit in Japan. When is it the best time to go? As for Tokyo Tower, mostly everyone who's personally been to the Tokyo Tower insists that it's most beautiful at – drumroll – night. Daytime is beautiful too, but the lights make the evening a total win. Not only do you see all the lights glow all over the city, but the tower itself lights up too – if you're lucky, you'll get to catch it light up a special color.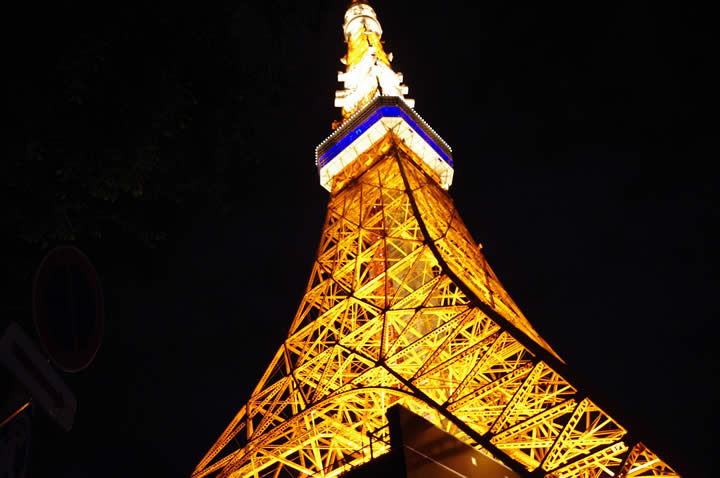 Best Hours to Visit Tokyo Tower
Now that we know that visiting Tokyo Tower at night wins the popular vote, what time is the best time to go? Considering the weather, it's best to go during March, April, and May. Not only will the temperature be suitable for touring, you might be able to catch the Cherry Blossoms around the earlier segment of these months, and appreciate their beauty from the view of the observatory in the tower - in hopes of clear visibility.
Fun Facts about Tokyo Tower
Seeing that it's been around since the 50's, this tower holds some facts that even the locals may not know. It's been stated that some of the steel that was used to create this tower was taken from scraps pulled from busted U.S. tanks from the Korean war. Though it isn't the tallest tower in Japan anymore, it was when it was built. During that time, it surpassed the height of the actual Eiffel Tower – and the Japanese were very proud of this. What's even more interesting to note is that it's a whole lot lighter than the Eiffel Tower, despite being taller. The Eiffel Tower weighs about 7.3 million Kilograms, while the Tokyo Tower weighs only 4 million Kilograms. Two pinkish droplet-shaped mascots represent this tower, both of which wear blue dungarees; a brother and a sister. Also, the Tokyo Tower was featured as a backdrop in many animes and films and even mentioned in the title of a romantic film literally called "Tokyo Tower".
A Movie List Including the Tokyo Tower
Some of the popular shows that include the Tokyo Tower in its scenes are notably The Death Note, Digimon, Sailor Moon, Cardcaptor Sakura, and many others. You may also see its appearance in King Kong Escapes and even Godzilla. It's a landmark that the Japanese use to pinpoint exactly where the event is taking place – and also to give a realistic feel to the movie. You could say the movie is trying to say - this could happen to you in real life, just like this building exists in real life.
Tokyo Tower of Babel – A Building of the Future?
One shouldn't confuse the Tokyo Tower with the Tokyo Tower of Babel – they are two separate things. Just to clarify, The Tokyo Tower of Babel is not real. It's an out of this world concept that was proposed by Japanese architects around 1991 – all hypothetical, of course. Hypothetical in the sense that creating this skyscraper would probably take over a hundred years, or even more. Why? Because it's conceptualized to be 10,000 meters tall, with a 4,100 square kilometer base. That base is even bigger than some countries that exist. But who's to say this building can't exist? The future holds no bounds.
There's no doubt that you should add visiting the Tokyo Tower to your itinerary when you tour the metropolis - it doesn't matter where you are; in a hotel in Shinjuku or a restaurant in Shibuya - it's easy to get around. With such a hefty history and a gorgeous view, who wouldn't want to go?