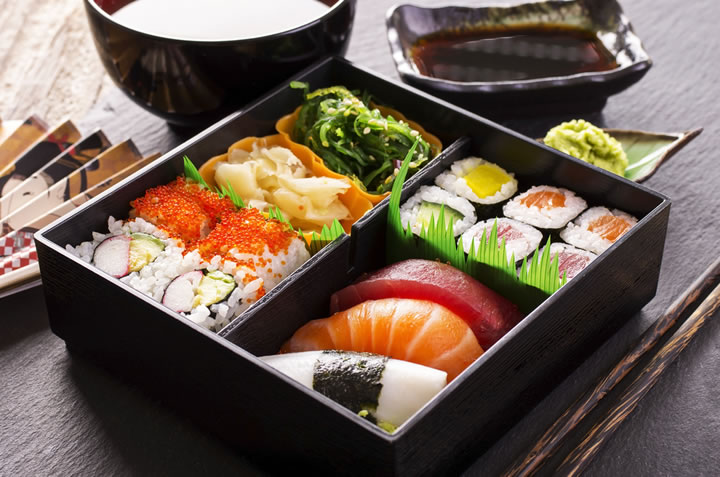 The culinary scene in Japan has been known as both innovative and world renowned. From the everyman's fast food chains to the world renowned sushi bars available only to the most elite, Japan has always been at the forefront of the culinary world. While most regions in Japan has their own food scene, the city of Tokyo still reigns supreme in the nation as the place that contains the widest variety of restaurants that any adventurous eater must experience.
The Japanese Restaurant Scene in Tokyo
It would take more than one lifetime to try all the restaurants in Tokyo as the list is seemingly endless - from the most spectacular and extravagant dishes down the most humble and ordinary meals, restaurants in Tokyo anything that one might wish to consume. For those experiencing Tokyo for the first time, it is a no brainer that one should try the best Japanese restaurants in the metro. Many have different opinions on which restaurants are regarded as the best in Tokyo, but the following have been consistently mentioned as must-try restaurants for their ability to highlight Japanese cuisine.
1. Ginza Kojya
Located in Ginza, this restaurant offers one of the most pleasant traditional Japanese dining experiences. Their seasonal menus highlight the different dishes that give the feeling of having an exquisite home cooked meal. With a relatively affordable menu and a smaller space, it is recommended that people call and make dinner reservations beforehand.
2. Narisawa
This restaurant is the passion project of chef Yoshihiro Narisawa. His training and experience in the culinary world of France, Sweden, and Italy contributed to his unique take on the traditional seasonal dishes of Japan. He takes only the highest quality and locally sourced ingredients and uses traditional Japanese and European cooking techniques to create an amazing array of dishes that reflect the seasons of Japan. The highest rated dish would have to be the 'Bread of the Forest and Moss Butter.' This dish is both a treat to the taste buds and a sight to see as it slowly rises on the table while guests enjoy the other dishes.
3. Quintessence
The business model of this restaurant revolves around using only the most premium of ingredients, creating innovations in the cooking process, and detail oriented seasoning of meals. This philosophy has led the restaurant to produce the highly regarded technique of cooking the meat at very low temperatures for a really long time. It is recommended that visitors take the featured dishes which chef Shuzo Kishida has personally chosen.
4. Sukiyabashi Jiro
This restaurant has been made world famous because it is the restaurant of world-renowned sushi chef Jiro Ono. Many influential people have eaten at this restaurant, with the most recent being former US President Barack Obama. This restaurant uses only the best fish for their sushi rolls and is known for their hospitable service.
Chef Jiro still heads this restaurant and carefully controls the quality of everything from the rise to the fish. Both the chef and the restaurant has been featured in the popular documentary called 'Jiro Dreams of Sushi.'
5. Aronia de Takazawa
This might be one of the hardest restaurants to eat at. It is a must to book a reservation at least a month or two ahead of time in order to get a slot. The reason behind this is because the chef, Yoshiaki Takazawa, is known throughout the world as a master of his craft. Yoshiaki Takazawa is so precise in what he serves his customers that he's limited the restaurant to only having two tables. The meals he serves are a multi-sensory treat. He pays attention to every detail of his menu from how the dishes looks and smells when he serves it to how it feels and tastes when clients eat it. Most people who have been blessed to partake of his creations order the 10-course meals that highlight the genius of the man. Many have described the experience as a calming traditional Japanese tea ceremony blended with the feeling of experiencing a great piece of art.
Unique Japanese Restaurants in Tokyo
While it is expected for someone to look for great authentic Japanese cuisine while visiting the country, sometimes, there is a need to taste something different and unique. Tokyo city probably contains the most diverse list of cuisines that is available to tourists as it is very accommodating to those who don't speak the language. From the eccentric to the innovative, the restaurants in Tokyo continues to push the experience of their visitors. The following is a list of restaurants that many have considered to be unique enough to be considered both cool and weird at the same time.
1. Ninja Akasaka
This restaurant offers its clients so much more than just exquisite food. The interiors make you feel like you've traveled to the feudal Japan that one has seen in action movies. To add to the Ninja theme, the front door is somewhat hidden, the hallways are like a labyrinth, and staff dressed as Ninjas guide you to your seating area.
The menu consists of Japanese, Chinese, and French dishes that are made in with the Ninja theme in mind. Examples of this would be a scroll menu, crackers in the shape of ninja throwing stars, and cheesecake in the shape of a frog sitting on a lilypad. The theatricality of everything in the restaurant is very entertaining and is well loved by most who visit it. Notable entertainers such as Lady Gaga and Steven Spielberg were reported to have dined here. This restaurant is also great for big groups of friends or families as the staff also gives you a fun short course on being a ninja.
2. Zauo
Located in the Shinjuku district of the city, one might expect to find a quirky and entertaining restaurant to dine in. Zauo definitely does not disappoint those expectations as guests literally catch what they eat. This seafood serving restaurant is reminiscent of a wet market with a large number of tanks where guests may grab a fishing rod and attempt to catch their lunch. Guests are brought onto a boat that sits in the middle of the tank from where they can start to fish. Everything from the fiercest of sharks to the exotic scorpion fish is up for grabs in this boat themed restaurant.
Once a guest manages to capture a fish, they are congratulated by the whole restaurant with a chant. A word of advice though is to not go in Zauo hungry as catching a fish takes much longer than one might expect. Should a guest give up on catching a fish, fresh seafood may also be ordered straight from the menu. The food here is typically cooked with just a tad bit of salt and lemon, enough to bring out the best taste of the fish. Prices vary as it is dependent on the fish that was caught but generally speaking 4000 to 5000 yen is enough per person.
3. Aoyama Flower Market Tea House
Crowned as one of the most beautiful places to dine in Tokyo city, Aoyama Flower Market Tea House is both a restaurant and a flower market. The exteriors are a welcome oasis of flowers and plants in the middle of a busy city. Passersby typically stop at the sight of the gorgeous flowers that surround this place. With only a ten minute walk from the Omotesando station, visitors are treated to wonderful food and lush greenery. The interiors are amazing as well. Flowers surround diners from under the table to the ceiling. The food and beverages do not disappoint as everything leaves the impression of a nice stroll through a garden full of flowers. This tea house serves one of the best tea blends in the city with many regulars coming back just to have a quick drink. The food menu may be small, but each dish is carefully crafted and beautifully executed. The flower french toast is definitely one of their best dishes as it pairs well with their teas. For dessert, they offer a variety of ice cream and sponge cake. This is definitely the perfect place in the city to spend one's time to just relax and bask in the beauty of nature. The photos of this place just can't capture how beautiful everything is arranged so it really is recommended that visitors of Japan visit this tea house.
Best Affordable Restaurant Chains
The unique and exciting food scene in Japan is not limited to restaurants, it also is felt all the way to the most well known and cheap fast food restaurant chains. The Japanese do not skimp on the quality of their food just because it is priced at 1000 yen or that it has been labeled as a franchised business. In Japan, once a restaurant has started to become a chain, it is a sign that more people will experience the greatness of the food not a drop in quality. Here are some of the most well-loved restaurant chains in Japan.
1. Ichiran
Located in many cities throughout the nation, Ichiran has given its customers a consistent delicious bowl of ramen. By not diversifying their menu, the team behind Ichiran were able to keep the quality of their ramen consistent through all their branches. There are multitudes of ways to prepare a bowl of ramen, but Ichiran has only chosen to concentrate on Tonkotsu. Tonkotsu ramen is considered by many as the best way to make ramen as the soup broth is thick and creamy. This is achieved by simmering pork marrow bones for a long period of time until it dilutes into the water. Dining here is a breeze as one pays for their meal through a vendo machine that prints a ticket of all their orders. After ordering, you just wait for the sign that a seat is available and then you just wait for your bowl of ramen to be served to you through a small window. One may also customize their order by requesting various levels of vegetables, salt, and sauce thickness. Ichiran gains popularity also through the use of their special red sauce that adds a little bit of spice to the dish. A bowl of ramen here costs around 1000 yen and no reservations are needed to enter.
2. Tenya
Tempura might not have been 100% originally Japanese but it has been adapted and promoted around the world so much that people definitely think it is. Brought in by the Portuguese, tempura has changed so much in the hands of the Japanese that it is a mainstay in any restaurant. Good tempura may be hard to come by at cheaper prices, but Tenya does a great job at this.
With even just a 500 yen coin, one is treated to a well-made meal called the 'One Coin Tendon.' This is a small platter of different tempura, such as squid, shrimp, and vegetables, served on top of white rice and miso soup on the side. It is best to visit a Tenya branch at the earlier hours of the day as this is an assurance that the oil used to fry the tempura is new and the dish will not be too greasy.
Japan embraces how quirky and innovative their people are. From an outsider's perspective, the Japanese may seem very professional or reserved but looking at all the different restaurants that are popping up, it is evident that they are also creative and quite a bit silly. The experienced restaurant goer will not run out of places to explore in Japan. From Ninja star crackers to rose infused french toast, a variety of dishes awaits the food explorer. The more reserved eaters will also not be disappointed as many places offer the more traditional cuisines of the world. They won't run out of places to buy ice cream, fried chicken, or pasta. Diversity and uniqueness are definitely ways to describe the list of restaurants in Japan.