Japan will never fail to have something that someone would love to see, feel, taste, smell, and hear. Basically, the attractions found in Japan have a way of driving at least one of your 5 senses crazy in the best way possible. Whether you're into historical places or destinations that showcase progress and development, there is definitely a place to fill the craving for that specific "something".
It seems like every city in this country has something unique; something that only that particular city has to offer. An example of this is the Meguro Parasitological Museum in Tokyo which is actually also unique to the world because it is the only museum to showcase parasitic brains and alike. Because of the abundance of attractions found in Japan, a tourist or even a local resident can easily neglect or overlook a certain attraction that happens to be a unique one if you really think about it. In lieu of this, this article will attempt to showcase one of the most overlooked attractions in the city of Yokohama and that is the Yokohama Landmark Tower.
The Other Attractions in Yokohama that Usually Overshadow the Landmark Tower
As stated earlier, Japan has a lot to offer in terms of tourist's destinations and beautiful sceneries. The city of Yokohama is definitely one of the major contributing cities in this department. Being that Yokohama is the second largest city in Japan, it is a no-brainer for it to hold some amazing things and establishments in its huge vicinity. To mention some of these amazing things that are usually the cause of overlooking the Landmark Tower, there are the Sankeien Garden, Zoorasia, Ramen Museum, Cup Noodles Museum, Yamashita Park, and much more. This city also has the largest of the three Chinatowns to be located in the entire land of Japan.
Naturally, with all these other spots being talked about, word of mouth usually carry these destinations over places like the Landmark Tower. Don't be confused in any way though. All these spots are quality and should still be part of your list of places to hit up when traveling through Japan. What this article aims to do is to simply convince you that the Landmark Tower is just as amazing as all the other attractions out there in its own special way.
People might not have known this but Yokohama used to be a small fishing village in its earliest years. Looking at the progress and growth it has undergone throughout the years, it would be quite obvious to claim that innovation is a definite foundation and pillar for this city and compared to all the other attractions to be found in this city, it is the Landmark Tower that exemplifies the value of innovation in this area.
You might be wondering why it exemplifies innovation and the answer to that is that the Landmark Tower was one of the biggest establishments to be built in the 90's. It was also built in a place called Minato Mirai.This area is now referred by locals as the new center of Yokohama. Not only that, the name itself means the "Harbor of the Future" which is a big indication of the things to find here.
It started construction in the year of 1990. 270 billion Yen and 3 years later, in the year of 1993, the Landmark Tower officially ended construction and was opened to the public. When it opened, this establishment was the proud holder of records like being the tallest building in Japan and it having the fastest elevator in the world. It stood at a height of 296.3 meters and this height was good enough to have it keep the record of being the tallest building in Japan until the year of 2012 when the Abeno Harukas was opened.
The record for having the fastest elevators in the world, on the other hand, was kept by Landmark Tower with whooping top speeds of 45km/h. Being that it was originally the tallest building in Japan, it isn't surprising to find out that its elevators were designed the way it was. Riding these elevators alone should make a visit this tower worth it because there aren't a lot of places you can think of that have the ability to let you experience descending and ascending at speeds of which it is capable of reaching. To make it easier to imagine just how fast the elevators in this building travel, it is said to be able to bring guests from the 2nd-floor lobby to the observation deck on the 69th floor in 40 seconds. It was able to hold this record only until the year 2004 because that is when the newly opened establishment called Taipei 101 beat Landmark Tower's elevator speeds with top speeds of 60.6 km/h.
Getting to the Landmark Tower
It would be pretty hard to miss a building as tall as the Landmark Tower in Yokohama. But just because you can see it from miles away doesn't mean that it would be just as easy to go to. Luckily, Japan has a very well thought out transportation system so as long as you know which area of Yokohama to go to, you would be as good as gold. Like the majority of the places and destinations found in Japan, the Landmark Tower is also very accessible through their train system. It is actually found along two major train lines. The first being the Minatomirai Line wherein you can get off the Minatomirai Station and walk to the Landmark Tower. This particular walk would take about 3-5 minutes. The other railway that is nearby is the JR Line. If you are on the JR Line, head for the Sakuragucho Station. From this station, walking to the Landmark Tower would take around 5-10 minutes, depending on the pace of your walking.
If you are unfamiliar with these train lines, you can also search for directions to the buildings like the Yokohama Museum of Art, Queen's Square Yokohama, Nihonmaru Park, Keyu Hospital, and the Mitsubishi Heavy Industries building. All these establishments are the structures and locations that surround the Landmark Tower. If you are coming from any of these places, it could easily be a 2-3 minute walk and that is if you really talk your time as you walk. With all that being said, this place is definitely easy to access. Just take your pick on which route to take and you'll be there in no time.
A Closer Look at Japan's Landmark Tower
The records that this tower holds have been discussed early but there is still so much more to this tower than just world records. This building was built and designed by the Mitsubishi Estate so that explains why one of their major headquarters for business is a surrounding building to this massive structure. They built it having a floor area of 392,791 square meters which is quite a large space already but considering the number of floors that the area is multiplied too, the capacity of this building leads to endless possibilities. Luckily, thinking of what to put in such a space is not for an adventurer to worry about. What you should be focusing on are the shops that you want to visit in this high and mighty tower along with any other store or service that is unique in its own way.
The building has a floor count of 73 floors can offer spaces to several businesses. Of course, it would be absurd to think that all 73 floors are used simply for retail and business. If that were the case, the view that this tower offers the customers would definitely be wasted. Good thing that the bright developers, architects, and engineers that built this modern marvel had bigger plans than just to create one of the world's tallest malls. They made this to cater to different needs of different people. It is also very important to know that the parking in this place is not found in the tower itself. There is a designated parking area found west of the tower and south of the Landmark Plaza so if you are with a vehicle when you visit this destination, don't waste time and just go straight to the parking area. After all, with the capacity of the Landmark Tower to hold huge crowds of people, it is safe to assume that the designated parking area would almost always be full. This problem is an easy fix though because as stated earlier, taking a train to any of the stations mentioned above would only entail a 10-minute walk at most to reach this central location.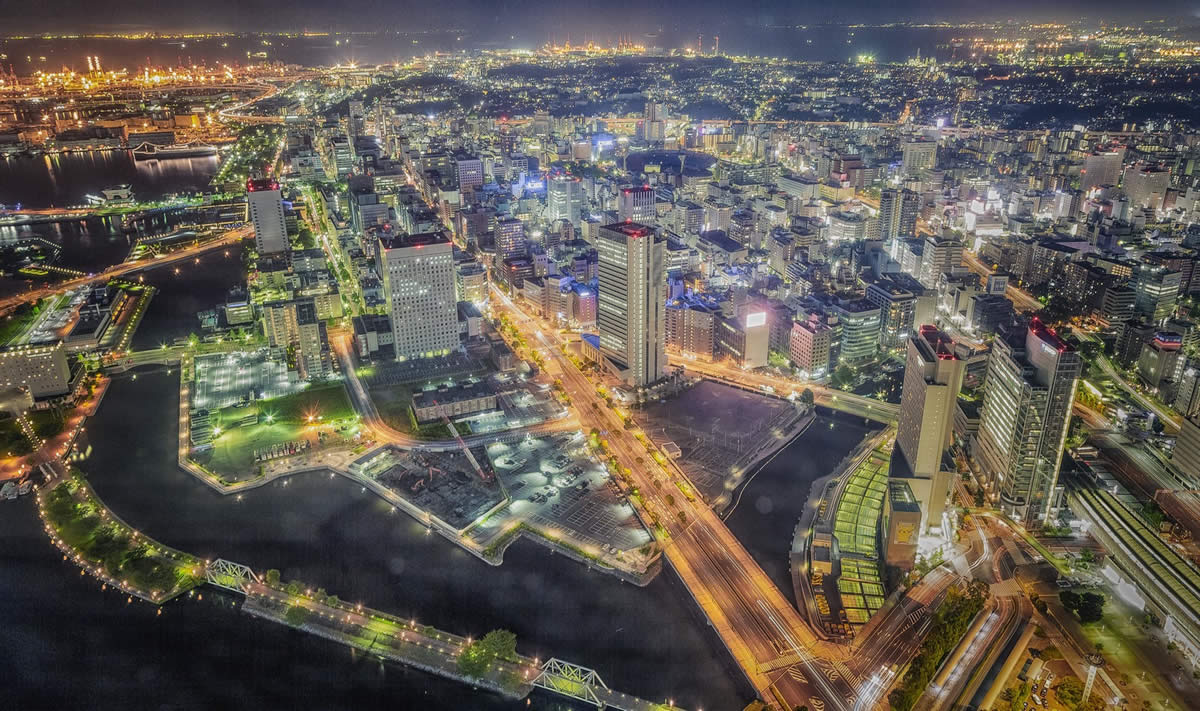 Being that the Landmark Tower is situated in the center of Minato Mirai, tourists who visit here surely want to shop or look around at what they have in store. As easy as it is to use the train to go to different shopping areas, having to go to one building to visit an "x" amount of stores would still be more appealing to any tourist. If you are one of those tourists looking for an energy efficient way of shopping, you should go and look around the lower 48 floors of this tower. These floors are where you will find services like restaurants, clinics, offices, and all kinds of shops. Because of the abundance in stores, the official website of Yokohama's Landmark Tower offers a list of all the stores that can be found per floor in this building.
Going through all these floors and looking at every single thing they offer may honestly take more than a day and this is why you will be able to check into a five-star hotel that resides from the 49th floor to the 70th floor. Not only does staying in this hotel save time and energy. It also gives a view that other can only dream about. Being that high up in the clouds gives you the unrestricted view of the city and the skies. On clear days, guests are also blessed to set their eyes upon Mount Fuji. Now, if you are a tourist checking in because of this magnificent view that this hotel offers, worry not about which room to pick and which direction the windows of the room are facing. This is so because, on the 69th floor of the tower, you will find an observatory that allows you to bask in this high view with absolutely no obstruction. 360 degrees of pure scenery is what you will get by just being in the observatory.
After discussing all the things that this single tower has done, from holding records to providing an all-in-one place for tourists, it should be clear why this place should be recognized and visited more than it is being at the moment. When talks about where to go in Japan come up, one hardly hears about this specific establishment and hopefully, this article sheds a light and opens people's eyes to what they are missing. This place is an actual landmark at the very least and it is situated in one of the busiest cities in Japan. Initially, what might draw them in are the world records that it holds but once they actually go through the vicinity, they are bound to realize that this building is more than just the records. It is a masterpiece in its own right and sure be seen that why, especially by the locals who live in the beautiful city of Yokohama. When tourists ask where they should head if they want to see something that is one of a kind, they should place this destination in their top 5 for sure.