Living the everyday life can get mundane and boring over time. The general routine of most adults these days is wake up in the morning, prepare for work, do the actual work, go home, rest, and the cycle continues the next day. Sometimes, with too much work, stress levels tend to increase and people would then want to go on a vacation and take an adventure or relax. For the outgoing people, they would probably look for something new and extraordinary to refresh their senses. If one would opt to travel but has a limited budget, Asia as your destination might be an option. Most Asian countries offer different kinds of experiences without hurting the wallet and one of the most recommended countries to visit is Japan. While it is not exactly the cheapest, products and services are affordable without compromising the experience. The sights are as magnificent as ever and the people polite and welcoming.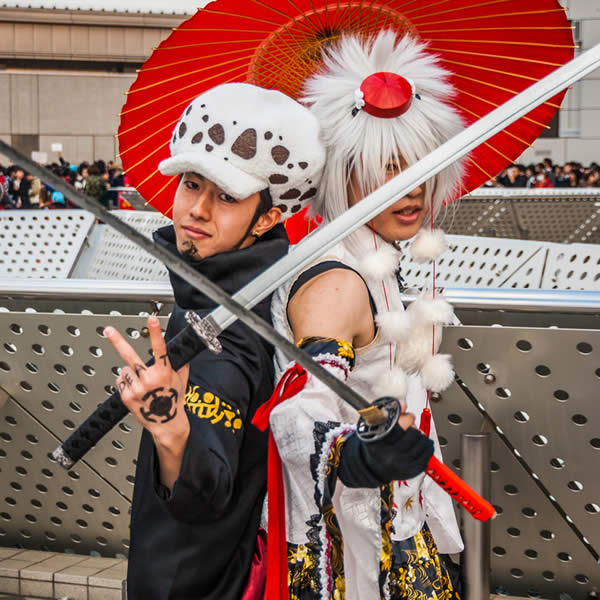 One of the most popular things about Japan is the otaku craze. Manga and anime are prevalent throughout the country, so popular that, with the help of technology and internet, the craze has reached overseas. Due to this growth in popularity, events based on these have grown through the years. Among the various occasions that showcase the otaku culture is the Comic Market or Comiket for short.
Comic Market: History, Achievements, and Core Concepts
Comic Market, also known as Komikku Maketto in Japanese, is the largest dōjinshi fair in the world. Presently held twice a year at the Tokyo International Exhibition Center, also known as the Tokyo Big Sight, in Ariake, Tokyo, Comic Market is among the biggest events in the country that people await for every year. Also called Comiket or Komiketto for short in Japanese, the first event was held on the 21st of the month of December in the year 1975 at the Ninhon Shoubou Kaikan in Toranomon, Tokyo. With only around 32 circles participating and about 600 attendees at that time, it was considered a relatively small event as compared to today wherein attendance has soared to more than half a million attendees.
First of all, a person may wonder, what even is a dōjinshi fair? According to Japanese dictionaries, dōjinshis are described as "magazines published as a cooperative effort by a group of individuals who share a common ideology or goals with the aim of establishing a medium through which their works can be presented." It is a means of self-expressions for a multitude of subcultures that are based on the manga. The goal of dōjinshis is to express the artist's own material to the public and not just to generate commercial gain. Hence, dōjinshis are usually not part of the commercial publishing distribution system. As a result, the distribution of the works of these artists is limited.
In order to sell their self-published works, dōjinshi marketplaces were introduced. The biggest dōjinshi marketplace to date is the Comiket, with more than 35,000 circles participating at present. Dōjinshis that focus on manga, anime and other associated genres such as video games are exhibited and sold at the convention. Many people flock to this public gathering every year because the products that are being sold in the convention are considered very rare. Dōjinshis are not usually reprinted, hence the items that are sold in Comiket may be found in outside shops with prices multiplied by 10 and sometimes even 100.
Currently, under the operation of the Comic Market Preparatory Committee or ComiketPC for short, Comiket is the biggest indoor public convention that is run by a single private non-governmental organization in the country. it was founded by Yoshihiro Yonezawa and some of his friends such as Teruo Harada and Jun Aniwa when they were still students at Meiji University in the year 1975. They considered Comiket as a more open form of the SF Taikai Convention.
After four decades of holding Comiket in Japan, it has gained achievements that it is proud of. For one, it has served as a platform for both amateurs and professionals to be able to showcase their works and pieces to other people. Distribution of such works based on manga, anime, and games has been made easier through Comiket. The exhibition of not just the works but also the creative ideas of artists is considered as an achievement by Comiket. Being able to share one's passion and express one's feelings through their works is highly important to the Comiket organizers. Another achievement would be the growing communication among participants of the event. This has served an essential role in growing the community network that is based on the love of anime and manga. Through this developing network, Comiket has also played a role in broadcasting this Japanese culture to other places such as countries abroad.
Comiket has four basic core concepts in making every Comiket convention a successful event. The first concept is that everyone in the public gathering is considered a participant. While there are sellers and buyers in the event, no one is considered a "customer" at Comiket. All people attending the event are seen as equal participants whose aim may be to express themselves through their works or to seek such works for one's pleasure. How a person participates in the event may change; there are people who applied as circle publishers and people who registered as a Comiket staff. The second concept is self-expression. Dōjinshis, after all, is the focal point of self-expression at Comiket. Hence, being able to self-express one's works as a hobby and even innovate those works through the use of technology are part of the core concepts of Comiket. The third core concept is space. Essentially, Comiket considers itself as a "space" wherein diverse individuals are open to express their own ideas and creativity and aims to accommodate all forms of self-expression. The fourth concept is the "Daye of Hare". Comiket likens itself to "The Day of Hare", wherein people express and celebrate their self-expression of creative ideas. Comiket is not just a public gathering but a special occasion outside of the ordinary everyday life.
What It Was Like in Previous Comiket 85 and 90
Comiket events take place twice a year and known as Summer Comiket and Winter Comiket. Summer Comiket, also known as NatsuComi or Natsukomi in Japanese, is held every August while Winter Comiket, also known as FuyuComi or Fuyukomi in Japanese, is held every December. NatsuComi is held for three days and usually takes place during the weekend around the 15th of August while FuyuComi is held for two to three days and usually takes place between the 28th and the 31st of December. The main part of Comiket open at 10 am and closes at 4 pm while the company booths may be open until 5 pm. However, upon the last day of Comiket, the booths and the Cosplay Square close an hour early.
The numerical value of the word "Comiket" represents the number of times it has been held. An even number usually represents Comiket held in the summer while an odd number represents Comiket held in the winter. An example of a NatsuComi is Comiket 90 or C90. Held on August of 2016, Comiket 90 was filled with various cosplayers of characters ranging from Pokemon Go and My Hero Academia to Love Live! and Kan Colle. There were even men dressed as female characters from Mahou Chuunen Ojimajo 5. Cosplayers featuring non-Japanese characters were also present as there is no discrimination at Comiket.
On the other hand, an example of a FuyuComi is Comiket 85 or C85. Held from the 29th to the 31st of December in the year 2013, Comiket 85 had more than 51,000 applicants and housed around 35,000 circle (publishing groups) participants during the event. The total combined number of attendees over the three-day event was approximately 520,000 people while the combined number of cosplay participants for the whole event was approximately 25,000 people. Due to the public gathering accommodating so many people, the total number of staff that helped organize Comiket 85 was approximately 3,250 people.
The Massive Success of Comiket 91 (C91): Dates, Attendance, and Catalog
The last Comiket event was held last December 2016 from the 29th, which was a Thursday, to the 31st, which was a Saturday. Dōjinshi area was located at East Halls 1 to 7 and West Hall 1 and was open from 10 am to 4 pm. There were also dressing rooms for cosplayers attending the event. After dressing up, cosplayers then headed on to the Costume Play Public Square for the exhibition of their costumes. Because it was winter during that time, most cosplayers donned more covered-up outfits to battle the cold weather. The lines were extremely long during this event with people queuing for over an hour during the morning of opening day. However, participants were not deterred by the long queue and waiting time. The attendance for this event was still more than half a million people, all of them eager to participate in the events that Comiket had to offer.
For every Comiket event, there is a guidebook that lists down the basic information about the event and the circle participants called the Comic Market Catalog. This catalog has three basic mediums, namely, the printed edition, the DVD-ROM edition, and the web edition. The printed edition can be found in and bought from bookstores, specialty stores, and Comic Market direct retail outlets. It can also be ordered through the mail. About 100,000 copies are printed and sold in size B5 or 18.5 cm by 26 cm square bound with approximately 1,400 pages. The DVD-ROM edition can also be found in and bought from bookstores, specialty stores, and Comic Market direct retail outlets and be ordered through the mail. Only about 40,000 copies are printed and packaged in software for Windows. As for the web edition, it is an online application that lists each accepted circle participant. These participants are able to edit their profile or the information about themselves on the web catalog.
The Comiket 91 catalog had the same editions as the others. Information listed in the catalog included the location and the hours of operation. For beginners, there were instructions on how to use the catalog and how to navigate Comiket. It also explains what Comic Market is all about, its history and ideals, and cosplay activities and photography. Important Comiket policies and prohibited and restricted items were also itemized in the catalog. Further explanation of the Comic Market can also be found on Comiket's website in an English version and PDF format. Comiket 91 was said to be a blast for the participants of the event and a great way to end the year 2016 and begin anew in January 2017.
Comiket 92: Dates in 2017 Filled with Cosplay, Music, and Games
The next Comiket event coming up is Comiket 92, which is a NatsuComi, to be held from the 11th to the 13th of August in the year 2017. An event filled with music such as Touhou songs and games, participants will surely enjoy the occasion this coming summer. Cosplayers who are excited for the event probably already started preparing their materials in as early as March 2017 and finishing the final touches to their costumes in July. The location, opening hours, and closing hours for the event will remain the same. Entrance is still for free for any visitors who wish to join the big occasion.
Tips on how to prepare for Comiket can be found online with posts, threads, and messages in forums. Some groups can be e-mailed re: their works and a reply can be expected. Because Comiket can get very busy with a number of people traveling not just from bordering cities but also from abroad, how to navigate and what time to actually go there to avoid the long lines would have to be researched before actually going to the event. Nonetheless, the important thing is to enjoy and have fun during the three-day event filled with diverse people showcasing their creative ideas and works for other people to appreciate.