Tokyo is home to numerous parks for foreign travelers to visit and appreciate the natural beauty of Japan. However, there are parks more suitable to certain visitors than others. For example, families or those who will be bringing children along are advised to go to Shinjuku Gyoen, where alcohol is not allowed. The Koishikawa Korakuen, on the other hand, is highly recommended for those who just want to walk around and take photos amidst a serene environment.
Both parks mentioned are beautiful in their own sense, but it is understandable that some tourists may find that these places lack engaging attractions. Generalizing the multitude of parks situated in Japan to be limited to sightseeing purposes would be a form of underestimating what the country and the local community can offer. For a unique park visit consisting of encounters with diverse people and cultures, a trip to the Yoyogi Park in Shinjuku, Tokyo will provide travelers with nothing less.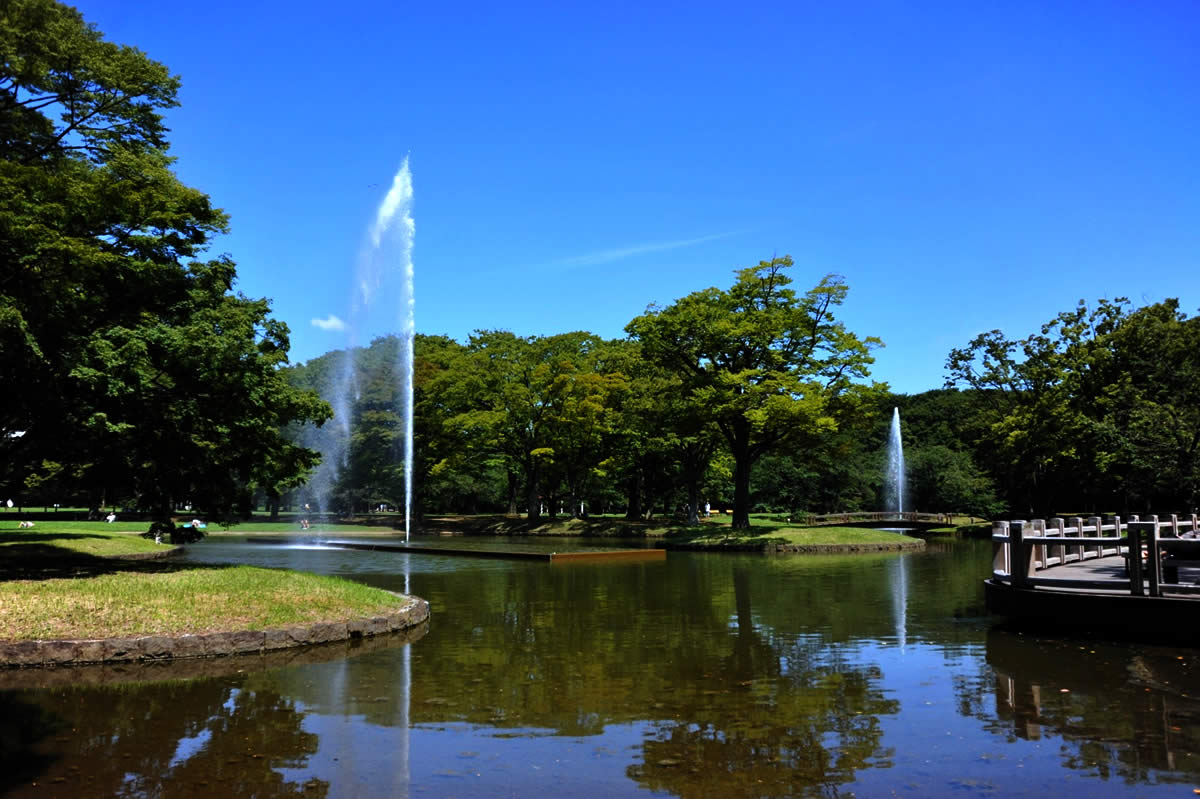 Brief History of Yoyogi Park in Tokyo, Japan
Yoyogi Park is a famous tourist attraction situated on the exact site where Japan's first powered aircraft flight was successfully launched in 1910 by Captain Yoshitoshi Tokugawa. Later on, it served as an army parade ground up until the year 1945, when the site was transformed to house the United States' military barracks called Washington Heights throughout the Allied occupation of Japan.
Come 1964, the Yoyogi National Gymnasium was established in the area for the 1964 Summer Olympics. The now popular building was designed to host the swimming, diving, and basketball events of the Olympics. Other sections of the site were also used to house the main athletes' village.
The majority of the section north from the Yoyogi National Gymnasium was turned into a park by the year 1967. Since then, Yoyogi Park has become a famous tourist destination consisting of bike paths, public sports areas, gardens, and picnic areas.
Strolling Around Yoyogi Park – Map & Hours
Spreading over an expanse of 134 acres, Yoyogi Park comes in 4th place in Tokyo's list of biggest parks. When combined with its neighbor Meiji Shrine, Tokyo's most popular pious structure, they become the biggest public space within the metropolitan city map, at a total of 309 acres.
The park can be reached by taking the JR Yamanote line train and getting off at the Harajuku station. From there, the park entrance is just about 200 meters away. Yoyogi Park has two main sections which can be referred to as the tree/forest park and the events park. As suggested by their designations, each section of the park has its own set of distinct characteristics and purposes.
The forest park is often the first thing that pops into the minds of people when they hear Yoyogi Park. This section is larger than the other and is usually filled with visitors having picnics and barbecues. Given its spacious fields, outdoor activities such as jogging, cycling, and skating may also be done here. The section also houses a bird sanctuary, a pond, a garden created by 22 participating countries of the Tokyo Olympics, and an observation deck, among other natural formations.
The events park, located opposite of the forest park, houses a soccer field, hockey field, basketball court, a stadium, and an outdoor stage. Not a lot of gardens, trees, or flowers can be observed at this section. Instead, the area offers tourists with the opportunity to enjoy several local food stalls, flea markets, and cultural activities.
The park also features several other facilities such as toilets and vending machines, for the convenience of visitors. Several drinking fountains are also available throughout the area. Foreign travelers may find them quite interesting as they are equipped with sufficiently high pressures that can make the water spout two to three times the average height of a person.
As with other parks, Yoyogi Park also closes during the evening. Tourists can visit the park as early as 5:00 AM on any given day but have to leave by 8:00 PM during summer days, and by 5:00 PM during winter days. Fortunately, the park is open every day of the year so visitors can come back as much as they want if one day is not enough. There is no admission fee as it is a public park.
Yoyogi Park Peak Days/Seasons –Sundays, Sakura Viewing (Hanami), and Other Events
Yoyogi Park is popular for its lively, but also relaxing, atmosphere. The area is particularly booming with activity on Sundays, given that the weather is good. Tourists can expect to come across diverse groups of people who are either performers or fellow visitors. Many of the performances here on Sundays are simply done for fun, not for profit. As such, there is no fixed schedule for these energetic shows. For those lucky enough to see these, taking a video and photo is absolutely fine, so long as the entertainers are not disrespected in any way.
During the months of March and April when cherry blossom trees are in full bloom, the park also tends to be quite crowded. Although Yoyogi Park is not as abundant in cherry trees as other parks, it does have several hundreds of Somei-Yoshino cherry trees and early-blooming sakura trees, making it a good location for hanami (cherry blossom viewing). The autumn is equally spectacular come the autumn season when the leaves of its ginkgo trees turn into a lovely golden yellow color.
The rest of the year, the park accommodates several festivals and events; the biggest one being the Harajuku Omotesando Genki Matsuri Super Yosakoi. This is Tokyo's largest summer yosakoi dance festival that features a hundred teams and thousands of dancers. Yosakoi festivals are basically dance competitions for regional teams from different universities and colleges. The festival is often held in late August and goes through an extensive route along Harajuku and Omotesando, the Meiji Shrine and Yoyogi Park, included.
In addition to local celebrations, several ethnic festivals also occur in Yoyogi Park. Some cultural events that have been and continue to be held in the park include:
Saint Patrick's Parade
Songkran Festival
Cambodian Festival
Cinco de Mayo
Okinawan Festival
One Love Jamaica Festival
ASEAN Festival
Brazilian Day
Indonesian Festival
Latin American/Caribbean Festival
Vietnam Festival
Indian Festival
Sri Lankan Festival
These events contribute greatly to the popularity of Yoyogi Park among foreign travelers. As such, several of these festivals are held multiple times each year.
The People of Yoyogi Park –Fashionistas, Dancers, Greasers, and More
Without a doubt, Yoyogi Park is a place that has no room for the word "boring". Its charm lies in the interesting groups of people that frequently assemble at various locations of the park on Sundays. As the park is situated quite close to Harajuku, Japan's center for fashion trends, many locals dressed in quirky clothes can be seen roaming around or simply relaxing in the area. Compared to previous years, the number of fashionistas in Yoyogi Park has decreased, but is still significant enough for tourists to spot a few of them, here and there.
The park is also home to numerous performers such as musicians and dancers. However, tourists should keep in mind that not all of these entertainers are actually there to hold shows. Yoyogi Park is a public park so there may be some of them that are just making the most of an available space to practice their routines. For this reason, those who will be requested to stop taking videos or photos should not take things personally and respect the privacy of others. It is always best to ask before snapping away to avoid any misunderstandings.
Among all other groups, the most interesting ones are possibly the greasers, also known as rockabilly dancers. Each of them sports a 1950s hairstyle and attire that comes complete with a leather jacket. Usually, these dancers are men, but some women also accompany them from time to time.
Every Sunday, the greasers dance to their playlist of jukebox hits. Their routines are incredibly entertaining and packed full of energy. Contrary to popular belief, they simply do this every week for the sake of their own enjoyment, not for the sake of earning extra money. Visitors are free to record their performances in any way. However, as they are a free-spirited group, they come and go as they please. Foreign travelers who will be able to come across them during their visit to the park should consider themselves lucky.
Other Tourist Destinations/Attractions Near Yoyogi Park– Meiji Shrine, Harajuku, and Omotesando
Tourists done strolling around Yoyogi Park and have extra time to travel to other attractions are advised to do so. Other than the Meiji Shrine, the Harajuku and Omotesando areas can easily be accessed from the park's location. These districts house plenty of cultural activities, structures, and entertainment districts for foreign visitors to enjoy.
Meiji Shrine
As previously mentioned, the Meiji Shrine is Tokyo's most popular religious structure. It was built in 1912 at Emperor Meiji's favorite Iris garden after he passed away. The Imperial Seal can be found on the large wooden torii gate of the shrine. It is directly connected to the grounds of Yoyogi Park, making it a nice side trip before or after a visit to the park.
The Meiji Shrine is surrounded by an abundance of trees that have been donated by Japan's prefectures and other countries. The forest consists of nearly 400 different species, spread across the 175-acre complex.
Each year, the shrine hosts numerous rituals and ceremonies including weddings, local festivals, and seasonal festivals. During New Year's Day, over 3 million people head to Meiji Shrine for Hatsumode, a Shinto shrine visit that is done on the 1st, 2nd, or 3rd day of the year. This Japanese practice is done to leave behind all the bad things that have happened in the previous year and hopefully be granted a better year ahead.
Tourists are free to visit the shrine any day of the year. There are prayer services available every day during the morning and afternoon. The shrine does not have fixed opening and closing hours. Instead, it uses the sunrise and sundown timetable as a guide and adjusts accordingly to the demands of their events.
Harajuku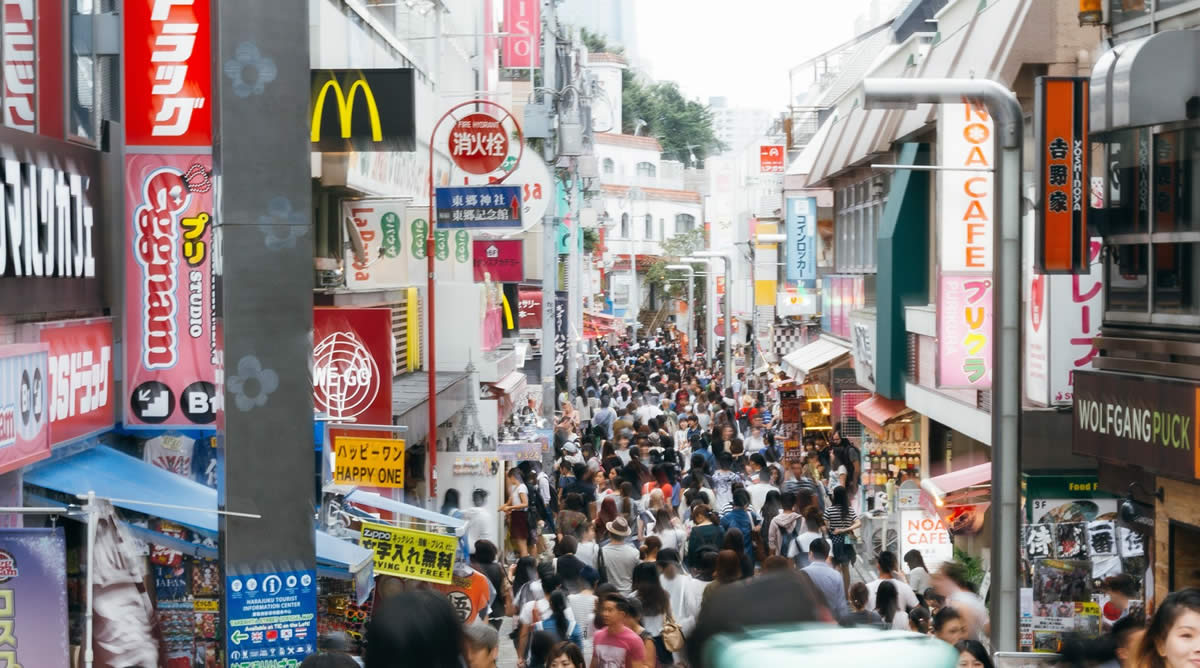 Harajuku is considered as the center of mainstream and alternative youth fashion, amidst an abundance of green spaces. It houses a lot of long streets lined with various stores and shops that carry fascinating apparel and accessories. Tourists can easily lose track of time by shopping to their heart's content. Furthermore, Harajuku is also home to several shrines, parks, restaurants, and activities, perfect for other tourists not in the mood to shop the rest of the day away.
Shopping
Takeshita-dori
Daiso
Paris Kid's
Closet Child
WEGO
Laforet Harajuku
Spinns Harajuku
6% DOKIDOKI
Cat Street
Sightseeing
Meiji Jingu Shrine
Jingu Bridge
Togo Shrine
Food & Drinks
Marion Crepes
Calbee PLUS
Sakura-tei
Harajuku Gyoza-rou
Kyushu Jangara
On Japan Cage
Activities
Purikura Shop NOA
Harajuku Himitsukichi of Scrap
Design Festa Gallery Harajuku
Accommodation
Sakura Fleur Aoyama
Dormy Inn Premium Shibuya Jingumae Hot Spring
Omotesando
Omotesando is a bustling neighborhood home to fashion, entertainment, and interesting architecture located between Shibuya and Gaienmae. Compared to Harajuku, which houses cheap restaurants and shops, Omotesando houses several big brands including Dior, Louis Vuitton, and Prada.
Shopping
Omotesando Hills
One Omotesando
Anniversaire Omotesando
Prada Boutique Aoyama
Louis Vuitton Omotesando
Gyre Omotesando
Kiddyland
Tod's Omotesando
MoMA Design Store
Tokyu Plaza
Oriental Bazaar
Sightseeing
Omotesando Street
Aoyama Gakuin University
Aoyama Theatre
Aoyama Cemetery
United Nations University
The Audi Forum
Food & Drinks
Heiroku Sushi
La Boheme
Koffee Mameya
Madosh
Dominique Ansel Bakery
Crayon House
Commune 246
Activities
Gallery Tao
Gallery 360
Modern Kimono Sasaka
The Espace Gallery
Spiral
Taro Okamoto Memorial Museum
The Nezu Museum
Accommodation
Shibuya Tokyu REI Hotel
Hotel Allamanda Aoyama Tokyo