Tokyo is vast. It has a little less than two dozen municipalities (or what they call Special Wards) that comprise it. Each ward has its own unique cultural flavor, specialty, and history to it. There are even more stories, trivia, and details that lay deeper within each of their districts. If you find yourself around the area of Tokyo, it's a good idea to go explore and learn more about the various characteristics each region has to offer.
Tucked in between two of the busiest districts of Tokyo is the peaceful place that is Yoyogi. It's comprised of residential properties, as well as buildings for business and institutional purposes. While it doesn't have as many modern shopping centers or options for entertainment as its neighboring districts do (it does have vintage outlets), it's still a worthwhile place to visit. Why? It offers a good peek into what quiet, upper-class Japanese suburbia is like.
Where in Tokyo is Yoyogi Located?
Yoyogi isn't too large an area. It's a small neighborhood found in the upper part of one of Tokyo's Special Wards; Shibuya. It also leaks over to a bit of the Shinjuku area. Notably, Shibuya and Shinjuku are two of the biggest wards in the metropolis of Tokyo. So far, there are 10 districts within Yoyogi, but when people refer to the general area of Yoyogi, they usually have only 5 of these districts in mind.
As for these districts, there's Yoyogi 1-chōme, where Yoyogi station is located. This holds many of the district's educational institutions. "Juku", an after-school studying program, was first launched here. Yoyogi 2-chōme is known for its towering buildings, and is nearer Shinjuku, therefore holding the southern exit of Shinjuku station. Yoyogi 3-chōme is majorly a residential area for smaller houses, while Yoyogi 4-chōme and Yoyogi 5-chōme are nearer tourist spots (Yoyogi Park, Meiji Shrine) and are also primarily residential areas.
One of the districts named "Yoyogi-Uehara" is a combination of three areas; Nishihara, Ōyamachō, and Uehara. Moto-Yoyogi-chō is another hilly expanse dedicated to residential properties. Lastly, Yoyogi Kamizono-chō is the area in Yoyogi that holds Yoyogi Park, Meiji Shrine, as well as a few residential lots.
A Quick Brush Up on Yoyogi's Past
During the 1600's, the area of Yoyogi used to be made of hills and was not occupied by many people. Small settlements peppered these lands, with rich Daimyo occupying larger houses at the tops of the hills that spread across the region. Much like other developing Japanese settlements, Yoyogi would have its own Shinto shrine to accompany settlers. Supposedly built as early as 1212, their shrine was dedicated to the Martial Art Deity, "Hachiman". This was depicted with a river flowing south of it named the Udagawa River, though the river no longer flows in some areas anymore. Hachiman Shrine, however, still stands.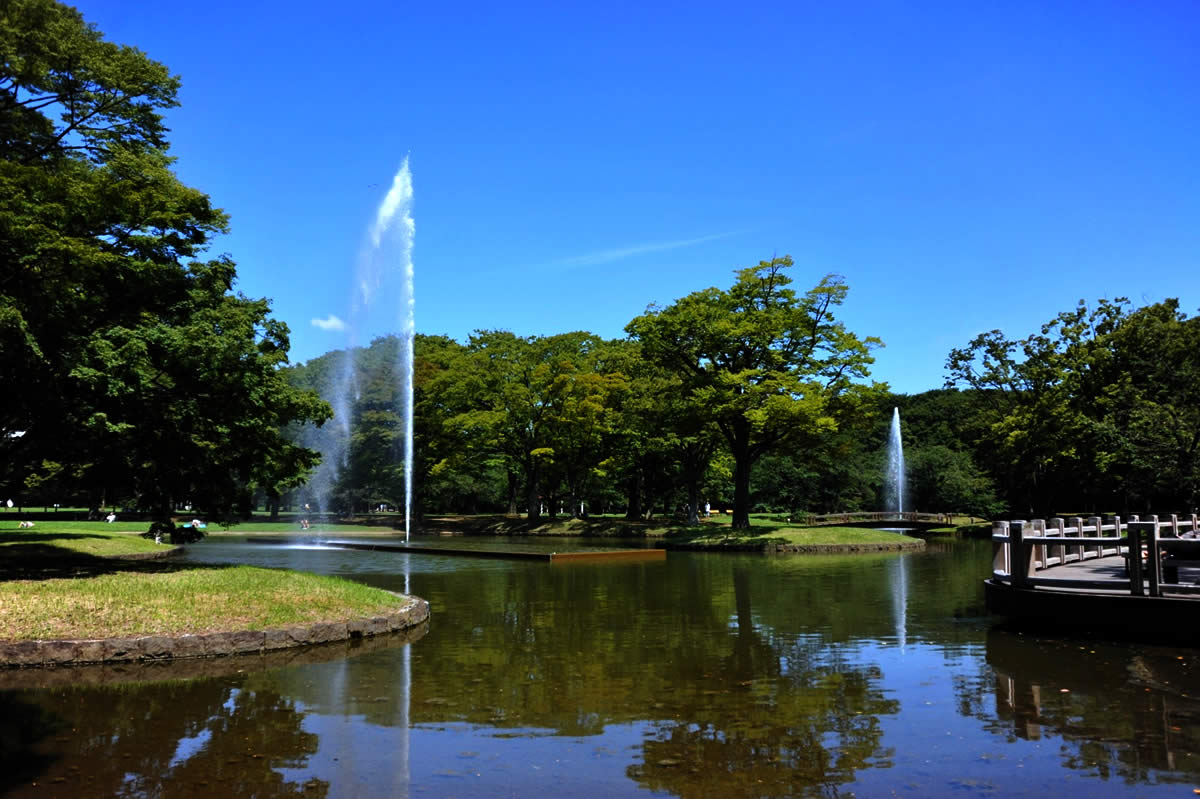 How did Yoyogi get its name? The word "Yoyogi" can be chopped into two words. "Yoyo", which means for generations, and "gi", which means tree. When you combine both, you have "A tree for generations." Sources say that this word combination was used to describe an ancient fir tree that grew where Meiji Shrine is located. This tree was reportedly so high, you could see the entire area of Edo on it.
While there is no record of the tree after that, as soon as the Meiji Restoration took place, parts of Yoyogi were converted for use by the government (eastern Yoyogi), or agriculture (western Yoyogi). The lands used for agriculture were later converted for military use. The Meiji Shrine was built in 1920, and things in Yoyogi remained relatively normal, until World War 2.
History About The Yoyogi Park: Born From War
The second world war upturned everything – a large chunk of Yoyogi, for one, was turned into a place where U.S. personnel lived towards the end of the war when the occupation of Japan took place. This residential area exclusive for American employees was called Washington Heights. 16 years later, the remaining members of the occupation went back the United States, leaving Washington Heights empty. This would prompt the Japanese to use the empty space as facilities for the Olympic Games that were to take place in the same year; 1964.
It was also the year that 30,000 trees were planted around the area that was once known as Washington Heights. Those trees would soon grow, and make up what is known to tourists today as Yoyogi Park.
Hours of Fun At Yoyogi Park
Most people who visit Japan go for the capital, which is Tokyo. Yoyogi Park is found in Tokyo and should be high on your itinerary checklist because it embodies so much of the balance of the Japanese lifestyle. Being one of the biggest parks in all of Tokyo, it takes up a whopping 134 acres of space. Plus, not only is the park clean, convenient, beautiful, and relaxing, it's also open for all kinds of fun – for free.
There are spaces for you to do all kinds of recreational activities, such as kite flying, jogging, and picnicking. You can even have a casual game of badminton with a friend if you like. Don't have your own bike? That's no problem. In Yoyogi park, you can rent one, and even try using a 2-seater bike if that's the kind of fun you're looking for. They have a specific biking course for adults, so you don't bump into anyone. If you have kids, fret not – there's a separate space for them to practice biking as well.
Enjoy The Local Scenery
All around the park, you'll see locals going about their business. Some of them are artists just strumming on their guitar, others include groups of teens out for dance practice. It never gets boring, and there's always something (or someone) to watch. During Sundays afternoons, performances are held near the Harajuku gate, and themes for these performances vary but can be quite musical, comedic, and/or fashion-oriented. Crowds are usually manageable, but when the Cherry Blossom peak rolls around, you'll see much more people active, enjoying the beautiful view.
Spring isn't the only peak of when visitors flock to the park to stare at trees; the Koyo Front brings in lots of leaf-watchers during the autumn months too. Watch as tree leaves turn bright hues of yellow and red, giving Yoyogi park an entirely different, albeit gorgeous look. In summer, you'll be able to scrounge through their flea market. If you're lucky, you could be there in time for one of the many festivals that are celebrated in this park.
A Haven For Pet Lovers
The Japanese are avid pet lovers, and this is very evident in Yoyogi Park. If you have a dog, or just enjoy watching them or petting them, you'll surely enjoy it. Yoyogi has several dog runs that are categorized depending on dog size. You'll find all kinds of different dog breeds here, many of them doing tricks with their owners, completely unleashed. It's a great place to meet and greet other dog owners, as well as take a photo or two.
Sunday: The Best Day to Visit Yoyogi Park
It's advised that Sundays are the best time of the week to visit Yoyogi park. This is because of the dynamic crowd that comes in during this time. Perhaps it's because it's the weekend and people prefer to spend their free time doing things they enjoy in the park, combined with the fun performances held during Sundays. The buzz of all the different activities is most prominent during this time.
Then again, if you're the type to not enjoy crowds, then you're better off going on a weekday. It's much more peaceful and allows for a more meditative and relaxed feel – although Yoyogi is so big, it's usually easy to find a quiet spot no matter what is going on. As for the best time to visit, late afternoons are perfect if you like it not too cool, and not too hot. Take note that Yoyogi Park has different closing hours for summer and winter; it's open from 5 AM to 8 PM from May until September. Winter (October until April) hours begin at the same time but end at 5 PM.
Restaurants Around Yoyogi Park
Partaking in strenuous physical activities around Yoyogi park can be taxing, and can leave you hungry. Luckily, grabbing a bite isn't a problem with restaurants being as little as .3 kilometers away. Need some suggestions?
Kyushujangara Harajukuten restaurant serves ramen, and they let you build it from the broth to the toppings. It's very conveniently located and reasonably priced (you'll spend around 1000 yen for a bowl) especially considering how highly praised their ramen is. Their staff can understand a bit of English, which makes it easier for tourists to order. It can sometimes be full of people, so prepare something to do in case you're made to wait. As they say, it's worth it.
Not in the mood for soup? Then say hello to one of Japan's favorite snacks; the Takoyaki. Tsukiji Gindako - Harajuku Branch offers some of the best Takoyaki in all of Tokyo. It's a great quick meal if you're not up to sitting down and going through lunch or dinner rituals. Then again, they also let you have the option of dining in if you prefer.
Yoshinoya is your go-to for a quick fix; you can call it the Japanese version of fast food. It's affordable, piping hot, delicious, and filling; a better option compared to McDonald's. The meal that is raved about the most? Their beef bowl. Pick the portion that best suits your appetite.
Station Maneuvering: How to Get To Yoyogi Park
Take the JR Yamanote Line and exit at the Harajuku Station. Make sure you turn right at the exit and keep walking. You'll eventually see the entrance to Yoyogi park. The walk should take about 5 minutes, so if you keep going and it's been a bit more than that, you're probably going the wrong way. You may also take the Chiyoda line, exit the Yoyogi-Uehara Station, and make your way to the park.
In case you're coming straight from the Haneda airport in particular and want to head this way, board the Keikyu Kuko Line. Get off at Shinagawa Station, and board the JR Yamanote Line. From there, follow the instructions mentioned in the previous paragraph.
Visit The Yoyogi National Gymnasium
Inside Yoyogi park is an arena that was built in 1964 to hold water sports events for the Olympics. In fact, there are two arenas; the bigger one with a capacity of 13,291 people, the smaller one able to carry 3,202 people. De was created by Kenzo Tange and is recognized in the design world for the special way its roof is sloped and hung. Although you won't be able to go inside, it is still an architectural marvel.
The Yoyogi National Gymnasium is still used today, mostly for local competitions of basketball, ice hockey, futsal, cheerleading contests, and concerts. This coming Olympics, it will reportedly be used for Handball games.
Munchies and More At The Yoyogi-Uehara Station
The Odakyu Electric Railway and the Tokyo Metro Chiyoda Line pass through this station. Because it's the terminal for the Chiyoda line, you've usually got first dibs on the train seats before it fills up with people in the other stations.
What is a little special about the Yoyogi-Uehara Station is its abundance in western food franchises. Sure, there may be McDonald's franchises here and there, but a good old Subway sandwich or Burger King's onion rings can fill both that hunger pang and that void caused by homesickness. There are also other selections available, whether it's southeast Asian, Italian, Chinese, and of course, Japanese.
It helps to try to get to know the locals, how they live, and how they regard their culture. Taking a walk around Yoyogi park will help you get an idea of what the scene of Tokyo is like; it's varied, colorful, welcoming, and fun. What's the purpose of traveling if there's no spontaneity in your activities? You really never know what you'll find in Yoyogi Park - the possibilities are endless.