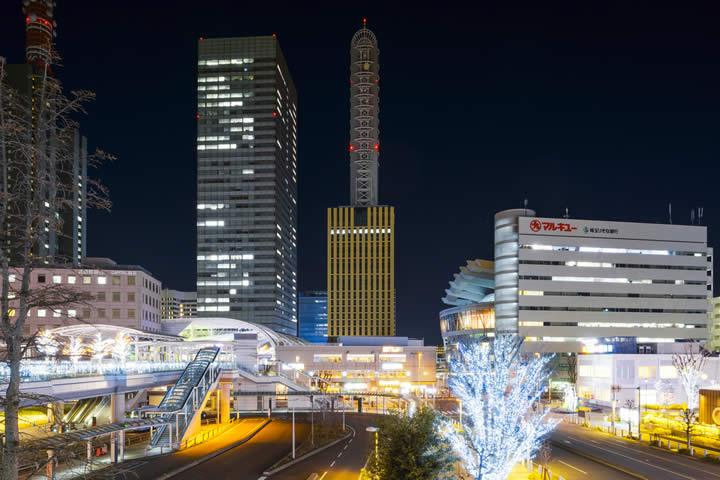 As with many Prefectures in Japan, its capital city is the same as its name. Saitama (Saitama-shi) is a city found in the Saitama Prefecture. The Prefecture itself sits in the middle of Japan and is considered a part of the Greater Tokyo Area. Located in Honshu island's Kantō region, it is home to forty cities and eight districts, which are further divided into towns. It is easily accessible from Tokyo – around a 15 to a 12-minute train ride, and is great for those who are tired of the bustle of the inner city of Tokyo. If you're in Tokyo and a change of scenery, breath of fresh air, or some exciting, outdoorsy activities, Saitama is the place to go to.
The History of Saitama in Japan
Names and places change throughout the course of time, and Saitama is no stranger to this phenomenon. It was made up of ancient provinces, one of them being Chichibu Province (the western area of present-day Saitama), the other, old Musashi Province. Emperor Sujin ruled over the province of Chichibu for 67 years, along with 136 other provinces.
By the 8th century – also known as the Keiun era in Japan - discoveries of abundant copper deposits in the district of Chichibu were being made. As the centuries would pass by, the area of Saitama would be known for its agriculture production, thanks to the fertility of the land. As with the rest of Japan throughout the Edo period, areas in Saitama would be segregated and ruled by different Daimyo, or Japanese feudal warlords.
Saitama Prefecture and Saitama-Shi, Currently
By the 20th century, Tokyo was developing fast. The lack of real estate in the capital led to expansion to the cities and prefectures around it. Thanks to the relatively new connections in terms of transportation, Saitama is used by many of those who work and study in Tokyo as a residential area. It also stands on its own with its commercial buildings.
As for Saitama-shi, despite being a new city (it was established only last May 1, 2001) it is still rich in history, culture, stories, and things to do. As for its roots, it wasn't always known as Saitama. It was once known as "Sakitama". Today, Sakitama is still a district found in Gyoda, which is also part of the northern area of the Saitama Prefecture. The word has been found to emerge in poetry from as early as the 8th century, and, over the years, changed in pronunciation to the word "Saitama".
Fast Facts on Saitama: Geography, Statistics, Symbols
In terms of geography, the prefecture of Saitama is landlocked, which means that land encloses it. It has many cities, two examples of which are Saitama-shi, another being Urawa. The prefectures that bound it are namely Yamanashi, Gunma, Gagano, Tochigi, Chiba, Ibaraki, and Tokyo. Along Chiba, the Edo River marks the border between both Prefectures; other rivers Tone, Kanagawa, Arakawa, and Tama all mark different borders around Saitama. Mountains, hills, plateaus, and lowlands make up several parts of the region.
Saitama Prefecture, as of October 1, 2014, has a population of 7,237,734 people. It measures 3,798.08 square km, while its capital Saitama-shi scores at 217.43 square km, its population at 1,266,656. The prefecture's current governor is Kiyoshi Ueda. It has 63 municipalities under its 8 districts. It is symbolized by a flower (Primrose), tree (Keyaki), and bird (Eurasian collared dove). Its current mascot is Kobaton, who is a Eurasian collared dove himself. He was inaugurated as such in 2005, complete with a ceremony and the governor's letter of appointment.
Back to Saitamashi – did you know that when the name of this city is written down, it is done so in Hiragana? Most cities in Japan use Kanji when they're written down. In fact, it's the only city that has the same name as its Prefecture (called a prefectural capital) in all of Japan that is written in Hiragana. It also has 10 wards (one of them being Omiya), each ward set with its own color for identification.
The Traveler's Quick Guide to Exploring Saitama in Japan
Admittedly, Saitama isn't the first place that would come to a tourist's mind when visiting Japan. Though you may enjoy the occasional restaurant ("Misawa" is supposedly very good), Tokyo still wins in terms of variety, because Saitama is primarily a residential area and a transportation hub. It caters less to tourism than its neighboring areas do. However, that doesn't mean that Saitama doesn't have anything great to offer in terms of sites to see and fun activities. In fact, quite the opposite is true.
Around the Saitama prefecture, the first place you should check out is Kawagoe. It's a town that replicates the feel of times when Japan was still called Edo; thus, its nicknames "Little Edo", "Edo Town", or "Ko-Edo". Its alleyways are reminiscent of Japan a little more than a hundred years ago, with special treats best made only in Kawagoe; sweet potato-flavored ice cream. It's also home to Kawagoe Castle, what's left of the Edo Castle, as well as the Kita-in temple and Toshogu Shrine.
Japan is one of the most well-developed countries in the world in terms of transportation, thanks to their advanced metro system. Well, in Saitama-shi, you can visit the Railway Museum, which has artifacts and pieces of history of the railway progress in Japan. Here, you will see the many train cars and technologies that were used in the past 200 years, as well as the other retired locomotive collectibles. Not only do you get to see the actual physical trains themselves, but the museum offers concepts and details behind their old operating systems. You may also get to try their locomotive simulator. It's open from 10 AM to 6 PM and costs 1,000 yen to enter.
Another recommendation for those who find themselves overburdened by the busy-ness in Tokyo is to hike one of Saitama's mountains; Mt. Hiwada to Mt. Takasashi to Mt. Monomi is one trek that will take your breath away – literally and figuratively. Not only is it less crowded than hikes around Mt. Takao or Mt. Fuji, it is said to be incredibly peaceful, filled gorgeous scenery, serene bodies of water, beautiful waterfalls, and remnants of old shrines.
Touring in Japan? Have A Map of Saitama Ready
While other tourist destinations are a feast to discover by foot, the best way to go around Saitama is to use their metro – or have a personal guide. Because it's mainly a residential area, you don't want to walk through miles and miles of houses. What you need to do is get yourself a general map of the area, and pinpoint exactly where you want to go. That way, you can see which areas are near each other, so you may group them together for one day of your itinerary. A rail map of Saitama is available online, and google maps can offer you a general idea of how far your planned destinations are from each other. The rail map can also familiarize you on which line to take, or which stations to remember.
Study in Japan: Apply at Saitama University
Saitama University was established in 1949 and is a National University in Japan. The Japanese locals call it "Saidai", short for "Saitama Daigaku". It currently has 7,406 undergraduates and 994 postgraduates studying there. Its postgraduate programs include master's degrees, as well as doctorates. The university is found in Sakura-Ku, Saitama City, in the Saitama Prefecture. You may choose your undergraduate course from five faculties; Economics, Education, Engineering, Science, and Liberal Arts. As for post-graduate degrees, their available categories are Cultural Science, Economics, Education, Engineering, and Science.
Saitama University has two different campuses; their main campus which is Okubo campus, and other satellite campuses named Omiya Sonic City college, and Tokyo Station College. To increase the influx of international students, an International Graduate Program was created, specifically for the Civil and Environmental Engineering course. This was done 25 years ago. The courses in this program are directly aimed at any international student who has excelled in their qualifications and is taught in both Japanese and English. See if you have what it takes to acquire a scholarship – try applying.
The Zip Code of Saitama in Japan
In Japan, every address has a postal code or zip code. They are 7 digits long, and go in the form of three consecutive numbers, followed by a dash, followed by four consecutive numbers. Japan is quite large, so there are arrays of patterns of numbers designated to thousands of different areas. In each prefecture, there are many cities, and within those cities, towns. The zip codes vary greatly and are designated by the town. So, it is best to input the town you live in to get the postcode you want. Simply search for this on google.
Getting Used to the Time Zone in Saitama, Japan
Coming in from the west? If you were to fly from New York to Japan, you'd be moving from Eastern Daylight Time to Japan Standard time. These time zones are 11 hours apart, (not to mention that UTC is 9 hours behind Japan too) so that means that when you arrive in Tokyo, you'll have to reset your body clock and fight jet lag. There are several ways to do this.
While on the plane, rest well, because you'll need it for staying up later when you arrive. Next, force yourself to stay awake until night falls in Japan. You may try ingesting aids to sleep, such as valerian root, or melatonin, if your doctor thinks it's fine to do so. When you wake up, get as much sunshine as you can, and keep active, so your body gets worn out enough to sleep again during the night time.
The climate in Japan – What's the Weather Like in Saitama?
Saitama is quite temperate. It isn't too hot or too cold, its lowest average temperature during its coldest month (January) hits -1.5 degrees. During August, its hottest month, its hottest average temperature hits 31.5 degrees. During Autumn and Spring, it stays cool on average as well, around the range of 13-21 degrees as its average high.
Basically, if you're visiting Saitama anytime during summer or winter, prepare for expected conditions. Bring warm, wooly socks and extra layers of clothes for winter, while summer calls for shorts, short-sleeved shirts, and slippers/sandals. Spring and summer offer perfect jacket and cardigan weather, with shoes and the occasional scarf or shawl.
Search for Apartments in Saitama, Japan
There are many sites online that aid foreigners/tourists who plan to stay long look for decent apartments. Some of these sites allow you to refine your search based on how much you want to pay, the size of the apartment you'd prefer, distance from a certain station, and so much more. When choosing an apartment, don't forget to account the fact that earthquakes do frequent Japan a lot, although their magnitude levels are small. Pick an apartment that is safe just as much as it is affordable and convenient for your needs.
Get News Updates from Japan About Saitama
Acquiring news about Saitama alone can be done by simply inputting the word "Saitama" into google news. You may encounter updates from the show "One Punch Man", but if you sift through the news, you'll be able to see news clips that come from the Saitama Prefecture or city. You'll also see many updates from earthquake sites, because as previously mentioned, Japan often faces them. Many news sites about Japan are in Japanese, so you may want to go to a trusted Japanese news website where you can refine your Saitama search even better.
Saitama may not be the first choice given to tourists who want to maximize their trip to Japan, but its peaceful suburban nature is a unique experience. If you get to live with one of the residents in Saitama, then you see what it's like in the everyday life of a Japanese citizen instead of staying in a hotel. Consider visiting Saitama on your next free day – take a break from the city.