Gifu, Japan Basics: Its Background, Regional Map, and Postal Code
The prefecture of Gifu plays a very significant role in Japanese history. During the feudal days of ancient Japan, the land area where Gifu currently stands has been the site of many noteworthy battles in history, with records that go back to 20,000 years ago. The reason for Gifu's significance can be attributed to the location where it stands: in a location that connects the east and west of Japan.
Past rulers, warlords, and emperors of Japan have situated the seat of power in Gifu Prefecture in order to gain control of the rest of the country. The famous "daimyo" or warlord, Oda Nobunaga, who was one of the visionaries of a unified Japan, held his seat of power within Gifu. It was also during his reigning period when the name "Gifu" was derived. The name was inspired by the Qishan Mountains of China, which played an essential role in the unification of ancient China. This reflected Oda Nobunaga's strong desire to unify Japan; beginning with Gifu province.
The land area of Gifu is rather large, at approximately 200 square kilometers. It is worth noting that the increasing size of Gifu's land area happened gradually through time, as it was merged with plenty of neighboring towns, with the latest merger happening in 2006 when the town of Yanaizu was effectively put under Gifu jurisdiction. Due to the plenty of mergers that occurred throughout Gifu's history, it comes to no surprise that the landscape varies greatly throughout the entire province.
The northern part of Gifu Prefecture is widely populated by mountainous areas; whereas the southern part of Gifu contains modernized towns, including the regional center – Gifu City. A quick glance at Gifu Prefecture's map would show a distinct river, known as Nagara River, which is located throughout the southern parts of Gifu.
Understanding Gifu, Japan's Varying Weather, and Climate
Having a rather large land area, it is no surprise that certain parts of the prefecture experience a different climate from the others. To be precise, the upper part of Gifu Prefecture, where the Hida Region is located experiences a humid continental climate, which is a lot colder than that of its southern counterpart; Mino Region, which experiences a humid subtropical climate.
It comes to no surprise that Hida Region experiences a much colder climate compared to Mino Region. For one, the region is located at a much higher altitude and is also located further from the equatorial line. Having a humid continental climate means that the region experiences cold weather majority of the year – with the exception of the months of July and August when the temperature usually ranges at 25 degrees Celsius.
On the other hand, the months of December, January and February are extremely cold, with an average temperature that can fall below zero, with plentiful of snow. This makes Hida Region ideal for tourists who want to partake in snow related activities such as skiing.
On the other hand, Mino region is located in the southern area of the region. Having a humid subtropical climate meant that it shared the same fluctuating temperature as its neighbors in the Chubu region such as Shizuoka and Aichi Prefectures. The months of December, January and February are relatively cold – however, they are not as cold as Hida Region's winter season. Meanwhile, the months of July and August can get extremely hot. In fact, the area where Mino Region is located has the highest recorded temperature during summer time in Japan.
For anyone who wants to send a parcel or package to Gifu, the postal code of the various towns within the prefecture all begin with the digits "500". This is a significant reflection of Gifu's location relative to other Japanese towns. The postal codes in all of Japan begin from either "001" up to "999". The fact that Gifu Prefecture has a postal code of "500" reflects that it is at the very "middle" or " heart" of Japan.
Gifu, Japan's Tourism Industry
Anyone traveling to Japan would have a hard time excluding Gifu from his or her itinerary due to the fact that it contains plenty of tourist attractions that are worth going to. Those who want to have a taste of ancient Japan, in particular, will find Gifu an enjoyable place as it has preserved plenty of structures from the older days.
Those who are inclined to art and architecture will be pleasantly surprised by the presence of art museums within the location. There are also several structures wherein traditional Japanese architecture have been preserved for public viewing.
There are also one-of-a-kind activities for tourists in Gifu, an example of this is cormorant fishing, which is an activity that is unique to this area in Japan. Wintertime is also a rather fun time to visit Gifu due to the ski resorts that are available in one area of Gifu.
With the plethora of options for tourists to do, visit and explore within Gifu, it comes to no surprise that thousands of visitors from all over the world go to Gifu every year to visit.
A Guide to Major Points of Interest in Gifu, Japan
Due to the abundance of tourist attractions in Gifu, it is quite hard to decide where to begin. This section will serve as a guide on popular attractions in Gifu that are worth checking out the most, beginning with the locations within Gifu City. Since it is easily accessible through different routes from Tokyo, Osaka, and Nagoya, it is easy for tourists to pay a visit to Gifu City.
One of the most popular attractions within Gifu City is the Great Buddha of Gifu, which is located inside the Shohoji Temple. The Buddha itself is extremely large and is a magnificent sight to behold with its gold structure. What's more interesting about this golden Buddha, is the fact that it is not at all gold. Rather, the whole structure was made from a combination of different wood types, clay, paper and gold leaves. Aside from its religious significance, the artistry that was put in into constructing this Buddha is enough to earn the honor of being one of the "Three Great Buddha's of Japan".
Another popular tourist attraction within Gifu city is the castle, which once housed the famous Oda Nobunaga. Standing on top of Mount Kinka for the past seven hundred years, the castle provides a good view of the city. In the feudal years, the top level of the castle was used to defend the area from invasion or attack from opponents; these days it has become an observation deck for tourists who want a glimpse of the region from above.
Having played a significant role in the unification of Japan, the castle also has exhibits that aim to preserve the rich history of Japan. While the original façade of the castle when it was first built in the twelfth century is very well preserved, the castle has undergone several reconstructions within the twentieth century in order to fully preserve its grandiose beauty.
Visitors may want to be warned though that a visit to Gifu Castle will require an hour climb going up to the peak of Mount Kinka. It does not, by any means, require the same physical ability as hiking up a mountain, but those who are planning to visit may want to keep this in mind. Luckily, there is a second option in order to get to Gifu Castle. Visitors may opt to ride a cable car coming from Gifu Park going to Gifu Castle. The whole trip will be quick, easy and with the perks of viewing Gifu City from inside the cable car.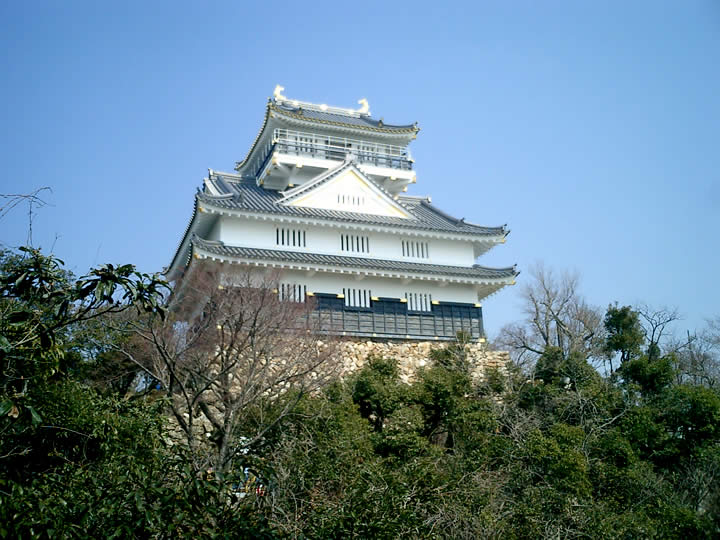 Speaking of Gifu Park, it is also one of the popular destinations within the city. The park serves as the entryway to the Gifu Castle where tourists may walk or ride a cable car going up to the castle. Aside from the castle, there are also other interesting locations within the park such as the Gifu City Museum of History and the Nawa Insect Museum. During cherry blossom season, this park is also a popular site for hanami.
Fans of traditional Japanese craft may find Kawaramachi Town particularly fun. Located a good distance away from Gifu Park, the area is easily accessible by foot. Stepping foot into this town feels like going back to the early years of the Edo and Meiji periods when most of the current structures were originally built. The small town flourishes with artisans who focus on traditional crafts like fan making, umbrella making, and paper lantern making.
Aside from craft centers, there are also shops and restaurants that offer traditional Japanese food in town While in Kawaramachi, one can pick up several souvenirs to bring home to loved ones, grab a bite of delicious traditional meals, and bring home a pack of Japanese candy.
Also located in close proximity to Gifu Park is the famous Inaba Jinja Shrine, which is one of the oldest Shinto shrines in all of Japan. Believed to have been erected between the years 100 A.D. to 200 A.D., the place offers a view into traditional Shinto Buddhism architectural elements. During springtime, the shrine also offers a great view of cherry blossom trees that are lined up on the sides of the shrine.
Outside Gifu City, there are plenty of other attractions that tourist may visit. Gero City is a popular option for tourists who want to bathe in the Japanese Onsens (hot springs). Shirakawa village is another special tourist attraction within the prefecture, and though it would require a three-hour travel time to get to the location; the site itself is worth the hassle.
Within Shirakawa village is Shirakawa-go, a small village filled with traditional houses that are distinctly designed for the older days. These traditional houses were designed primarily during the Edo age and were once built to house lower-level commoners, which include farmers, merchants, and other non-samurai castes. Those houses were called "Gassho-zukuri" and they were meant to help common people withstand the cold winter days through its structure.
In the daytime, the view of Shirakawa looks unreal, with grasslands covering a majority of the place, and the traditional houses spaced out far from each other. The view looks like something straight from a fictional movie. It comes to no surprise that this area has been declared a UNESCO World Heritage.
With the declaration, it comes to no surprise that the town has become more and more popular, with a lot of the local residents making bank on the popularity of their small town. Meanwhile, the neighboring town of Takayama in Gifu is also a popular destination for tourists for its preservation of old Japanese culture.
Takayama is another town in the snowy area of Gifu. Similar to Shirakawa, being in Takayama feels like time traveling to an even older period of Japanese history: ancient Japan in the sixteenth century. It is mesmerizing how a lot from the sixteenth century, even predating the unification of Japan under the Tokugawa shogunate, has been preserved in this quintessential town.
The Takayama district alone has plenty of offerings for visiting tourists. Aside from walking the streets filled with preserved building, there is also an open-air museum named the "Hida Folk Village" where a lot of old structures were kept for public viewing. There is also another museum called the "Matsuri no More" which showcases the floats and other elements that are usually paraded during the annual Takayama Festival, and even festivals outside of Gifu.
There is also a popular Snow Resort in Takayama called the Ciao Ontake Snow Resort. However, it is Gujo City of Gifu which is more popular among tourists for snowboarding and skiing resorts.
Winter in Gifu, Japan: Experiencing Snow in a Historical Town
The rural town of Gujo inside Gifu Prefecture is filled with plenty of tourist attractions that are worth visiting all year long, such as the Hachiman Castle, a production center for wax food replicas and even Otaki Cave.
However, it is the winter where Gujo truly stands out. There are a plethora of snow resorts that are bustling with tourists during the winter season. Since Gifu Prefecture experiences heavier snow than in any other place in Japan, it is no surprise that Gujo houses many popular locations that involve outdoor snow activities.
There are the popular establishments within Gujo that offer outdoor activities such as skiing and snowboarding to its guests. The three most popular resorts are Takasu Snow Park, Meiho Ski Resort, and Dynaland. It is worth noting that Dynaland looks beautiful during springtime as well, where tourists can ride a cable car above a field covered by thousands of flowers. Hirugano Kogen is also another popular site for winter outdoor activities.
Quick Tourist Tips: Traveling From The Airport and Picking a Hotel in Gifu, Japan
In order to reach Gifu, the nearest and most accessible airport is through Nagoya, in the neighboring Aichi Prefecture. While Nagoya is actually around 42 kilometers away from Gifu, but luckily with the railway service providers the journey will only take around thirty minutes – either through JR Tokaido/JR Takayama or through Meitetsu Railway, coming from Nagoya Station.
Upon unloading at Gifu Station (if one should choose to travel through the JR Line) or Meitetsu Gifu Station (if traveling through Meitetsu Line), there are plenty of hotel options available for tourists to stay at. A popular and well-reviewed hotel within Gifu City is Daiwa Roynet, which is located in good proximity to both railway stations.
There are also several great Ryokans within Gifu. A good example for this is Juhachiro, which is a traditional hotel within Gifu City. Instead of modern-day luxury rooms, the hotel boasts of historically accurate rooms filled with tatami mats. There are also other popular hot spring resorts within Gero City.
Of course, a trip during wintertime is the perfect time to stay at a ski hotel in the Takayama area. Popular ski resorts were already aforementioned, and that can be used as a reference.