Japan has many hidden gems that possess unique attractions which draw tourists to its area every day. These hidden gems are special because these places are often overlooked as a good spot to have adventures in but are actually areas with unforgettably beautiful locations that just need time to discover. Chofu is a city found in the central Kanto region of Japan that is a perfect example of what a hidden gem is like in Japan.
About Chofu, Japan: The History, Weather Forecast, and Other Interesting Facts Like the Festivities and the Chofu High School Alumni
Japan is rich in areas that have colorful histories. The city of Chofu definitely falls into this list of areas. Chofu is included in this long list because this area has experienced so much change throughout the many periods in time this place has survived.
Findings and research on this city suggest that it has been occupied by humans since the Paleolithic times in Japan. Human bones and prehistoric artifacts have been found here dating back to 35,000 BC. The artifacts found were the materials they used to make their stone axes and stone ground tools like large polished stones.
The Japanese continued to occupy this area in the Jomon period. Jomon is a prehistoric Japanese period that worked with a hunter-gatherer system. Traces of their weapons and artwork were found in many dig sites done here and this is what confirmed the occupation of Chofu by humans in that period in time. The same goes for the Yayoi period and the Kofun period.
Its development into something more during the Nara period because it was then that Chofu became a part of the ancient province known as the Musashi Province. Wars became more common and in the Sengoku period, the area of Chofu was constantly being fought over by the Late Hojo Clan and the Uesugi Clan.
When more peaceful times came during the Edo period, the city of Chofu turned into a post station and did very well as one. As more time passed, the post-Meiji Restoration came and it was it this point in time that Chofu became a part of the Kanagawa Prefecture. This was also the point in time when the area of Chofu increased tremendously because of its combination or merging with the area that used to be known as the Jindai Village.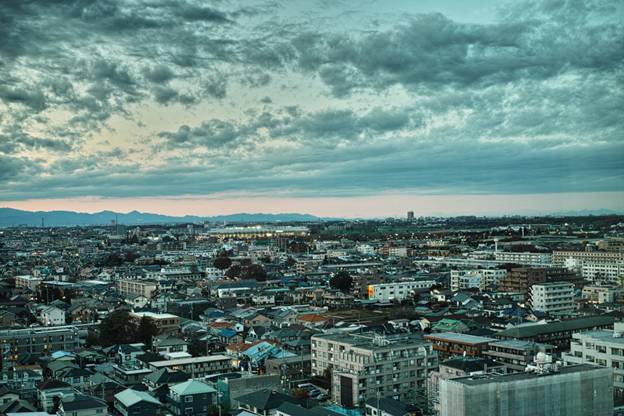 The weather in Chofu changes throughout the months and that it a great factor to consider when planning what time of the year would be the best time to go to Chofu. The difference between the average temperatures experienced in this city reaches a value of 25 degrees. The difference between the extreme temperatures experienced, on the other hand, reaches a value of 45 degrees.
The temperatures to be experienced in a foreign area are sometimes overlooked by tourists but since Chofu goes through temperatures that go below zero or nearing zero, it would be vital information to have as you plan your trip. Chofu reaches its cold temperatures from the months of December to February, averaging a temperature of around 10 degrees.
Come March, the temperature rises continuously until the hottest month in Chofu which is in August. During this rise in temperature, it gradually goes up from a value of around 12 degrees to a value of 30 degrees. After the hottest month, the temperature in Chofu gradually goes down until winter comes again.
It would also be useful to know which months have the most number of rainy days so that you can avoid losing valuable days of your vacation and adventure to unfortunate weather conditions. If the activity or place that you decide to go to is one of the outdoor nature, you should try to avoid the months of April to July as these are the months when the rain comes most frequently. In the event that you cannot avoid booking your trip on those dates because specific festivities are happening during those months, just be prepared with the proper clothing and make sure to bring rainy day tools in case you are caught in one.
There are a few festivities celebrated in Chofu that fall outside the rainy season and they are worth going to, not only because they fall at a time with better weather but also because they will surely give you a very insightful preview of the culture to be found in this city.
The Chofu-City Fireworks Festival is one of these festivities. It happens in late August by the banks of the Tama River. This place is a 5-minute walk from the Keio Tamagawa Station and a 20-minute walk from the Chofu Station. There are opening ceremonies that happen a couple of minutes before the show starts at 6:30 PM.
This event is hidden gold because it not very popular but that never made the organizers of this event cut corners with the number and quality of fireworks they use. Shooting up about 8000 fireworks for an average crowd of 35,000 people is surely something tourists would love because of the beautiful burning sky they get to watch for free and because they will be able to do so in an area that isn't congested.
If you are interested in parades and street dancing and singing, the Chofu Yosakoi would be a thing to look out for. It is also held late August and in this event, a large number of dance teams participate in the parade that walks from Chofu Station to Fuda Station. Although there is no actual competition that happens between the several dance teams, this event is very fun to go to because all the food, dancing, and singing you will get to enjoy in this festival, for free once again, will surely make you feel welcomed by the people of Chofu.
If you are looking for an event to go to in Chofu that will give you an idea of their traditions, the Jindaiji Temple Yakuyoke Ganzan Jie Daishi Festival should be the first thing you check out. It happens the first week of March, usually on the 3rd and 4th day. Chofu is one of the biggest daruma doll markets in Japan and this is the festival that commemorates and celebrates that.
On these days, people, both foreign and local, go to the Jindaiji Temple to buy one of these traditional dolls called daruma. After picking out a doll, the person writes a wish on the back of their respective doll. Once done, you are to bring it to a special stall tended to by a monk and it is in this stall that they will mark the left eye of your doll with a character that indicates that you have made your wish.
The following year, you are to come back with the same doll if that wish came true for you. You would have to bring the doll to the special stall once again and have the right eye of your daruma marked with another character that indicates that your wish came true. This character supposedly represents fulfillment.
Aside from this wishful tradition, there are also prayer sessions that happen every hour during this festival and at 2 PM, they also conduct a ritual called the Hyakumi Kuyo which includes more prayers, a procession, and an offering session to Ganzan Daishi, who is the celebrated monk in this festival.
Entrance to this festival is free. The only thing you would need to pay for is the daruma doll. Again, it is held in the Jindaiji Temple which is closest to the stations of Chofu, Tsutsujigaoka, Mitaka, and Kichijoji so if you are planning to attend this festival, plan your routes accordingly.
Aside from the festivities here, there are also a lot of attractions in Chofu that tend to those who want to sightsee. It is rich in shrines and gardens that you can only see in Chofu. A great spot to start off with is the Tenjin-Dori street. Manga readers would love this place because it has street side figurines came from the manga, created by Shigeru Maru, called GeGeGe no Kitaro. This street is filled with many tourist establishments like the Fushimi Inari Tenjin Shrine and all these locations are photogenic spots so you can shoot photos and create memories until your heart's content.
As for the interesting fact about the Chofu High School Alumni, there has never been a group of alumnae that has shown love and passion for their alma mater like the alumni of Chofu High School. The passion they have for their school is so unique because the school has been gone for more than 30 years yet they still manage to stay in contact with each other and even meet up for very elegant batch reunions like the schedule batch reunion cruise for 2018.
Nowhere else in the world will you find a group of people so attached to their high school and the people and friends they made in that time like the Chofu High School Alumni. Some people may find it strange but it showcases how the Japanese people naturally have the trait to be loyal and full of honor. Despite the destruction of the actual school, they chose to keep their community alive and they are still doing so to this very day.
Getting to and Around Chofu Japan: The Map, Chofu Tokyo Station, Chofu Airport, and Notable Establishments like the Microsoft Center and Hotels You Can Stay In
Getting around Japan, in general, is an easy task to do because of how efficient and well planned their transportation systems are. Most of the time, all you need to get around is the map of their railway network and you are good to go. This is still very true for Chofu. Getting to Chofu can be done via train or via air. Either way, it would be better choices than renting a car.
The Chofu Airport isn't really focused towards functioning as a transport hub because its main activity is to service the New Central Airservice commuter flights that travel to the southern part of Tokyo, specifically the Izu Islands. Despite not functioning as a transport hub, it is still very possible to get to Chofu via plane. Flights may be scarce in the schedule but there are flights going to and from Chofu so keep an eye out of opportunities to book.
With the airport being as it is, it is more appealing for tourists to travel to Chofu via train because there are constant trips from one place to the other and you are more connected to the different spots near the town that may be on your list of places to go to also. The line that the Chofu Station is found on is the Keio Line that starts at Shinjuku. This trip from Shinjuku to Chofu is a very short distance, being only a 15- minute ride.
Chofu's transportation network is well connected. You have access to all kinds of establishments like the Microsoft Technology Center and even educational establishments like the International Christian University, which is actually very near the Chofu Station. It is for this reason that is it very beneficial for travelers to find a place to stay or a hotel that is near the station. Luckily, if this is what you are looking for, you have a couple of options that are all great quality.
Of all these options though, there is one that stands out and that hotel is the Chofu Creston Hotel. This hotel is ranked 1 out of the 5 to be found in the area of Chofu and the rate of a night's stay in this hotel is at least $110. Considering that the Chofu station is across the hotel and that the bus lines are also walking distance from the hotel, the location alone would explain why it is the top choice of hotels in Chofu.
Chofu may not be the destination that comes out of people's mouths but it has a lot to offer. Exploring this city will definitely show you yet another side of Japan that is unique in its own way. Considering all the views and festivities that you can enjoy here, it would not be a bad place, at all, to venture off to for a day or two. With all this information at your disposal, all that is left to do is to plan ahead of time to accommodate all the interesting things you find worth exploring in Chofu.