A Brief Background: Takeshita Street in Harajuku, Japan
The term "Harajuku" has been representative all over the world for the cutesy, quirky and overall unique Japanese culture that has emerged through Japan's millennial generation. The term is most popularly linked to a type of fashion that is youthful, unique, and popular among Japanese teens. It can go as loud as wearing bedazzled rhinestones as part of face make-up, or it can be as subtle as mixing basic elements with a statement piece.
By now, it is quite a known fact that the term "Harajuku" actually stems from a hip and trendy neighborhood inside Shibuya, Japan that is called Harajuku. This city is closely linked to the Japanese youth, as this area contains a lot of shopping and dining options that appeal to younger tastes.
Within Harajuku, there are plenty of popular streets embedded inside such as Takeshita Street and Cat Street. Takeshita Street, in particular, is popular as it contains a good mix of food and dining options ranging from massive international chains to local indie shops. There is no wonder that Takeshita Street is a popular destination for Japanese young adults. Takeshita Street is also known as Takeshita Dori, which is the local name that translates directly to Takeshita Street.
Despite being a center of trendy and up-and-coming Japanese brands, Takeshita Street was not always known as a fashion haven. Instead, it once held the notoriety of being the go-to place to purchase counterfeit goods. Locals and foreigners alike used to head to Takeshita in search of the perfect replica for both Japanese and western goods, way back in the 90's up until the 00's. It was only in 2004 when the Japanese government made a conscious effort to stop counterfeit goods from circulating that the business landscape of Takeshita Street changed for good.
Since then, Takeshita has been an official shopping mecca in Japan, and a popular foodie destination that targets mostly young adults. However, other age brackets are still very much welcome to enjoy Takeshita and appreciate modern-day Japanese culture.
Know the Basics: Tokyo's Takeshita Street Map & How to Navigate
Anyone who's eyeing a visit to Takeshita will be glad to know that it is pretty accessible, thanks to Japan's intensive railway systems. In order to reach Harajuku (where Takeshita is located), there are two possible railway options. The first one is the Yamanote Line, while the other is the Chiyoda Subway Line. The Yamanote line directly passes through Tokyo's major stations, while Chiyoda Line passes through Meiji-jingumae, which is adjacent to Harajuku anyway so it won't cause much of a difference.
Navigating through Takeshita is quite easy, given the fact that it is a single street that anyone can pass through by walking from one end to the other. However, even the adjacent streets and the interconnected minor streets still have some interesting sites to go to. For example, one of the adjacent streets to Takeshita Street houses the Meiji Jingu (or Meiji Shrine), which happens to be Tokyo's most prominent shrine. On the same street as Meiji Shrine is the Harajuku JR Station as well.
Meanwhile, smaller streets connected to Takeshita also have stores with unique and affordable finds, hair salons and restaurants. In another adjacent street, there is an accessible road going to Togo Shrine, while another adjacent road leads to Shibuya and Omotesando.
Takeshita Street and the Rise of Fashion Blogs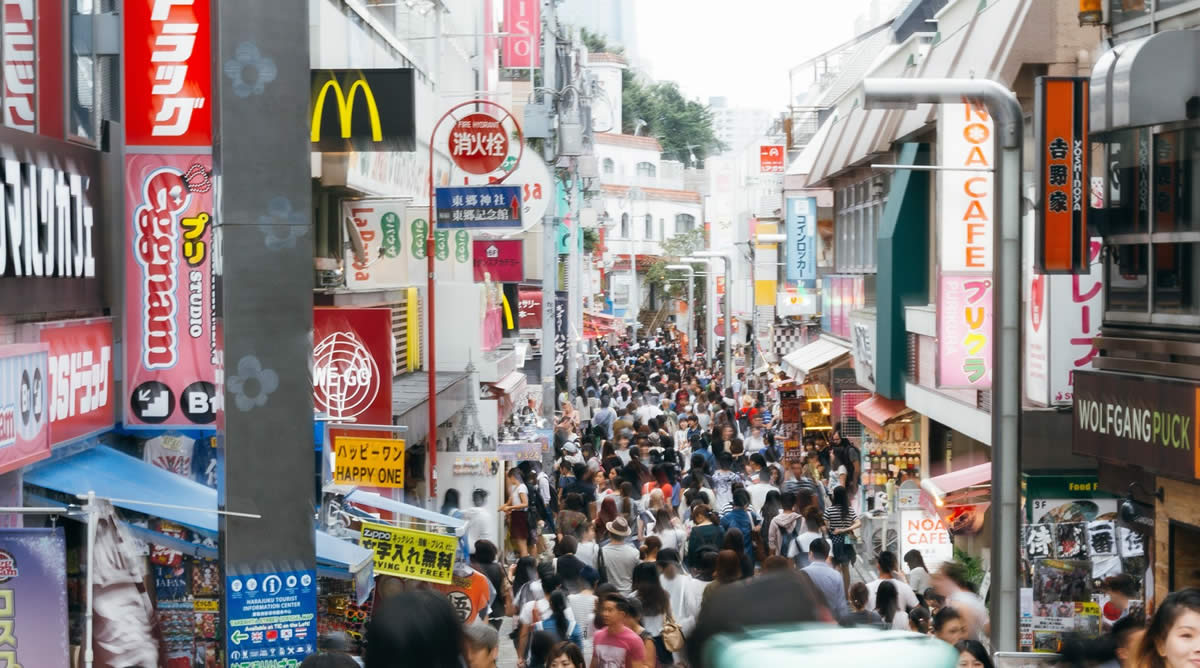 The popularity of Takeshita Street as a fashion haven can be attributed to the quick and widespread rise of fashion blogging. The late '00s saw the rise of fashion blogs from all over the world. During this decade, the Internet became much more accessible to a wider range of people, and slowly it became an integral part of life.
In the earlier parts of the 2000's, social media was in its infancy. A lot of platforms became more accessible to people such as MySpace, Friendster, Xanga, Livejournal and other types that allow anyone to have his or her own space on the Internet while connecting with other people.
With the rise of social media, the popularity of blogging also increased. A blog, as most people would know by now, is basically a web page controlled by a single individual, or a group to share selected content. Sites like Xanga and Livejournal allowed its users to create their personal diaries online, which they can choose to keep private or share with friends.
During this period, the number of individuals who owned blogs was increasing in number. Blogging became an expression of one's inner thoughts, ideas, and passions. The earliest traces of fashion blogging can be traced way back to 2002. Several well-established fashion blogs were put up during this time, such as Bryanboy's blog in 2003, even Scott Schuman's famous street style blog known as The Sartorialist was established in 2005.
By 2007, there were more than a hundred million blogs that have been created all over the web sphere People from different walks of life, different ages, different cultures and with different interests, all relied on the internet to share their lives to the world.
In the eastern part of the world, Japan was slowly moving towards modern culture. Gone were the days when everyone wore the same kimono style. Japanese street fashion rose to convert the traditional concepts of Japanese fashion into something new, edgy and unique. Thanks to the presence of the Internet, Japanese fashion was exposed to the rest of the world.
In time, even people from other sides of the world has adapted to the unique and trendy Japanese styles of fashion. Even non-Japanese individuals have dedicated blogs that chronicle their personal style inspired by Japanese street style. For many years, even until now, "kawaii" fashion became a popular trend in the world of fashion.
Even during prominent events in the fashion industry such as New York Fashion Week and Paris Fashion Week, there are plenty of Japanese styles that can be seen all around. Thanks to the Internet, everyone can gather inspiration even from thousands of miles away.
With the rise of Japanese street wear's popularity, the demand for clothing has also increased significantly. This is where the popular Takeshita Street comes in. With the plethora of stores within the singular pedestrian alley of Takeshita, anyone can buy unique pieces to add to his or her wardrobe.
Shopping in Takeshita Street: Notable Shops/Stores Worth Going To
Any true fashion addict will definitely find Takeshita Street the ultimate place to be. The retail shops available in the area cater to pretty much anyone's distinct style. While the loud Harajuku style is a major trend in Japan, other retail shops are also available in Takeshita Street for a wider demographic. The list below is a guide for some of the shops that are worth visiting in the vicinity:
6% DokiDoki is a favorite among Harajuku style enthusiasts. The store itself is a distinct representation of Harajuku culture with its bright pink exterior that is extremely hard to miss. Their selection of colorful pieces extends from clothing, accessories up to random knick-knacks like button pins and mugs.
While 6% DokiDoki is focused on providing quirky and cute Harajuku pieces, the store ACDC Rag is focused on a wide variety of one-of-a-kind pieces. In this store, one can easily find gothic inspired pieces that are predominantly black, to punk-rock band merchandise, and even hipster streetwear pieces. This store may be small, but the possibilities are endless.
For a legitimate street wear clothing shop, World Wide Love has pieces that are leaning towards casual. Their pieces, however, are far from boring. In fact, it is a definite favorite among street style enthusiasts who love stocking up on World Wide Love's pieces plastered with their iconic smiley face logo.
Girly girls would absolutely find Bubbles' items to die for. With a super girly exterior that resembles a Barbie's house, to their selection of anything pastel colored, cute animal prints and adorable accessories, this store has captured the hearts of many young girls, and those who are young at heart. In contrast, Hysteric Glamour caters to the less girly, more rock n' roll type of individuals. Instead of pastel sweaters, they carry grungy band t-shirts, denim vests and leather pieces that can elevate anyone's rocker chic style.
Other sub-types of Japanese street fashion also have different specialized retail stores within Takeshita. For example, Milk is a clothing store that focuses on fans of the Lolita style that is quite popular in Japan. Here, one can easily find vintage, frilly dresses and accessories that scream Lolita. On the other hand, Wonder Rocket tends to cater to the "Mori-girl" style, which involves light colored dresses and earth tones that give off a forest vibe.
In comparison, fast-fashion retailers such as Forever 21 and H&M pale in comparison to Japan's homegrown retail stores. Stores like F21 and H&M ride with the popularity of current trends, by mass-producing different pieces every month based on what's currently in at the market.
Meanwhile, these uniquely Japanese stores offer special pieces that are harder to find anywhere else. However, those who are more comfortable with clothing from fast-fashion retailers will be relieved to find that they are also present inside Takeshita Street, and they also hold seasonal sales where pieces go for discounted prices. Anyone who's planning a trip to Tokyo must definitely include a fun day of retail therapy in Takeshita with family or friends.
With the plethora of fashion retailers present in Takeshita Street, it is practically impossible for anyone to go home empty-handed. However, at the rare chance that someone is disappointed with the retail options, Takeshita Street's food offering may be a redeeming factor. Aside from being a popular shopping destination, Takeshita Street also happens to be a foodie-friendly location.
Gastronomic Indulgence: Takeshita Street Crepes and Other Food to Try
Takeshita's reputation as a trendy spot transcends way beyond its clothing shops; even the food in Takeshita is considered to be trendy. During the day, thousands of people flock Takeshita Street not just to eat food, but also to take photos and snaps of the popular street food options.
Crepes are considered to be the trendiest food in Takeshita. Harajuku district, in particular, is known for their scrumptious crepes – with the best ones located in Takeshita. There are multiple shops selling French-style crepes within Takeshita, however, there are top two crepe shops that stand out the most.
The first crepe shop that has gained popularity in Takeshita is Marion Crepes. It is slightly more expensive than the other shop, with its price approximately at 500 yen, but the crepes are definitely worth the money. Having been around for almost fifty years, it is no longer a surprise that Marion Crepes has become a well-loved tourist attraction in Harajuku.
The other popular crepe shop in Takeshita is Angels Heart. The pricing is a tad cheaper at approximately 400 yen only, however, their variants are much simpler when it comes to toppings. Their crepe batter, however, stands out a bit more than the ones at Marion Crepes in terms of taste. Aside from minor differences, anyone could just pick between the two shops and end up with a satisfied tummy.
Other trendy desserts in Takeshita come from a store called Zaku Zaku. Their ice cream cones look basic and similar to every other ice cream cone in the world. However, those who have tried it swear by its delicious and creamy taste. Zaku's cream puffs have also gained attention for having a perfectly crunchy exterior, and a delicious custard cream interior.
Bakudan-yaki is another popular food stall in Takeshita, which serves "Bakunin" – a form of baked batter filled with a variety of fillings. In essence, they are pretty similar to another famous Japanese food: the takoyaki. Each ball is served with toppings that make them look even more appetizing, so it's quite hard not to take a photo or two.
How To Travel from Takeshita Street to Central Shibuya or Shinjuku
Another major reason why Takeshita is worth visiting is that it is in close proximity to other popular locations in Tokyo. Usually, the travel time through train or subway would take just a few minutes. Though Japan's JR Yamanote Line, the two direct stations are Shinjuku and Shibuya, making them extremely accessible coming from Harajuku.
Through the Yamanote line, it will take approximately ten minutes to travel by train to Shibuya station. Harajuku station and Shibuya station are directly adjacent to each other. On the opposite side of the Yamanote line is Shinjuku station, which means the travel time would also take around ten minutes.
However, some tourists may opt to just take a walk going from one location to another in order to fully see the sights that Tokyo has to offer, This is easier during the months of December, January, February, and March when the temperature is colder versus the other times of the year. Obviously, walking in a colder climate is much easier than walking under the heat of the sun.
A walk to central Shibuya will only take approximately a kilometer, while Shinjuku may be a bit more challenging at around two kilometers. However, the attractions that both of these locations are offering; the assortment of stores, museums and parks are very much worth the hassle.