Dogo Onsen in Shikoku, Japan
Dogo Onsen (also known as Dogo Onsengai), as its name implies, is a well-known hot spring town located east of central Matsuyama of the Ehime Prefecture. It is among the oldest hot spring towns of Japan, having more than 1,000 years of history behind it. Over centuries, the town has attracted several of the Imperial families, emperors, aristocrats, and literary figures with its abundance in culture and traditions.
Up to this day, Dogo Onsen is still frequently visited by the Imperial Family and other of Japan's prestigious citizens. The area has also become quite popular with foreign travelers for its several ryokans (Japanese style inns) and beautiful bath houses, particularly Dogo Onsen Honkan, which served as the inspiration for the famous animated film "Spirited Away" by Hayao Miyazaki.
Strolling around the streets of Dogo Onsen is a pleasant experience as many people are dressed in yukatas, a casual Japanese robe often provided at ryokans. As such, tourists can expect to feel an odd sense of nostalgia in a place unfamiliar to them.
Furthermore, although the town may be famous for its hot springs, there are, of course, other attractions available within the area. Before or after relaxing in the town's bathhouses, visitors may spend their time appreciating architecture from the Meiji Period, learning about poetry, diving into Japan's two main religions, shopping, or simply sightseeing.
Dogo Onsen Honkan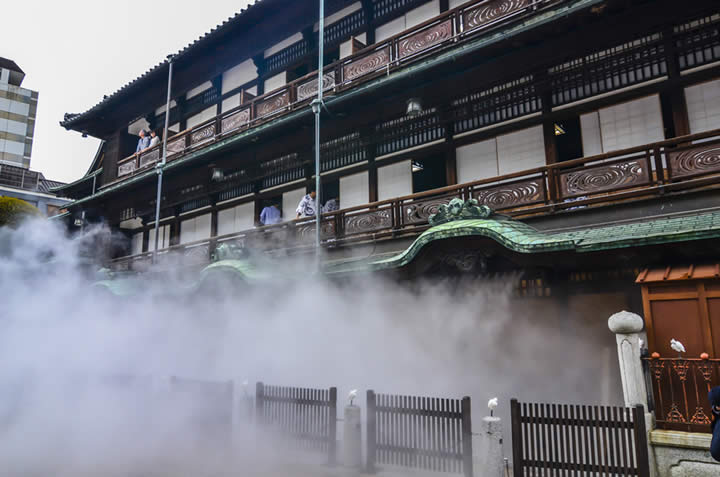 Dogo Onsen Honkan is the main attraction of the hot spring town. It is a public bath house that was established during the Meiji Period, specifically in the year 1894, by Isaniwa Yukiya, who served as mayor at the time.
History
The bath house is included in Japan's three ancient hot springs; the Arima Onsen and the Nanki-Shirahama Onsen being the other two. Over the years, Dogo Onsen Honkan served as a haven to several literary scholars such as Natsume Soseki and Masaoka Shiki. As such, these writers included the place in their works, either directly or as an inspiration for their own story's setting.
In the novel Botchan, a loosely-based autobiographical novel by Soseki, the onsen is noted as the only area liked and frequented by the main character. Dogo Onsen Honkan was Soseki's favorite retreat when he worked as a teacher somewhere near Matsuyama.
For Masaoka Shiki, a Japanese poet who was born in Matsuyama, the bathhouse was more than just a place to relax and actually served as his home. Many of his now famous poems were written during his stay at the onsen.
But, of course, given the long history of Dogo Onsen Honkan, the place had already been mentioned in earlier works including the Manyoshu, Japan's oldest collection of poetry that dates back to 759 AD. Other than this, there are also a couple of legends that surround the hot springs, namely the Legend of the Egret and the Legend of Tama no Ishi.
Legend of the Egret
The Legend of the Egret talks about an egret that lived in Dogo Onsen. The egret suffered an injury to his shin one day and opted to soak it in the town's hot spring every day. Several members of the community witnessed the egret's practice as well as the day he finally got healed and fly away. The people followed suit and eventually found their health improving too. Since then, soaking in the onsen became a popular activity to acquire health benefits.
Legend of Tama no Ishi
A similar tale is told by the Legend of Tama no Ishi about the onsen being beneficial to one's health but revolves around two gods instead of a bird. Coming from Izumo to Dogo Onsen, Sukunahikona no Mikoto picked up a bad illness along the way that put him on the verge of dying. His companion, Okuninushi no Mikoto made him soak in the town's onsen which helped him regain his health and strength. To prove his vigor, Sukunahikona no Mikoto danced on one of the hot spring's stones, leaving a footprint behind. Up to this day, the stone can be seen at Dogo Onsen Honkan and is called Tama no Ishi.
Description and Layout
Dogo Onsen Honkan is a three-story building that features traditional Japanese architecture and is mostly made of wood. On any day of the year, its maze of passages, rooms, and stairways are usually filled with guests and staff members.
Guests are provided with two traditional public baths built of stone. Each bath is gender-separated, just like other bathhouses in Japan. The Kami no Yu, or Bath of the Gods, is located on the first floor of Dogo Onsen Honkan and serves as the main bath. A smaller but more popular bath called Tama no Yu, or Bath of the Spirits, is located on the second floor.
There are also several lodging options available for visitors. Those who do not mind sharing their room with other people may stay in one of the communal rooms offered on the second floor. For those who want their own private room, the third floor houses several small rooms that provide more than enough space for guests to relax and enjoy a meal.
As previously mentioned, the Imperial family is no stranger to the place. As such, Dogo Onsen Honkan had a section built for them in 1899 known as Yushinden. Guided tours of the various facilities are available for a certain fee. There is also a small exhibit on the second floor that presents historic documents and artifacts related to Dogo Onsen.
Hours and Fees
Guests may choose from two public baths and four price levels for their trip to Dogo Onsen Honkan. There are pamphlets available that explain the different options in Japanese and English at the bath house's counter.
Level 1
Price and duration of stay: ¥410 for 60 minutes
Hours: 6 AM to 11 PM
Inclusions: Access to Kami no Yu
Level 2
Price: ¥840 for 60 minutes
Hours: 6 AM to 10 PM
Inclusions: Access to Kami no Yu and 2nd-floor public tatami rooms; yukata; tea and crackers.
Level 3
Price: ¥1,250 for 60 minutes
Hours: 6 AM to 10 PM
Inclusions: Access to Kami no Yu, Tama no Yu, and 2nd-floor public tatami rooms; yukata; towel; tea and crackers; a tour of the bathing facilities reserved for visiting emperors.
Level 4
Price: ¥1,550 for 80 minutes
Hours: 6 AM to 10 PM
Inclusions: Access to Kami no Yu, Tama no Yu, 2nd-floor public tatami rooms, and 3rd-floor private tatami rooms; yukata; towel; tea and Japanese sweets; a tour of the bathing facilities reserved for visiting emperors.
Visitors may also avail of just the tour of the bathing facilities reserved for visiting emperors for ¥260 from 6 AM to 9 PM.
Tsubaki no Yu - Another Bath House to Visit in Dogo Onsen
Dogo Onsen has other hot springs that are equally enjoyable as Dogo Onsen Honkan. The next best place that is highly recommended for foreign travelers to visit is the Tsubaki no Yu. It is located just a few meters away from the town's main attraction.
Tourists can easily locate it by looking for a massive white building showcasing a lovely Japanese garden in the front. The bath house features indoor baths which are, of course, gender separated. Guests may relax and enjoy the hot spring water anytime from 6:30 AM to 11:00 PM for the price of ¥400.
Sightseeing in Dogo Onsen
Foreign visitors are encouraged to make the most of their trip to Dogo Onsen and spend a few moments appreciating the town's architecture and relaxing ambiance. Some of the highly recommended places for sightseeing include:
Dogo Onsen Station
The Dogo Onsen Station was built in the year 1895. It is among the many Japanese structures that greatly represent the architectural styles and designs of the Meiji Period. Other than being a stunning tourist attraction, it also serves as a terminal station for three of Japan's tram lines. In addition, there is a steam train displayed within the vicinity of the station which further adds to the charm of the area.
Botchan Karakuri Clock
The Botchan Karakuri Clock was built for the Dogo Onsen Honkan's 100th anniversary. It is located right in front of the Dogo Onsen Station. Every 30 to 60 minutes, the area comes alive with music chiming from the clock and several character figurines from the Botchan novel moving around. Visitors may also enjoy the foot bath located within the vicinity for free from 6 AM to 11 PM.
Dogo Park
Dogo Park is situated on a land where a castle used to stand. As such, tourists can see moats and slightly noticeable ruins of Yuzuki Castle within the area. The park, which has roughly 350 cherry trees, can get quite crowded during the spring. Given its spacious lawns, coming across picnics or barbecues in Dogo Park is pretty normal. For those who want to better understand the history of the park, there is a museum and an old samurai district located in the vicinity as well.
History and Culture in Dogo Onsen
Of course, no trip to Japan, be it to Tokyo, Osaka, or any other city, is complete without learning a thing or two about its history and practices. Dogo Onsen is no exception and houses several interesting museums and religious structures such as:
Shiki Memorial Museum
The Shiki Memorial Museum is dedicated to the previously mentioned Japanese poet, Masaoka Shiki. Shiki is one of the most important literary figures that contributed to the modernization of Japanese poetry, particularly haiku and tanka. Many of his paintings, poems, and materials are displayed in the Shiki Memorial Museum for locals and foreign travelers to better understand the poet's life and work.
The museum is open every day except Tuesdays from 9 AM to 6 PM (only until 5 PM during November – April). Visitors are required to pay an admission fee of ¥400.
Ishiteji Temple
Ishiteji Temple is Dogo Onsen's most popular temple. It is included in the Shikoku Pilgrimage, a pilgrimage involving 88 temples related to Kobo Daishi, a Buddhist monk. As such, tourists can expect to come across several pilgrims dressed in white during their visit.
The temple's name, when translated into English, literally means stone hand. This refers to the legend that tells of an aristocrat that tried to find Kobo Daishi all his life. Lying on his deathbed, he kept a stone tightly held in his hand. Years later, a baby, believed to be the same aristocrat, is born holding a stone in one hand.
Other than being a part of the Shikoku Pilgrimage and the interesting legend, the temple has easily become a famous attraction for its massive compound that features several other temples, pagodas, halls, statues, and artifacts. In fact, many of its features are designated national treasures and cultural properties. Tourists can reach Ishiteji Temple by taking a 20-minute walk from the heart of Dogo Onsen.
Isaniwa Shrine
Isaniwa Shrine is located roughly 200 meters away from the Dogo Onsen Station. Tourists have to climb up a significantly tall flight of stairs to reach the shrine. The vicinity houses several structures and treasures which have been designated as Important Cultural Properties of Japan. There is also a hall situated in the complex that houses several armors and weapons such as the tachi and the katana.
Tourists may visit the shrine any day of the year from 5 AM to 7 PM, except during winter when the shrine is only open to the public from 6 AM to 6 PM.
Shopping in Dogo Onsen
Regardless of whether or not shopping is included in one's itinerary, not purchasing a souvenir or trinket can be quite challenging in Dogo Onsen thanks to its long shopping district that is practically impossible to avoid.
Dogo Shopping Arcade
The Dogo Shopping Arcade also goes by the name Dogo Haikara Dori. It starts at the Dogo Onsen Station, makes a right at the Tsubaki no Yu, and stretches at an incline towards the Dogo Onsen Honkan. The arcade is filled with numerous stores that sell quirky trinkets, souvenirs, snacks, and clothing. Opening and closing hours vary from shop to shop but are typically from 9 AM to 10 PM.
Dogo Onsen – Map & Access
Dogo Onsen can be reached by taking one of the three tram lines connected to the Dogo Onsen Station. Tourists coming from the JR Matsuyama Station should take tram line 5 or tram line 6, while those coming from the Matsuyama-shi Station should take tram line 3. All tram rides to Dogo Onsen cost about ¥160 and last 15-20 minutes long.