Grabbing a quick bite to eat is probably the most popular thing people around the world have in common with each other. Whether it be kids, adults, employees, or entrepreneurs, nearly everybody has gone through the experience of not having even an hour to spare to sit and enjoy a full course meal, at least once in their life. As such, many dishes have been made to help people get all the nutrients they need without sacrificing much time. Among the many choices available, the sandwich is probably the best one.
Each country has their own versions of the sandwich. However, for Asian countries like Japan where rice serves as the staple food, not much attention is given to making sandwiches. Foreign travelers who find themselves craving for something other than sushi, ramen, or rice bowls can, of course, buy sandwiches in Japan but may be disappointed with the ones carried by many local convenience stores which do not stray far from ham and egg salad types.
Tourists can opt to buy their desired ingredients from the grocery store and make their own sandwich, but that would defeat the purpose of grabbing a quick meal. Fortunately, Subway, the famous fast food restaurant franchise that specializes in submarine sandwiches, decided to expand and build a home in the land of the rising sun more than twenty years ago.
The Changes Subway Restaurant had to Make to become Successful in Japan
Japan was new territory for Subway back in the 1990s. Initially, it did quite well and was able to establish 150 stores in just a few years thanks to its uniqueness in the country. However, the franchise had a rough time leaving an impact on the local community as their menu consisted of food items that were designed for the taste of Americans. Furthermore, Japanese people had a hard time chewing and digesting Subway's bread which was produced overseas.
After the novelty had worn off, Subway Japan suffered greatly and lost about 60 of its stores. The local management had to quickly take action and make appropriate changes to remain significant in the country. As with other international fast food chains, Subway understood the importance of adjusting to the gastronomical and cultural preferences of foreign countries to be able to succeed overseas.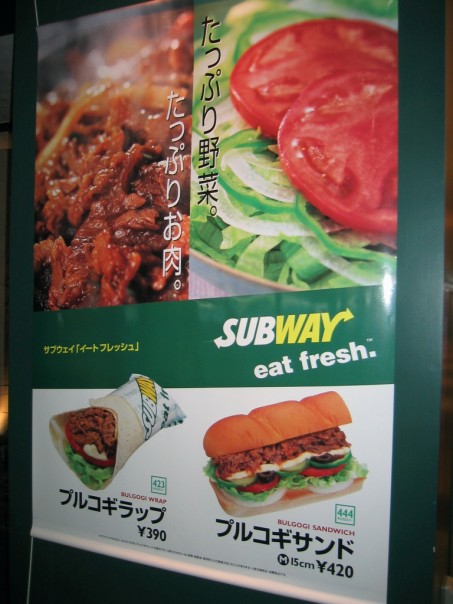 The first few changes Subway Japan had to do revolved around the economic end of the business. Existing stores were either closed and relocated to food courts or made smaller to lessen rental costs, which are known to be significantly higher in Japan. Subsequently, the number of options available for sandwich customization was limited to only include the most popular ones to save space and improve efficiency.
Another major change Subway had to do to reflect Japan's ideals was to get rid of their slogan, "Eat Fresh". Subway Japan's management had their remaining 90 stores conduct surveys as to why their respective customers continue to come back. Results showed that many of them preferred Subway over other fast food chains because of the store's generous serving of vegetables.
Using this information, the company worked to form a new slogan that would emphasize their selection of various veggies. The final tag was introduced in 2008 and can be roughly translated to mean "Have vegetables every day."
Finally, in the year 2011, Subway Japan started making their sandwich bread locally and altered the franchise's recipe to produce lighter and softer bread. This change was followed by the introduction of a new menu which mostly consisted of Japan-friendly options such as Shrimp Avocado and Chicken Teriyaki.
Now, Subway Japan has about 395 stores scattered across the country and continues to bring good news to sandwich lovers in japan.
Japan's Subway Restaurant Menu in English
Some of Subway's original sandwiches such as Roast Beef, Turkey Breast, and BLT can still be found in Subway Japan's menu poster. However, as previously mentioned, the options offered by Subway Japan are designed to suit the local community's taste and preferences. As such, foreign travelers will most likely find their menus a bit more interesting than the ones in western countries.
Subway Japan's menu includes:
● Roast Beef
● Shrimp & Avocado
● Bacon Lettuce Tomato
● Subway Club
● Smoked Ham & Mascarpone
● Roasted Chicken
● Cheese Roasted Chicken
● Turkey Bacon Egg
● Teriyaki Chicken
● Turkey Breast
● Ham
● Tuna
● Egg
● Avocado & Veggie
● Veggie & Cheese
● Veggie Delite
Just like in other Subway stores, these sandwiches may be ordered in the regular (15 cm) or the foot-long (30 cm) size. Regular sandwiches are priced at 300-580 yen, while foot-long sandwiches at 600-1,160 yen. Although Subway stores in Japan use a different recipe, the same bread options (wheat, white, sesame, honey oats, and flat bread) offered overseas are available locally, as well.
Subway Japan also offers set options which may come with a drink, potato wedges, or soup for an additional charge of 160, 160, or 320 yen, respectively.
The Wide Array of Sauce and Topping Options Offered by Japan's Subway Restaurant
The ordering process in Subway Japan is pretty much the same as in other Subway stores. The man or woman staff member assigned asks the customer his order and the ingredients he wants to add or remove. However, Subway Japan is unique in terms of the sauce and topping options they carry:
Sauce Options:
● Oil, Vinegar, Salt & Pepper
● Caesar Dressing
● Horseradish Sauce
● Vegetable Creamy Dressing
● Honey Mustard Sauce
● Chili Tomato Sauce
● Wasabi & Soy Sauce
● Basil Sauce
● Balsamico Sauce
● Mayonnaise
● Jalapeno Peppers
Topping Options:
● Natural Slice Cheese (additional charge of ¥30)
● Cream Type Cheese (additional charge of ¥60)
● Avocado (additional charge of ¥90)
● Shrimp (additional charge of ¥90)
● Bacon (additional charge of ¥60)
● Potato (additional charge of ¥50)
● Double Meat (additional charge of ¥200)
● Mascarpone Cheese (additional charge of ¥90)
Unique Items in Japan's Subway Restaurant Menu
Several Subway stores in Japan also offer various food items that cannot be found at other locations. Some of the unique treats that tourists must absolutely try during their trip include:
1. Cheese Roasted Chicken and Mushroom - a chicken sandwich topped with button mushroom slices and melted cheese.
2. Herb Sausage – a sandwich that features an unsliced, large link of sausage.
3. Sausage Roll with Cheese – a tortilla roll filled with the ingredients of the Herb Sausage sandwich.
4. Shrimp and Avocado – a tasty seafood sandwich that features several pieces of shrimp topped with a mashed avocado mixture.
5. Shrimp Melt – a shrimp sandwich that features lots of vegetables and two kinds of cheese.
6. Cold Smoked Raw Ham and Mascarpone – a meat sandwich that features raw, smoked ham similar to Prosciutto and topped with mascarpone cheese.
7. Basil Oven Potatoes –potato wedges baked in the oven and seasoned with basil.
8. Carrot and Apple Pound Cake – a snack or dessert item that features carrot and apple flavors.
9. Komatsuna and Sesame Pound Cake - snack or dessert item that features komatsuna (mustard spinach) and sesame flavors.
10. Yuzu and Sour Cream – a snack or dessert item that features yuzu (a citrus fruit) and sour cream flavors.
11. Cream Soda/Ice Cream Float – a lemon or lime based soda topped with a scoop of vanilla ice cream.
12. Coffee Float – iced black coffee topped with a scoop of vanilla ice cream.
The Differences Between the Subway Restaurant of Japan and USA
Although the Subway stores in Japan and those in the United States all fall under the same franchise, the only similarities these stores have in common are their names, their order processes, and their popularity as makers of high-quality submarine sandwiches.
The changes made by Subway Japan were needed for the fast food restaurant to survive and succeed in Japan. The new strategies, slogan, bread recipes, and menu items were gratefully welcomed by the local community but have received several critiques from foreign travelers.
Most of these reviews do not particularly tackle the food items offered by Subway Japan. Instead, they focus on the significant differences between the Subway stores in Japan and the United States such as:
Pricing
The regular and foot-long sizes of Subway stores in Japan and the United States both measure 15 cm and 30 cm, respectively. However, many tourists are surprised by how expensive Subway Japan offers their sandwiches, in comparison.
A foot-long sandwich can be purchased in the United States for an average price of $5, while a similar one is available in Japan for double the price.
Drink Refills
In the United States, fountain drink machines are available in most fast food restaurants. Customers are free to refill their large, purchased cups as much as they want with any of the soda options available.
Subway stores in Japan also feature similar fountain drink machines but do not allow refills. In fact, these machines often have a sign next to them which states "No Refills." to inform foreign travelers. Many tourists find this frustrating, especially since the size of Subway Japan's cups is also significantly smaller compared to those carried by Subway stores in the United States.
However, Subway Japan does offer more beverage options, some of which cannot be found anywhere else. Their drink menu consists of so many items that they are categorized into three sections, namely:
Regular Drinks
● Cold Drinks (available in small, medium, and large sizes for ¥220, ¥270, and ¥320, respectively)
○ Iced Coffee
○ Iced Coffee Au Lait
○ Iced Cocoa
○ Iced Tea
○ Iced Milk
○ Vegetable & Fruit Juive
○ Orange Juice 100%
○ Iced Oolong Tea
○ Melon Soda
○ Ginger Ale
○ Pepsi Cola
○ Pepsi Nex
● Hot Drinks (available in small, and medium sizes for ¥220, and ¥270, respectively)
○ Hot Coffee
○ Hot Coffee Latte
○ Hot Cocoa
○ Hot Tea
○ Hot Milk Tea
○ Herb Tea
Limited Drinks (only available in one size for ¥290)
● Coffee Float
● Café Latte Float
● Coke Float
● Cream Soda
● Orange Juice Float
● Cocoa Float
Premium Drinks:
● Cold Drinks (only available in one size for ¥270)
○ Iced Soy Latte
○ Iced Caffe Mocha
○ Iced Matcha Latte
○ Iced Soy Cocoa
○ Iced Soy Mango Latte
○ Mango & Orange Juice
○ Mango Juice
● Hot Drinks (only available in one size for ¥270)
○ Hot Soy Latte
○ Hot Caffe Mocha
○ Hot Matcha Latte
○ Hot Soy Cocoa
Amount of Ingredients
Buying a sandwich from one of the many Subway stores in the United States is guaranteed to satisfy one's hunger and more. After taking a customer's order and taking note of the ingredients he wants to be added or removed, a member of Subway's team of staff will expeditiously create the sandwich and fill it with a generous amount of cheese, meat, vegetables, and condiments.
In contrast, Subway Japan meticulously prepares their sandwiches by correctly measuring and weighing all the included ingredients. The resulting sandwich is undeniably good in terms of taste but looks significantly smaller in terms of volume when compared to the photo previews that Subway Japan's menus show.
Although there are many unique sandwiches offered by the Subway stores in Japan, many foreign travelers are disappointed to be served light sandwiches. However, Subway Japan's serving sizes are in line with the standards of the local community. In fact, a lot of Japanese people actually go to Subway in search of a light and nutritious meal instead of a filling one.
Smoking Section
The last difference between commonly pointed out by many tourists is the lack of smoking areas for those located in Japan. Food establishments in the United States follow a strict set of rules which includes the prohibition of smoking outside designated areas. Violators are appropriately fined, or at least reprimanded.
In Japan, smoking in places other than parks, museums, or national monuments is subject to leniency and is rarely considered a violation. Although it is understandable to encounter smoking patrons at casual restaurants or bars, many tourists find it annoying to have to tolerate such habits while at a supposedly health-conscious place.