Nations have their own special ways of labeling regions and areas of their lands to give a sense of structure and authority. Japan is divided into different regions that contain prefectures, each with their own special cultural distinctions, accents, and traditions that vary from their other neighboring prefectures. Each prefecture has a core city, known as "Chukakushi" in Japanese.
Core cities have their own administrative power and are only designated as such after the movement is approved by the assemblies of both the city and the Prefecture. To be called a core city, some of the requirements are for its area to be larger than 100 square km, with a population of more than 300,000 people. Some exceptions to the population rule have been made.
The Core City of Okinawa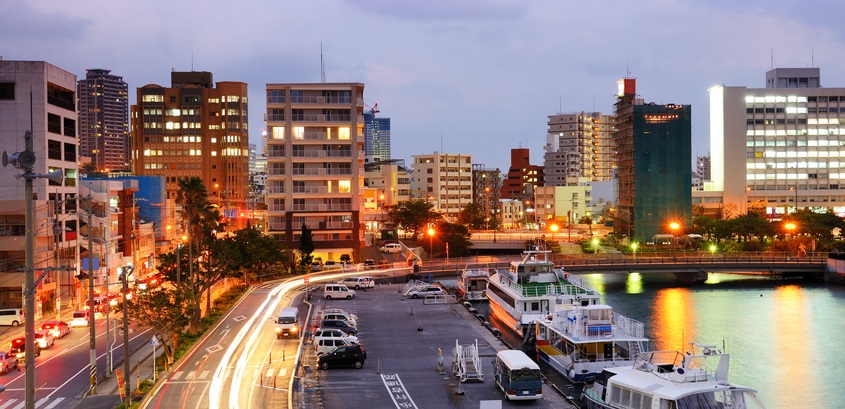 Okinawa is a group of islands found in the southernmost region of Japan, Kyushu (Ryukyu). One of these islands is named Okinawa, with its prefecture also labeled Okinawa. Okinawa Prefecture's Core city is called Naha; a beautiful city whose land has been occupied by people from as far back as the stone age, whose history extends beyond ancient civilizations, all the way up to the second world war.
Being set apart from the main island of Honshu, Naha is a little bit culturally different from the main island of Japan (Honshu) in the sense that it was part of the Ryukyu kingdom. It never belonged to an old province or county, and it was also later used as a base for soldiers during world war 2, to protect from western invaders.
The History of Naha
The first signs of life in Naha date back to archeological relics (pottery, shell mounds, Chinese coins) during the Jomon period. Trades were occurring with Japan and Korea from as early as the eleventh century, based on artifacts (pottery) that were dug up by archaeologists. By the 15th century, it was an active port city for the Ryukyu Kingdom. Though it is considered now as a major city, Naha was not always this big – during medieval times, Ukishima island was the only place where the city of Naha extended to, which you can travel to Okinawa through Chokotei, a causeway.
Naha now encapsulates much of the Ryukyu kingdom, Kumemura, and Shuri. By 1853, Commodore Matthew C. Perry visited Naha before his squadron made their way to Tokyo. His visit would indirectly trigger the Meiji Restoration, which made the entire nation of Japan undergo major political and geopolitical changes. The imperial system unified the government, overturning the Ryukyu Kingdom, transforming, and renaming it to be the capital city of the newly found Okinawa Prefecture.
By summer of 1899, the U.S. and U.K. conducted their port trades in Naha. Sadly, much of Naha would later be wiped out by the battle of Okinawa, which occurred during the second world war. The center of the city of Naha in such a devastated state that it had to be reconstructed. Though it was always known as the capital of Okinawa, it was only officially labeled a Core city (and the first Core city of Okinawa) on the 1st of April, 2013, thanks to the Local Autonomy Law of Japan.
The Origin of the Name "Naha"
Naha supposedly got its name from the word "Naba", which was a stone that used to be in the city but was eroded over time by natural causes. The stone was shaped like a mushroom, which is exactly what "Naba" means in both the Ryukyuan language and Western Japanese. This information was sourced from the Irosetsuden, which is a collection of essays by Shuri Scholars about Ryukyuan legends and history from the seventeenth century.
A Guide to Naha, Japan
Just some fast facts for you to get to know Naha a little bit better, even though you've got a pretty good idea of its history at this point. Naha's current mayor is Mikiko Shiroma. Its core city is measured at 39.2 square kilometers, with its urban area measuring 478.57 square kilometers. As of the 1st of October 2016, its core city has 319,870 people, while its urban area has 1,179,627 people. The flower that represents Naha is the Bougainvillea, while its tree is the Fukugi.
Just like the rest of Japan, it's easy to get around Naha and be thoroughly entertained (and stuffed) with their sights, activities, festivals, and food. Naha is also included in what is known as the "blue zone", an area known for having inhabitants that live longer.
Fun In Japan: Things to Do In Naha
Fun is a relative term. Some people think going to museums is fun, while others' idea of fun is a day of extreme sports. Good thing Naha has both. Those who want the full historical low-down on Naha can visit Shuri Castle, which is the fort that was used back when the Ryukyu Kingdom still existed. It is only a replica of the castle (built in 1958), though, because the real castle was ruined during the second world war.
For actual war-related places to visit, there's Okinawa Peace Park. Okinawa Peace Park has many different places dedicated to telling the tale of the Battle of Okinawa. The Peace Park itself is a quiet park where you can find memorials of those who passed away in battle, their names etched on the granite. Other places such as the Okinawa Prefectural Peace Memorial Museum, Okinawa Peace, and Memorial Hall (excluding Okinawa world, which is a theme park) pays a beautiful tribute to those who perished needlessly during such a violent period in Naha's history.
Shikinaen garden is also another option to visit, being another area where former rulers of the Ryukyuan kingdom would go to live. Built right before the dawn of the 19th century, this wooden architectural piece has a landscaped garden with a flair that you'll only see in Okinawa.
Attention, those who love the thrill of outdoor activities and the thrill of an adrenaline rush. Because Naha is more tropical in climate compared to cities in the north, you have a wide variety of choices that offer scuba diving trips and lessons, as well as snorkeling sessions. Honu Honu divers are rated 5/5 by 78 reviewers on Tripadvisor, your guide and/or instructor are likely to speak English, were very professional and accommodating.
During winter, kiteboarding is highly recommended (though it's available all throughout the seasons) with Kite Club Okinawa. Kiteboarding harnesses the power of strong winds to propel you across the water, giving you this once in a lifetime chance to speed through Okinawan waters with your parachute, with the occasional airborne flip, if you're brave enough to manage one.
Great Food to Eat in Naha, Japan
As for eating in Naha, you'll have to consider your budget. Are you looking for excellent fine dining, affordable but good meals or a bite that's extra easy in your pockets? Naha has many different options for each price range.
If money isn't a concern, Heki, Kokusai Dori Makishi Restaurant is a top choice when it comes to the best high-end Wagyu in all of Okinawa. The food, service, and atmosphere of this restaurant are rated fantastically – also all 4.5/5 – except for one aspect: value. Then again, a steak that's as out of this world as all this restaurant's fans claim does merit a pretty penny.
For the affordable but delicious price range, go to Yunangi Restaurant. It is rated the number one restaurant to go to in Naha, out of the existing 3,020. It's rated 4.5/5 by 386 reviewers and serves both Japanese and Asian cuisine. Dishes to look out for here are the squid ink risotto and tofu. They can get super busy, so if you really want to dine here, it's best to call them and reserve.
Tight budgeted but enjoyable meals include the Pork Tamago Onigiri Honten Restaurant, which has an eternal queue. Then again, it's still worth the wait as it's ranked 7th place in the best restaurants in Naha. This is because the onigiri served here taste great, and their portions are generous, according to reviewers.
Vacation Ideas in Japan - Beaches to Visit in Naha
Whether you're a considered a local in Japan, or you're a tourist who just wants to enjoy a day or two at the beach, Naha has some spectacular sandy getaways. Make sure to go during the best seasons (usually late spring to early autumn).
Okuma Beach is where you want to go if you prefer a more relaxed atmosphere, and don't like areas that are too crowded. It is found inside JAL Private Resort Okuma, stretching a little over one km. Admission fees are 750 yen per head, while you'll have to shell out 500 yen for parking. This beach is open from 9 A.M. to 6 P.M.
Sunset Beach is great if you're after a great shot of the sunset or for a barbecue. Here, you don't have to pay for admission or parking. There's also Manza Beach, also maintained by a resort company; ANA InterContinental Manza Beach Resort, with free admission.
Book These Hotels in Naha, Japan
In terms booking of hotels in Japan, it's best to trust good establishments instead of trying to pay less for accommodations. You can try Richmond Hotel Naha Kumoji if you want a hostel on the inexpensive side (7620 yen per night for a room with a double bed, around 18 square meters large. At least you get a decent room and friendly staff. For something on the luxurious side, there's the Hyatt Regence Naha, Okinawa, which costs about 20,273 yen per night. Then again, it's also the top hotel/ryokan in all of Naha, with reviews from customers giving nothing but praise.
Shopping in Japan: What to Buy in Naha
For fresh seafood and produce that you can have cooked in the same location, visit the Makishi Public Market. You can bring your children here as well to have an experience of what a traditional Japanese market is like. They also sell all kinds of knick-knacks, as well as souvenirs/items for foreigners who frequent the market.
When it comes to the rest of your shopping needs, go to San-A Naha Main Place. The locals go to this department store to shop, and you can get your grocery shopping done here, as well as a few fashion pieces. It also sells electronics, cosmetics, and different crafts. The address of this mall is 4-4-9 Omoromachi, Naha 900-0006.
What is the Time Zone in Naha?
The time used in Naha is uniform for the rest of Japan. Naha uses JST, or Japan Standard Time, which is ahead of UTC by 9 hours. During older times, JST was referred to as Tokyo Standard Time. During the changing of seasons (summer and fall), JST does not make use of Daylight Saving Time.
The Kind of Weather In Naha, Japan
In terms of weather, the humidity in Naha is much more intense compared to the rest of Japan because of distance to the equator. This is because it has a mix of both the climate of a tropical rainforest and a humid subtropical climate. The precipitation rate is higher compared to most parts of Japan. The lowest average temperature of the year hits 14.6 degrees Celsius in January, while the highest average temperature of the year hits 31.8 degrees Celsius on July.
Information About Naha Airport
Naha airport ranks seventh place when it comes to Japan's busiest airports. This is because it handles a lot of cargo, passengers, as well as the Japan Air Self Defense force and Naha Air Base. It is currently a hub for Japan Transocean Air, the airline Peach, and Ryukyu Air Commuter. As of 2015, 18,336,030 people have passed through the airport, with 399,764 metric tons of Cargo being shipped. 156,245 aircraft flying in and out.
Find And Bring A Map of Naha
Maps of Naha are available for free, with a single search on google images, you will find different kinds of maps for the entire area or specific areas of it. Most people print out maps of the rail system to help familiarize themselves with it, but there's no need for that in Okinawa - there is only one public rail system in all of Okinawa - the Okinawa Monorail, and it only has one straight line under the Yui rail, with a current station count of 15. Download the Waze app to help you street navigate in case you're driving a car.
Make every minute of your stay count by reading more about the wonderful city of Naha, so you may fully immerse yourself in the fresh new stories and culture it offers.