Cat cafes and dog cafes are two things that many countries across the globe share in common. Being in a room with friendly animals for an hour or two pretty much accounts for a good day on almost everybody's list.
Japan, being the eccentric country that it is, is no stranger when it comes to trends. Already housing several dog and cat cafes, it was just a matter of time for the country to bring something new to the table – owl cafes.
The Popularity of Animal Cafes
With how common animal cafes already are in this day and age, the exact year when the trend started is debatable. However, what can be agreed about these establishments is their ability to leave a calming effect on visitors, regardless of whether or not they may be animal lovers.
The concept of animal cafes is believed to have come from cities in Asia where communities tend to live in relatively small apartments and practice busy lifestyles. As such, the majority of them do not have the space and time to actually own a pet.
For this very reason, animal cafes easily became popular and soon started popping up all around the world. Eliminating the responsibilities of being an owner, customers can enjoy and relax amidst the presence of tame animals.
The Rise of Owl Cafes in Japan
Why go for owls, though? At any other country, hearing of establishments that offer drink items, food, and predatory birds all in one space may raise several concerns about hygiene and safety. Although it is understandable to imagine a busy coffee shop with owls flying about, this is rarely the case.
The Charm of Owl Cafes
One of the main reasons why people visit owl cafes is because of the therapeutic ambiance provided by the space and the peaceful owls. The majority of these places house happy, small owls comfortably perched on stands, either taking a nap or observing the environment.
Plus, it is not every day that a person can be so lucky to be in such close quarters with these predatory birds. Although some owl cafes have a strict policy when it comes to touching the animals, the majority has several ones that have grown accustomed to the presence of humans and do not mind being touched or petted.
Booking an Appointment or Making a Visit to Owl Cafes
In general, Japan's owl cafes do not need a reservation days or weeks before the planned visit. However, guests do need to make an appointment on the actual date.
Most of these establishments feature a huge sliding door in front which visitors should be careful to not brashly open to avoid frightening the birds. Instead, a guest should gently open the door until there is enough space for him to pop his head in and call a member of the staff.
Once attended by a staff member, guests should provide him with the correct head count so he can check the available slots for the day suitable for the group/s. Although not a lot of these staff members are fluent in English, they understand enough to be able to communicate well with foreign visitors.
The Typical Experience at Owl Cafes
Depending on the popularity of the owl café, guests normally have to observe a certain time period for their sessions. A visit to one of Japan's owl cafes cost an average of 1,500 yen and last for a maximum of one hour. Some shops allow guests to stay for as long as they want, especially when the day is not that busy.
Visitors are expected to be at the café a few minutes before their scheduled appointment. There is usually a staff member in charge of calling the names of the reserved parties, while other employees guide and inform guests of the café's rules and practices.
Information sheets about the proper way to handle the owls are usually given to visitors before entering the space. Fortunately, a lot of owl cafes feature English translations. Some common policies include:
Only pet the owls on the head

Turn off flash when taking a photo

Speak in a soft voice

Do not grab the owls

Do not feed the owls with unauthorized food

Do not disturb sleeping owls
Guests should note that not all the owls housed by these cafes are familiar with human interaction. There are usually two groups of birds at each café which consist of either resting or working owls. The resting owls are the ones that should not be touched but may be observed and photographed from an adequate distance, while the working owls are the ones that may be socialized with.
Staff members will often offer to place the working owls on the shoulders, arms, heads, or hands of guests to ensure that everybody has a pleasant experience at the cafe.
The Ethical Standards of Owl Cafes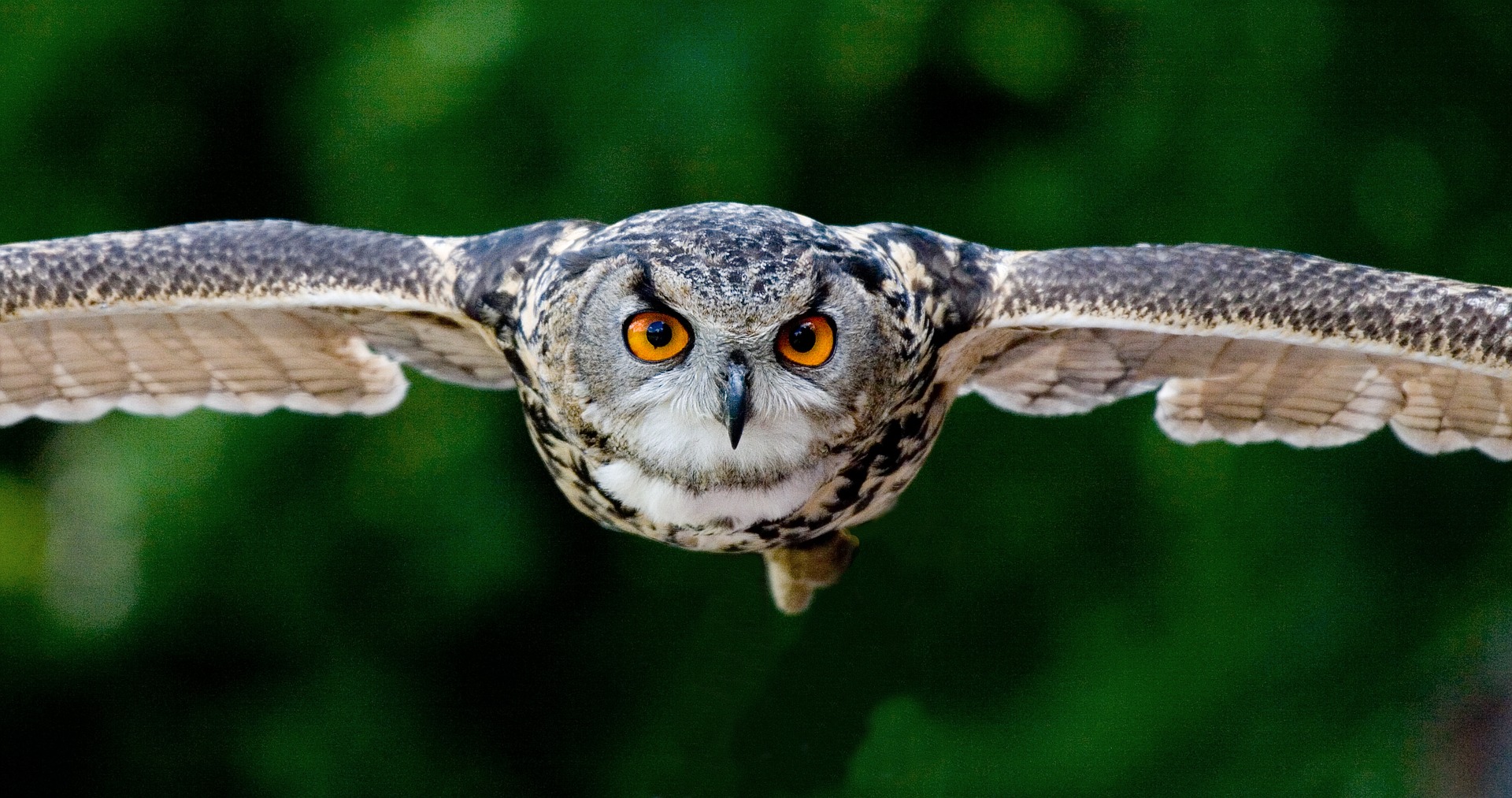 Given the increasing popularity of owl cafes, several concerns have been raised by people from other countries regarding the well-being of the birds.
In Japan, however, owls can be raised as pets by well-informed and nurturing individuals. Accordingly, the owls housed at these cafes have all been taken care of through captive breeding. As such, the majority of these birds are no strangers to the touch and love of humans.
Just like all animals, owls react to scenarios differently. Owl cafes make it a point to understand what each of their birds likes and dislikes to ensure that they experience as minimal stress as possible.
The Best Owl Cafes in Tokyo, Osaka, Fukuoka, and Other Cities of Japan
It has been about five years since owl cafes started popping up all over Japan. Foreign travelers will have no problem finding one, given that almost every city houses. Some of the best ones that tourists should definitely spare some time to visit include:
Fukuro no Mise
Fukuro no Mise is the very first owl café that was established in Japan. It opened back in 2012 and features different types of owls that comfortably perch on the shoulders, hands, and arms of visitors.
Address: 1 Chome-27-9 Tsukishima Chuo, Tokyo Prefecture 104-0052
Store hours: 2:00 PM - 9:00 PM (Wednesday – Friday); 12:00 PM – 9:00 PM (Saturday); 12:00 PM – 9:00 PM (Sunday)
Ikefukuro Café & Dining Attack
Ikefukuro Café & Dining Attack is owned by an avid fan of the anime show "Attack on Titan". As such, the majority of the owls are named after the show's characters including Mikasa and Eren.
Address: 1-3-1-4F Kichijoji Minami-cho, Musashino-shi 180-0003
Store Hours: 1:00 PM – 8:00 PM (Tuesday – Friday); 12:00 PM – 7:00 PM (Saturday – Sunday)
Fukuro Café Mofumofu
Fukuro Café Mofumofu has steadily been growing more and more popular as the days go by. It is the first owl café in Shinjuku and is home to charming owls that do not mind being closely admired by visitors.
Address: 3-35-2 5F YM Bldg, Shinjuku 160-0022
Store Hours: 12:00 PM – 9:00 PM (Monday – Friday); 11:00 AM – 8:00 PM (Saturday – Sunday)
Owl no Mori
Owl no Mori is one of the most frequently visited owl cafes in Japan by foreign travelers. The number of people that stop by per day is so massive that visitors can only spend a maximum of 1 hour in the café.
Address: 4 Chome-5 Sotokanda, Chiyoda-ku, Tokyo-to 101-0021
Store Hours: 12:00 PM – 10:00 PM (Monday – Friday); 11:00 AM – 10:00 PM (Saturday – Sunday)
Akiba Fukurou
Akiba Fukurou, compared to other owl cafes, features a relatively peaceful ambiance. The ultimate goal of the café is to serve as a therapeutic place for locals and foreigners to relax amidst the presence of equally calm owls.
Address: 101-0022 67, Neribeicho, Kanda, Chiyodaku, Tokyo
Store Hours: 12:00 PM – 6:00 PM (Monday – Friday, closed on Tuesdays); 12:00 PM – 7:00 PM (Saturday – Sunday)
Fukuro no Shiro
Fukuro no Shiro gained worldwide recognition for its owl named Bolt. The charming, mature bird caused quite the stir in several social media and news report sites for his quirky habit of sleeping in a duck position.
Address: 6 Chome-5-6 Jingumae, Shibuya-ku, Tokyo-to 150-0001
Store Hours: 11:00 AM – 8:00 PM daily
Hawkeye
Hawkeye, as implied by its name, houses several raptors including owls, falcons and hawks. Some of the birds are fond of human interaction and may be petted by visitors. However, guests should make it a point to ask the staff which ones may be touched to avoid any conflicts.
Address: 1-8-9, Sumida, Tokyo 130-0002
Store Hours: 1:00 PM – 9:00 PM (Tuesday – Friday, closed on Thursdays); 1:00 PM – 8:00 PM (Saturday – Sunday)
Fukuro no Ouchi
Fukuro no Ouchi, also known as Owl House, houses an interesting group of owls that normally would not be seen together but have grown accustomed to each other's company and to that of humans. The café also serves delicious cakes and pastries that come in the shape of owls.
Address: 3-18-13 Sugamo, Tokyo 170-0002
Store Hours: 1:00 PM – 8:00 PM (Monday – Friday, closed on Wednesdays); 12:00 PM – 8:00 PM (Saturday – Sunday)
Ikebukuro Owl Park
Ikebukuro Owl Park is located on the second floor of a bustling entertainment center in Ikebukuro's nightlife district. The spacious café houses about a dozen owls that are all friendly and familiar when it comes to humans.
Address: 3-30-11 2F Nishi Ikebukuro, Toshima, Tokyo 171-0021
Store Hours: 11:00 AM – 7:00 PM (Tuesday – Sunday)
Café Baron
Café Baron is popular for its resident owls but is also home to several reptiles. The café has a strict rule about not touching the animals but visitors are free to take pictures, so long as that each of them is given proper space and respect.
Address: 3-10-5 Koenji-kita, Suginami-ku, Tokyo 166-0002
Store Hours: 11:00 AM – 6:00 PM (Thursday – Tuesday)
Owl Family
Owl Family is one of the most famous owl cafes in the area of Tenjinbashi. The store houses a charming Siberian owl named Shi that many visitors instantly fall in love with.
Address: 1-10-13 Tenjinbashi, Kita-ku, Osaka
Store Hours: 12:00 PM – 8:00 PM (Tuesday – Friday); 11:00 AM – 8:00 PM (Saturday – Sunday)
More Animal Cafes to Check Out in Japan
Rabbit Cafes
Given that Japan has its own rabbit island. It is not surprising that the country houses several rabbit cafes. So far, Japan is among the few countries that offer people a chance to spend some time with these cuddly animals.
Since rabbits have been domesticated similar to cats and dogs, rabbit cafes allow visitors to freely interact with the animals, so long as everything is done in a gentle and calm manner.
Address: 1-13-9 8F Karasukoma Bldg 2, Higashi-Ikebukuro, Toshima-ku, Tokyo 170-0013
Store Hours: 11:00 AM – 10:00 PM daily
Address: 2-18-5 2F Kitazawa, Setagaya-ku, Tokyo 155-0031
Store Hours: 12:00 PM – 4:30 PM and 5:30 PM – 8:00 PM daily
Address: 4-8-3 2F Saison Akihabara Soto-Kanda, Chiyoda-ku, Tokyo 101-0021
Store Hours: 12:00 PM – 9:00 PM daily; Closed on Mondays
Address: 6-14-15 3F Maison Harajuku, Jingumae, Shibuya-ku, Tokyo 150-0001
Store Hours: 12:00 PM – 7:30 PM (Monday – Thursday); 11:00 AM – 8:00 PM (Saturday – Sunday)
Bird Cafes
Aside from owl cafes, Japan also offers many similar stores that house other kinds of birds such as parrots, tropical breeds, parakeets, and cockatoos. These stores normally house large, diverse flocks that have all been raised under the love and care of humans.
Address: 950-1 1F Sevenpark Ario Kashiwa, Oshimata, Chiba, Kashiwa 277-0922
Store Hours: 11:00 AM – 7:00 PM daily
Address: 1-12-8 1F Oyama Bldg, Asakusa, Taito-ku, Tokyo 111-0032
Store Hours: 1:00 PM – 8:00 PM daily
Address: 6-3-7 Minami-Aoyama, Minato-ku, Tokyo 107-0062
Store Hours: 11:00 AM – 7:00 PM daily
Address: 1-11-8 Shimorenjaku, Mitaka-shi, Tokyo 181-0013
Store Hours: 1:00 PM – 7:00 PM (Wednesday – Sunday)
Cat Cafes
Based on the number of stores that exist in Japan, the cat café stands to be the country's most popular kind of animal café. Cat cafes are so common in the cities of Japan that even tourists with no plans of visiting them will most likely come across at least one. Some cafe names worth noting include:
Nekoya

Calico

Nyankoto

Miysis

Temari no Ouchi

Hapineko

Mocha

Nekoen

Monta

Neko Maru Café

Machineko

Nekobukuro

Neko no Te

Cateriam

Neko Jalala

Melange

Nekorobi

Neko no Iru Kyukeijo 299
Other Animal Cafes
Fortunately, tourists who fancy other animals also have plenty of cafes to visit. Japan also houses dog cafes, goat cafes, and reptile cafes, the most popular of which include the following:
Dog Heart from Aquamarine (Dog Café)
Address: 1-45-2 2F Y's Park Bldg, Tomigaya, Shibuya-ku, Tokyo 151-0063
Store Hours: 11:00 AM – 7:00 PM daily
Sakuragaoka Café (Goat Café)
Address: 23-3 Sakuragaokacho, Shibuya-ku, Tokyo 150-0031
Store Hours: 8:00 AM – 11:00 AM, 11:30 AM – 3:00 PM, and 5:30 PM – 4:00 AM daily
Tokyo Snake Center (Snake Café)
Address: 6-5-6 8F Sanbo Sogo Bldg, Jingumae, Shibuya-ku, Tokyo 150-0001
Store Hours: 11:00 AM – 8:00 PM daily; Closed on Tuesdays
Yokohama Subtropical Teahouse (Reptile Café)
Address: 8-133 Chojamachi, Naka-ku, Yokohama-shi, Kanagawa 231-0033
Store Hours: 11:00 AM – 8:00 PM (Friday – Monday)