Themed cafes have become quite popular in different countries across the globe. In fact, in Japan, these stores are now considered to be a staple of Japanese pop culture.
Japan houses a wide array of cosplay and themed cafes, most of which may be a bit too weird for the taste of foreigners. However, there is one concept that actually pays tribute to the Western culture which many tourists, women, in particular, may find worthy of their time – the butler café.
Cosplay or Themed Cafes in Japan
Without initially understanding why Japan has such an abundance of cosplay and themed cafes, the idea of visiting one may not sound that attractive. Although a bit unusual, these stores actually provide an overview of how accommodating and hospitable the Japanese community is.
Themed pubs, restaurants, and cafes started popping up across Japan during the late 1990s and have since become a vital part of pop culture. The most popular one unique to Japan is probably the maid café, which basically features a team of women staff clothed in French maid outfits who treat the customers as mistresses and masters.
These cafes pretty much operate in the same way as the normal ones, aside from their effort to make the experience more personal and homey. Different requests may also be availed at themed cafes which range from taking a photo with the staff members to playing games with them.
The Charm of Butler Cafes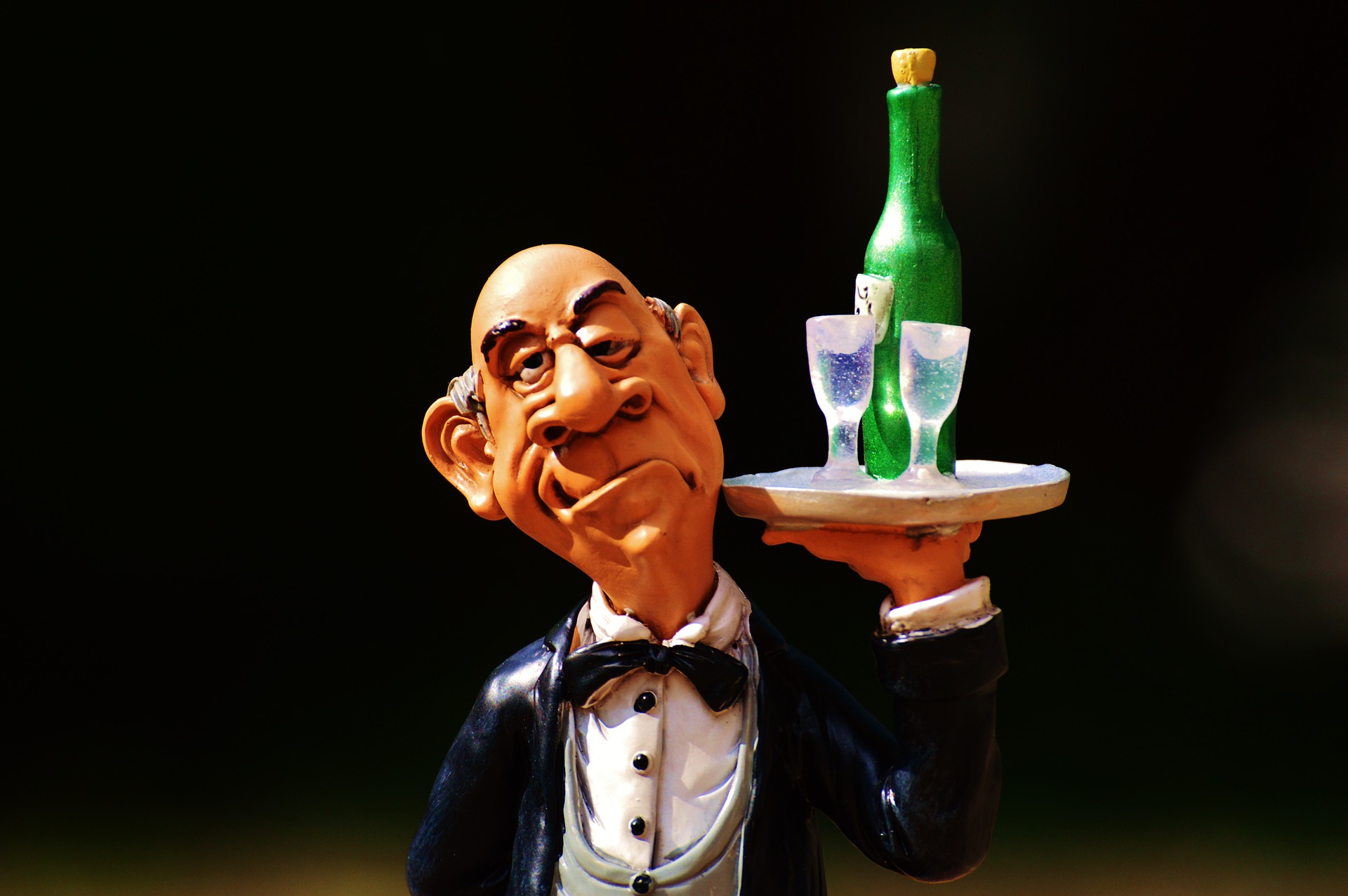 Maid cafes, given their abundance of female employees, are a bit more popular with the men than they are with the women.
Seeing an opportunity, more than two hundred women were interviewed and asked about their opinions on the themed café trend. The majority of them discussed that they wanted to be attended by good-looking, foreign gentlemen who would treat them as if they were royalty. This information helped form the concept of the butler café which has steadily become popular since the first one was introduced sometime in the early 2000s.
Basically, the aim of butler cafes is to provide each woman with a sense of safety, admiration, grace, and respect. A lot of locals and foreigners claim that the experience at these stores has a somewhat healing effect similar to a day of pampering at the spa.
From the very second one steps inside a butler café, almost everything from that point on will be taken care of by a butler or two. The opening of doors, hanging of coats, pulling out of chairs, and possibly the crowning of tiaras are just some of the things a guest can expect from the butler café experience.
Swallowtail Butlers Café – The Best and Most Famous Butler Café in Japan
Swallowtail Butlers Café is considered to be the best of its kind in Japan. The café carries a luxurious and elegant style that a lot of locals and tourists describe it to be a place of royalty. A grand, 100-piece Swarovski crystal chandelier hangs in the center of the café which greatly complements the Victorian design of the café.
The café has about fifty butlers who fall under the age range of 20 – 80 years old. Swallowtail takes good care of their business by ensuring that each man goes through an initial exam followed by two months of training about hotel/restaurant rule books and services before taking him under their wing. These butlers also perform singing and musical performances throughout the meal courses of the café.
The dessert, drinks, and food menus of Swallowtail change on a monthly basis but usually include the following (taken from Swallowtail's June, July, and August sample menus):
Sherbet (Chocolate Mint, Peach, Etc.)

Ice Cream (Avocado, Miso Peanut, Etc.)

Pure Tea

Original Blended Tea

Flavored Tea

Wine

Seasonal Dessert

Scone

Quiche

Bread & Soup

Afternoon Tea

Light Meals (Beef Cheek Meat Stew, Green Salad, French Bread, Etc.)

Dinner Meals (Hors d'oeuvre, Poisson, Viyando, Etc.)
Although walk-ins are accepted at Swallowtail, making a reservation prior to the actual visit is highly recommended to tourists to ensure that they get a table.
Site: http://www.butlers-cafe.jp/
Address: Showa Building, 3−12−12 Higashiikebukuro, Toshima-ku, Tokyo 170-0013
Store Hours: 10:30 AM – 9:20 PM daily
Butlers Café – The Popular Foreign Butler Café in Shibuya, Tokyo, Japan
Compared to Swallowtail which features Japanese butlers, Shibuya's Butlers Café only employs foreigners to make the experience as Western as possible. With the abundance of English-speaking butlers, it is understandable for one to immediately think that the target market of this café consists of female tourists. However, Butlers Café is actually more popular with Japanese women.
Overall, the structure and design of the café are more modest than that of Swallowtail. Although it may seem like a normal café, the service provided by its equally well-trained butlers is exceptional and makes for a pampering experience.
Butlers Café offers different courses under their "Princess Plan" and "Birthday Plan" which range from 3,500 to 5,500 yen per person. Some of the food items from the lunch and dinner menus of the café include:
Smoked Salmon Salad

Soft Duck Pastrami Mille-Feuille Salad

Light Meals (Panini, Risotto, Etc.)

Pasta (Salmon and Spinach, Carbonara, Etc.)

Pizza

Crepe with Vanilla Ice Cream (Banana, Cinnamon, Chocolate, Etc.)

Dark Cherry Pie

Parfait

Cakes and Tarts

Classic Tea

Milk Tea

Iced Tea
Site: http://www.butlerscafe.com/
Address: Udagawa KK Bldg 5F, 11-6 Udagawa-Cho, Shibuya-Ku, Tokyo
Store Hours: 12:00 PM – 4:30 PM and 6:00 PM – 11:00 PM (Monday – Saturday); 12:00 PM – 9:00 PM (Sundays and Holidays)
Other Themed Cafes to Check Out in Japan
Alice in Wonderland Themed Cafés
The fantasy tale Alice in Wonderland is loved in different countries all around the world so that many clothing lines, novelty stores, and restaurants have used it as an inspiration to come up with quirky concepts.
Japan has always had a spot for Alice in Wonderland which is why tourists will most likely come across a number of themed cafes and fashion prints in line with Alice's imaginative world. In particular, Diamond Dining, one of Japan's leading companies in the café and restaurant industry, owns and operates several Alice in Wonderland themed establishments that foreign travelers should consider squeezing into their itineraries:
The Alice in a Labyrinth café serves as the doorway to the rest of the tale's whimsical land of wonder and imagination. Visitors can expect to be welcomed by mostly black and white interiors, filled with several tables that feature face card designs.
Address: 8-8-5 5F Sun Bldg, Ginza, Chuo-ku, Tokyo Japan 104-0061
Store Hours: 5:00 PM – 12:00 AM (Monday – Thursday); 5:00 PM – 4:00 AM (Friday – Saturday); 5:00 PM – 11:00 PM (Sundays and Holidays)
The Alice in Fantasy Book cafe comes alive with fancy through its large number of grand chandeliers, colorful themed wallpapers, a stunning, jewelry box type of gondola, and a masquerade mirror, among many other Alice in Wonderland-inspired things. Being one of the most popular of Diamond Dining's cafes, tourists should note that the number of seats housed by it is only limited to a hundred.
Address: Kabukicho, Shinjuku-ku, Tokyo 1-6-2 T-wing building B2F
Store Hours: 5:00 PM – 2:00 AM (Monday – Thursday); 5:00 PM – 4:00 AM (Friday – Saturday); 5:00 PM – 11:30 PM (Sundays and Holidays)
The Alice in Magical Land café doubles as a restaurant, serving a wide array of delicious, wonderland-themed drinks and meals. Similarly, the place is decorated with different ideas and themes including red card wallpaper, green gardens, and giant books. The café-restaurant has a maximum seating capacity of 140.
Address: 3rd Floor 160-0023 Tokyo Nishi-Shinjuku, Shinjuku-ku, 1-5-1 Shinjuku Nishiguchi Hulk Underground
Store Hours: 11:00 AM – 12:00 AM daily
Alice in an Old Castle is considered to be more of a restaurant than it is a café. It offers a combination of pleasantly unique themes such as a magic mirror, mermaid cave, temple of sea, and queen crystal ball all under one roof. The stunning interiors of the place combined with its use of luxurious curtains make for an extravagant atmosphere.
Address: Building 3 B1 171-0022 Tokyo Toshima-ku, 2-16-8 Minami-Ikebukuro Fujikyu Building East
Store Hours: 5:00 PM – 11:30 PM daily
Alice in a Dancing Land is another café-restaurant by Diamond Dining that serves as a majestic place complete with a Cheshire cat dance floor, a jewelry merry go round, and a hatter-themed secret tea party. A lot of locals and tourists visit it for its fun ambiance but it should be noted that the place only has a maximum of 95 seats.
Address: 150-0042 Tokyo, Shibuya-ku, Udagawa-cho No. 16 No.9 zero gate Underground 1F
Store Hours: 11:00 AM – 4:00 PM and 5:00 PM – 11:30 PM daily
The Alice in Fantasy Land café truly embodies the theme of "through the looking glass". The area, which is basically an open floor, features a fantastic, grand chandelier as well as a section designed for "Queen Alice" which features several sofas.
Address: 1-8-1, Shibata, Kita-Ku, Osaka-shi, Osaka 530-0012
Store Hours: 5:00 PM – 11:30 PM daily
Christon Café
The Christon Café follows a medieval Catholic/Christian theme. As with many of Japan's most popular themed cafes, it is also owned and operated by Diamond Dining. Allegedly, the Japanese company had several Catholic/Christian antiques transported to Japan from South America and Europe to add to the authenticity of the café.
Featuring candlelit chandeliers, marble and gold tabletops, wooden altars, and stained glass, the café carries a somewhat gothic style that makes it a popular place for women-only parties. Everything about the café goes in line with the theme, including coffin and cross shaped menus, and interestingly named cocktails.
According to rumors, the café also doubles as a nightclub, hosting fetish events during the wee hours of the morning.
Address: 5-17-13 Shinjuku Sankocho Heim 8-9F, Tokyo, Japan
Store Hours: 5:00 PM – 11:30 PM daily
Moomin Bakery and Café
The Moomin Bakery and Café, as the name suggests, is inspired by the Moomins, a family of characters that closely resemble white hippos. These characters come from a series of books that were written by Tove Jansson, a Finnish author and illustrator, from 1845 to 1993. The books were so popular that several films, a TV series, and a theme park were created in Finland.
Through Japan's television network, the Moomins were also able to charm their way into the hearts of the Japanese community. At present, the country houses at least three Moomin-themed cafes, one in Fukuoka and two in Tokyo.
All of these cafes serve desserts, cakes, pastries, and other food items that are based on the Moomins. Each café also has several Moomin dolls, which a customer planning to eat alone can request to have at his table to serve as his friend.
The Moomin cafes also feature a gift section where visitors can purchase original merchandise from the franchise.
Address: Tokyo Dome City LaQua, 1-1-1 Kasuga, Bunkyo Ward, Tokyo 112-0003
Store Hours: 8:00 AM – 10:30 PM (Monday – Saturday); 8:00 AM – 10:00 PM (Sundays and Holidays)
Vampire Café
Vampire Café is another one of Diamond Dining's gothic-themed cafes that is considered to be the spookiest one in Japan. Given the main idea of the café-restaurant, visitors can expect to be welcomed by decorations that do not stray far from the colors black and red.
Although the ambiance may be a bit dark, many customers recommend visiting the café for an interesting experience that is more fun than it is scary. The waiters are not exempted from the theme and actually act as vampires, speaking with an accent similar to that of Dracula.
Address: La Paix Building 7F 6-7-6 Ginza Chuo-Ku Tokyo
Store Hours: 5:00 PM – 11:00 PM daily
Animal Cafes
Animal cafes can be found at just about any place around the world. Japan is home to countless cat cafes and dog cafes, which are probably two of the most popular types of animal cafes. Tourists can also enjoy several other cafes in Japan which house interesting animals such as owls, reptiles, birds, and goats.
With the abundance of animal cafes in Japan, foreign travelers visiting Tokyo, Kyoto, Osaka, and Japan's other busy cities will most likely come across at least one of them without even meaning to. For those who really want to include them in their itineraries, a quick search on the internet will instantly provide a long list of cafes to visit, all of which will not disappoint.