Located southwest of Sapporo, west of Tomakomai and northeast of Hakodate, Noboribetsu is a city in Iburi Subprefecture in Hokkaido Prefecture, Japan. With approximately 50,000 people residing there, Noboribetsu City's total land area is about 212 square kilometers, giving it a relatively low population density of 235 persons per square kilometer. The area abounds with a rich variety of forests, lakes, and marshes and has been tagged as a part of the Shikotsu-Toya National Park.
One of the best known hot springs of Hokkaido, the Noboribetsu hot spring, is surrounded by a virgin forest 200 meters above sea level. There are said to be eleven different types of water with Sulphur, salt, and iron found in these hot springs, ranking it among the world's top hot springs.
The Best Onsen Spot in Hokkaido
The most remarkable vista of the hot spring is the Jigoku Valley, also known as Hell Valley. This is because yellow-gray volcanic gas emanates from the rock surfaces, giving off a very strong Sulphur odor, said to smell like hell. The valley, which is a 450-meter volcano crater, produces 3,000 liters of hot water per minute.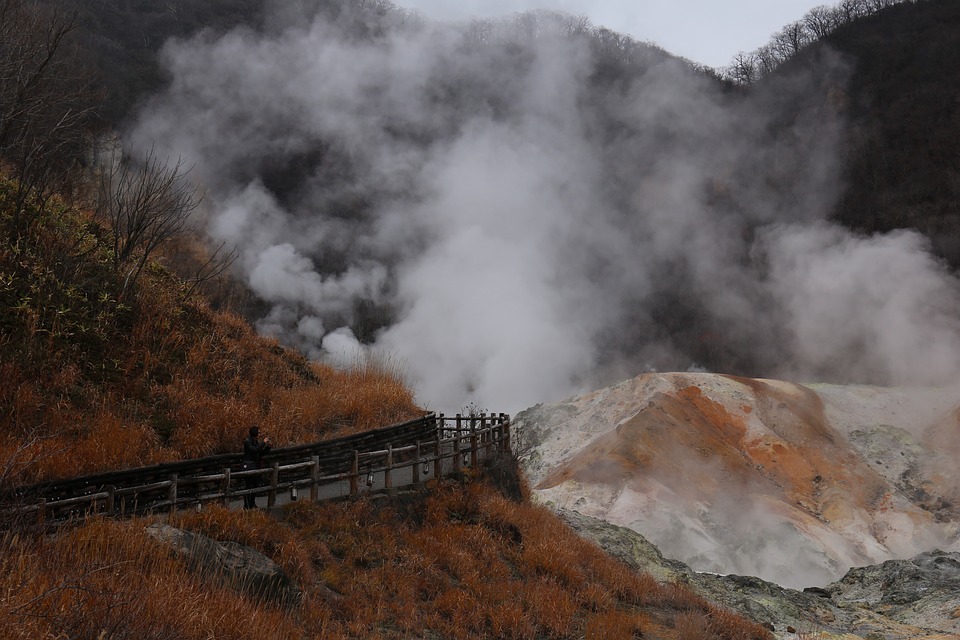 What Is Noboribetsu?
Noboribetsu is also known to be where Hokkaido's most famous hot springs, offering as many as eleven kinds of thermal water, which are considered as Japan's best in healing, distressing and relaxation.
From the northeast to the southwest, there are three towns along the Pacific Ocean, namely Noboribetsu, Horobetsu, and Washibetsu. These "betsu" name endings stem from the word "river" in the Ainu language. Noboribetsu comes from the Ainu word "nupur-pet, meaning dark-colored river, or "cloudy river tinged with white".
It is essentially a single street village lined with hot spring hotels on both sides. However, the focal point of interest for most visitors is the Noboribetsu Onsen, arguably Hokkaido's most popular hot spring town, which is a mere two hours away from Sapporo.
The History Behind Noboribetsu
More than 150 years ago, while searching for a cure for a skin condition that afflicted his wife, Kinzo Takimoto found a hot spring which was rumored to possess healing properties near Jigoku Valley (also known as Hell Valley) in sparsely populated southern Hokkaido. After his wife was healed, Kinzo Takimoteo decided to share his happy discovery with the rest of the world.
He set up a small inn at the spring source and Dai-ichi Takimotokan, considered one of the best indoor hot springs in Japan was born. The town of Noboribetsu Onsen sprang up around it. Noboribetsu Onsen is located six kilometers from Noboribetsu City and is also known for its bear park. It is also the largest hot spring town in Hokkaido. In 1919, Noboribetsu City was just a small village named Horobetsu. Horobetsu Town became Horobetsu Village in 1951. Ten years later it was renamed Noboribetsu town and subsequently became Noboribetsu City in 1970.
A Guide to Noboribetsu in Hokkaido, Japan
There are many things to do in Noboribetsu. One of the best Aino (indigenous people of northern Japan) museums located twenty-five minutes from Noboribetsu is the Shiraoi Aino Museum. Commonly known as Porotokotan "large lakeside village" in the Ainu language, the houses show different aspects of Ainu life, culture, and lifestyle.
There are free shows featuring traditional Ainu folk dances, songs, and harp demonstrations. One can also see live Hokkaido brown bears and snow-white Ainu hunting dogs. The museum is about a ten-minute walk east from the Shraoi Station.
Directly north of the hot spring town of Noboribetsu, a five-minute walk from the bus terminal lies the main source of Noboribetsu's hot spring waters, Jigokudani. Aptly called Hell Valley, Jigokudani is a 24-acre smoking crater created by a volcanic eruption 20,000 years ago.
More About Jigokudani
Characterized by smelly, black sulfur mud ponds, rivers, hissing valleys, springs, and geysers that feed the baths in the resort town of Noboribetsu, Jigokudani can be explored and accessed through an eight-kilometer boardwalk pathway that traverses the park. Visitors can enjoy foot batch in warm volcanic rivers and view ancient forests in a landscape that's impressively diabolical as it is cozy.
An amusement park but without the rides, Noberibetsu Date Historic Village, or Jidaimura to the locals, is a series of theatre performances that may be viewed in sequence in four theatres. For those who like Japanese history, they will enjoy the presence of geishas, samurais, and ninjas.
Another place worth exploring for more adventuresome hikers are the steep wooden steps into the woods that lead to the Oyunama Trail, which is lined with many Jizo statues. At the end of the trail is the Oyunama pond, a large body of water that has filled up the old crater of Mt. Hiyori. This body of water heats the Oyanuma Brook, where the hot therapeutic water is bearable to dangle one's feet into. Oyunama is a sulfurous pond that continuously emits steam and is especially attractive during autumn when the surrounding forests look surreal.
Points of Interest In Noboribetsu
Unwind in a hot spring. Noboribetsu's famous hot springs offer a great variety of relaxing, healing waters. There are sulfur springs, salt springs, mirabilite springs, aluminum springs, melanterite springs, acidic iron springs, iron springs, radium springs and alkaline springs. Apart from providing relaxation, the waters are good in treating various diseases like arthritis, back pain, anemia, and other illnesses. Overnight and day visitors are welcome in the many hotels and facilities where the baths can be found.
Go horseback riding. Enjoy the fabulous Noboribetsu landscapes from the back of a horse. From beginners to advanced riders, tours are organized in different areas to suit any horseback riding experience level. The tours start with a lesson in an enclosed area before the actual ride. Prices range from 1,000 to 2,500 yen.
Cross the New Noboribetsu Bridge. Cross the Noboribetsu river via the 250-meter-long, 120-meter-high Noboribetsu Bridge with a beautiful view of Japanese sumac trees, maple trees, and azalea flowers all around. The views become particularly beautiful and colorful in autumn.
Visit the Date Jidaimura Theme Park. Noboribetsu's Date Jidaimura Theme Park depicts life during the Edo Period (1603-1868) when an era of peace and abundance dominated after many years of several wars. This was the time when business flourished, cities were constructed, and prosperity prevailed. Games and street events can be enjoyed by visitors. There are also restaurants offering traditional dishes.
See the Bears. There are two hundred brown bears on Mount Shihorei that can be observed by people through a special cage. There are also bear shows where the bears play basketball, soccer, or math games.
Ride the Usu-zan Ropeway. Visitors can go to the top of Mount Usu, which erupted four times in the 20th century. Panoramic sights of the surrounding vistas, including spectacular views of Lake Towa, Showa Shinzan, the Pacific Ocean and the volcano's crater, may be enjoyed from observation decks.
Enjoy the Local Food. Enjoy the local cuisine that specializes in many different types of shrimp, shellfish, and crabs which are served either grilled or as sashimi. Other fares include tempura (battered, fried seafood or vegetables), grilled beef, gyoza (meat dumplings), barbecue and miso ramen (wheat noodles with fermented soybeans).
What is the Weather Like in Noboribetsu?
Noboribetsu is known for having a chilly, more temperate climate compared to the rest of Japan's weather. This is because it is located nearer the northern hemisphere, and away from the equator. The coldest average temperature in Noboribetsu reaches -4 degrees Celsius, which happens in January. The hottest average temperature is 21.2 degrees Celsius, which happens during August.
The months with most rainfall are July (145 mm of rain) and September (159 mm of rain). If you are visiting during these months, bring an umbrella along, as well as a raincoat, and perhaps waterproof boots. When you travel to Noboribetsu, no matter what time of the year it is, you must prepare clothes that can protect you from the cold. Even during summer, you will want to bring a light jacket, as temperatures can drop during the night.
Find A Great Hotel for Your Trip to Noboribetsu
You're likely to find that the hotels you check into already have hot baths and onsen facilities ready for you to use. What matters most in choosing a hotel for your trip is your budget, and the level of luxury you're going for.
Daiichi Takimotokan has 736 reviews, rated #2 out of the different hotels in Noboribetsu. It is considered relatively cheap for its spaciousness and delicious buffet (though it can get crowded), and another advantage of it is that you can get picked up from the Sapporo JR station and brought directly to the hotel.
As with many hotels in Noboribetsu, it has 10 different pools that make up its onsen facility. A night here is quite pricey though, costing around 34,500 yen for a room. Daiichi Takimotokan is located in 55 Noboribetsu Onsen-cho, Noboribetsu 059-0551, Hokkaido.
Noboribetsu Grand Hotel, running in 4th place when it comes to Noboribetsu's top hotels, offers great spring baths and food (though some have mentioned that their buffet has a tendency of getting cold), but is known for being conveniently close to the bus station.
Rooms are large, and the lobby gives off a luxurious atmosphere. What many people notice is the state of the hotel. It doesn't live up to what it once was but still holds on to its name and the same old services it has been known for. A night here will cost you around 32,800 yen. To head here, go to 154 Noboribetu Onsencho, Noboribetsu 059-0592, Hokkaido.
Hotel Yumoto Noboribetsu, which boasts of traditional, Japanese-style rooms, is also right across the Noboribetsu onsen bus terminal. This onsen in this hotel has information posts that explain the different properties and temperatures of each pool, which can be beneficial to any curious guest, especially those who want to learn more about the culture behind using onsen.
There's even in-room dinner service, serving fantastic authentic Japanese food. Though this hotel looks like a concrete block from the outside, the service inside has a 4-star rating and is quite a deal for your accommodation with its nightly cost of thereabouts of 18,024 yen. Its address is 29 Noboribetsu Onsencho, Noboribetsu 059-0551, Hokkaido.
Book your hotel when you choose an airline to ride when you get here. You get to Hokkaido by flying into New Chitose Airport, from where you can either take a car, train, or bus to your destination.