Golden Gai Tokyo Guide
All About the Golden Gai
The Golden Gai is a small system of alleys home to a number of tiny, shanty-style bars and restaurants. It is known as one of the most interesting nightlife destinations in all of Tokyo because of the uniqueness of the shops and restaurants. In a small location in the busy district of Shinjuku lies about 200 small "shops" that serve as clubs, bars, and even restaurants. It is known as the "chill" place to spend the night with friends. It is also a popular go-to place for film-makers and photographers.
The alleys are really small that it can only allow pedestrians to get in. These shops are so tiny as well that most of them could only fit about seven to ten persons at a time. They are designed to look like someone's kitchen with the host sharing food and drinks with his guests. Some shops are a bit larger as they can fit about 15 to 20 persons.
Originally, the place was known to be home for post-war vendor shops. It used to be the center of black market trading after the war. The place is pretty much reminiscent of 1950s Japan when people started to have a renewed sense of freedom. People experienced a drastic change in culture which was easily incorporated into their lifestyle. The Shinjuku Golden Gai is one of the evidence of Japan's journey towards change – where tradition meets industrialization and modernization.
Many people go there just to enjoy the architecture. The place boasts itself as a home for artists, writers, and even musicians that tourists can usually find an actor or two in a night. Each store takes pride in the personality of their tiny shop – a story to tell in a few squares of space.
Although it is best known for the bars and the nightlife, the Golden Gai is more than that. Most of the shops in this area open during the day and even the weekends. They are open about 15 to 20 hours a day. Most stores serve food and drinks which are suitable for a simple lunch inside the office. Although a number of restaurants and pubs are open during the day, a great majority of the area comes to life at about 9:00 PM.
Golden Gai Tokyo Map
The actual address of the Shinjuku Golden Gai is Chome Kabuchico, Shinjuku. It is located in the heart of the city, accessible to both commuters and travelers. It is a short walk from the east exit of the Shinjuku station and can be located between the Shinjuku City Hall and a place known as Hanazono Shrine. When taking a car to Golden Gai, it must be noted that cars would not fit the tiny alleys and it would be best to look for a parking space nearby.
Regulars-Only bars
Since most of the bars can only fit a few people, guest acceptance is quite restricted. There are a number of shops in Golden Gai that only accepts their "regulars". This means that some shops operate mostly on exclusivity and it is one of the factors that make their shops even more popular. On top of that, since the place is a popular hang out for a number of famous artists, some shops would prioritize these guests for the image of their bar.
What is even interesting about this is that the shanty and rustic style of the shops are all a facade. Food and drinks in these shops may look cheap but many are actually quite pricey. This is affected by the bar's exclusivity and popularity. In fact, many of these shops accept cover charges or entrance fees, the point of which is so the bartender can make space for new clients or non-regular guests.
Golden Gai of Tokyo on Sundays
Although the bars and restaurants are thought to have no closing days however it is common knowledge that most of the shops are deserted on Sunday evenings. A lot of party goers go home at about 5:00 AM Sunday morning which is why no one really goes there the night of the next day. For those planning to spend a quiet night in Golden Gai on a Sunday evening – DON'T. It will definitely ruin the experience and fall short of expectations. Golden Gai feels like an abandoned ghost time on days like this. On top of that, it is common for Japanese people to spend Sundays with family. They run their errands, do their shopping, and take care of their homes during this time.
Top 5 Golden Gai Tokyo Bars
Albatross
This bar, although it is small, is one of the most luxurious of all in Shinjuku's Golden Gai. Located on a small rooftop terrace, it capitalizes on the amazing view of Tokyo's skyline. The bar is complete with Victorian style furniture, chandelier, and crystal wine glasses. To push the fanciness further, there is even a deer head hanging on the wall – this creates a bold statement making it memorable for all their visitors. The beautiful twinkling lights matched with luxurious and plush décor makes up for the tiny space in this bar.
Champion
A typical bar in a typical red light district, Champion screams out what a stereotypical Japanese nightlife looks like - KARAOKE. Champion bar is easy to locate because it is a popular destination in the Shinjuku area for both foreign and local tourists. Consequently, the bar is much larger than its counterparts in the area. It can fit around 20 people compared to other bars that can only fit around 10 people. This place does not have a cover charge, compared to other places in Golden Gai.
Salary Man's Paradise
Omoide Yochoko, the place's real name, is a local favorite in Shinjuku. This particular bar is located just at the West Exit of Shinjuku station which makes it quite easy to find and access. The name Omoide Yochoko literally means "Memory Lane" this is because the idea of the Golden Gai started out when post-war salary men found ways to entertain themselves. The place started out as a drinking den developed from a small alley with a number of street vendors and merchants.
Bar Araku
This is one of the places in the Golden Gai where the vibe is not traditional Japanese. Since it was previously owned by an Australian national, the concept and design of Bar Araku are to provide a foreign space in an all-Japanese destination. It is a place that gives warm welcomes for foreign travelers in Japan – a great place to share drinks, stories, and travel ideas. What makes this place even more special is that there is no cover charge for foreign tourists.
Toto bar Shinjuku
This place is the most special destination to try out different kinds of sake or nihonshu. There are only a few seats and the small space can only fit less than 10 people. It feels like sitting on someone's kitchen counter, sharing stories and a bottle of sake. Other than different brands and flavors of sake, this particular bar takes pride in offering seasonal seafood on their menu. This may include grilled mackerel, sashimi, and more. There is a cover charge of about 500 yen in this bar.
Top 4 Golden Gai Tokyo Restaurants
Robot Restaurant
Many people say that this is probably the most family-friendly restaurant in the entire Shinjuku Golden Gai. This is because of the fact that instead of the food and the drinks, the Robot restaurant focus on the performances. Visitors have exclaimed that visiting this restaurant iRamen Nagis definitely fun and exciting. The thing is, a lot of people actually commented on the fact that there are no robots in the entire restaurant. Instead, the theme of the shows is sci-fi and futuristic. The food here is quite affordable, but there are other places in the Shinjuku Golden Gai that can serve better dishes.
Hungry Humphrey
Since the origins of the Golden Gai can date back to the late 40s and early 50s, the Hungry Humphrey restaurant takes people down memory lane. The décor, restaurant theme, and vibe give off a blast-to-the-past feel where visitors will have the illusion of traveling back in time. The food is great because they have a menu that blends oriental and western cuisines.
One of the best hangover food to try would be nothing else but RAMEN. Ramen Nagi is one of the most popular affordable ramens in the entire Shinjuku area. This particular restaurant is so popular that they have branches in different parts of Asia. People enjoy the warm, tasty broth and the bite given off by chewy noodles. This place is highly visited even during the day, as it is a popular lunch destination in Shinjuku as well.
Bistro Pavo
Anyone craving for Italian food in the sea of traditional Japanese cuisines will find comfort in the walls of Bistro Pavo. An affordable price with authentic taste, everyone will surely enjoy the pasta and pizza options from their menu. Another attraction for this bar would be their affordable wines which offer an alternative from numerous bars and restaurants that offer cocktails, beers, and sake.
Accommodation in the Golden Gai of Shinjuku
Since Shinjuku is located in the heart of the city, it is without a doubt quite near affordable places to stay in. There are luxury hotels available in the area for those who want to splurge. There are capsule hotels for those who want to experience the tininess of the space, or simply want to stay somewhere cheap and comfortable. There are also affordable inns and bed and breakfasts in the area.
Among the top-rated hotels in the area would be Tokyo Stay Shinjuku. They offer rooms with kitchens that have free wifi. It is a small 3-star hotel which is affordable and standard but offers great service. Another popular place to stay would be Hotel Gracery Shinjuku, this hotel is unique as it is Italian-themed. Hotel Rose Garden Shinjuku is also another popular place to stay which even have parking services for their guests.
Must Eat in Golden Gai Tokyo
Golden Gai Tokyo Ramen
Ramen is pretty much a staple food in Japan, it is comfort food at its finest which is perfect for all types of weather. This kind of dish is a combination of soup, noodles, and different kinds of toppings. The broth is usually made from dried kelp with flavoring from pork, chicken, or beef. Usually, the noodle soup is topped with tamago (or eggs cooked in different ways), seaweed, fish cakes, roasted pork fillet and more. There are a number of ramen shops all over Tokyo. Even though Golden Gai is a complex consisted of mostly bars and pubs, there are shops that still offer great food.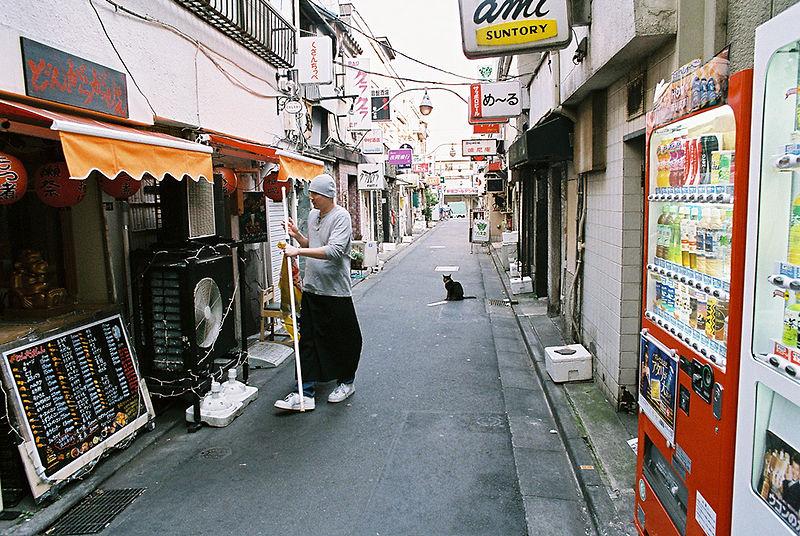 Yakitori with Beer
A well-known street food in Japan, yakitori is a common food item served with beer. Basically, yakitori is season chicken skewered in bamboo or steel before being grilled over charcoal. This kind of snack is easy and fast to prepare but with delicious unforgettable flavors. Yakitori is a must-try when visiting Golden Gai in Japan as there are a number of shops that offer great yakitori deals.
Tokyo Sushi
There are a number of sushi restaurants all over Golden Gai. Some shops sell sushi at affordable prices while luxury restaurants within the area sell these as rare and expensive goodies. There are restaurants that sell freshly caught tuna to be served as sashimi as well.
Kushiage of Osaka
This snack, also known as Kushikatsu is a delicious Osakan snack which is made up of deep fried meat and vegetables. This is usually skewered on a stick and dipped in a delicious batter before being rolled in the panko-breadcrumb coating. What is special about Kushiage is that it can be made from anything and there is no specific recipe. It could be made from seasoned chicken, beef, or pork. There are also Kushikatsu made from deep-fried tofu, cheese, and vegetables.