Japan has all the types of attractions that tourists love seeing and experiencing. They are blessed with gorgeous forests, mountains, and beaches which surely attract the nature-loving tourists. They also have a wide variety of food specialties in their cuisine that people love having for either breakfast, lunch, or dinner and this definitely gets the attention of the food-loving tourists. If you happen to be the type of tourist that is looking for a place to rest and relax in, you are also in luck because Japan has something to satisfy your craving and you need not look further than the district of Jozankei located in Hokkaido.
An Overview of Jozankei and Some of the Attractions Tourists Love
The Jozankei is a district found in Hokkaido that is also just an hour drive away from Sapporo. This means that during the winter time, you are sure to experience snow and below zero degree temperatures here. With this being said, some people assume that Jozankei is a place that simply offers winter activities and attractions. Contrary to this notion, it isn't the snow activities that draw the locals and tourists into this area but the attractions that can be found here which can be enjoyed at any time of the year.
A perfect example of such a tourist's hot spot is the Gankake Teyu of the Kappa Family. Kappas, as you may already know, is a creature in Japanese folklore that has a certain power of waters. They are depicted as creatures whose appearance can be a mix of human, penguin, and duck because of how they have a carapace and a beak. These creatures also happen to be known for their ability to impart luck to certain people. Since the Kappa legends are popular in the Jozankei area, locals and foreigners take the time to go to the Gankake Teyu to offer prayers to the Kappa statues in exchange for enjoying the teyu and, of course, gaining some luck on your side.
This district also has a garden known as the Jozan Gensen Park. This park is filled with all kinds of trees and plant that make walking around this area quite relaxing. It also has a foot bath that is free to the public and it is a perfect addition to this park because the foot bath really revitalizes your feet after walking around the park for quite some time.
The main attraction in this park isn't the foot bath though. It is a unique portion of the park that allows visitors to make their very own onsen tamago. It sounds like a very complicated dish to make but it is just actually eggs that are slowly cooked in the boiling water of the hot springs. If you can't be bothered to make your own, worry not because these treats are also available in the souvenir shop of the park.
If you like views of the forest, you will want to pass by Mount Hakkenzan as well. It is nearly 500 meters above the sea level so being here ensures you have a great location that overlooks hundreds of beautiful trees. Because of its altitude, it is also an attraction that has a lot of orchards and wineries in the area. Just look up the information on these orchards and wineries online to be able to plan your trip better if you do decide to hit up this mountain area.
Other attractions that give you a great view of the forest are the Nishikibashi Bridge and the Futami Tsuribashi Bridge. The Nishikibashi Bridge is actually one of the attractions of Jozankei that have been deemed a must-see attraction. You may also view the forests in this area via canoeing through the Toyohira River, which is the river that runs under the bridge. The Futami Tsuribashi Bridge, on the other hand, is a suspended walk that overlooks a river and is surrounded by colorful trees as well. Its bright red color makes it a great spot to take pictures.
The Hot Springs or Onsen and Farm Considered as the Main Attractions in Jozankei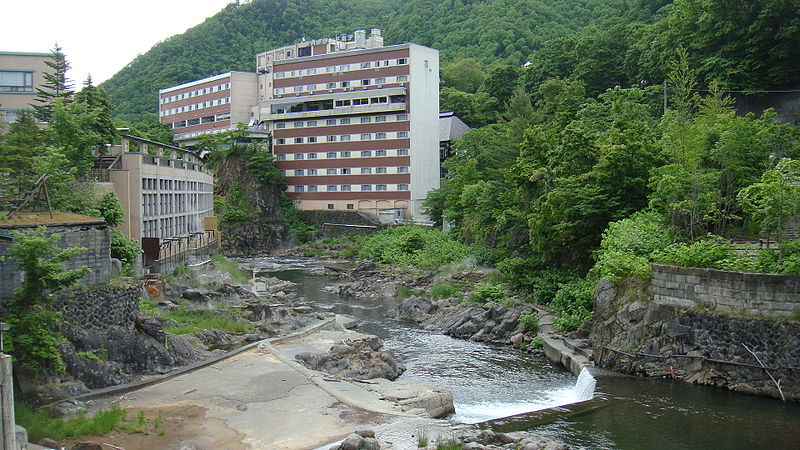 There have already been quite a number of attractions one can find in Jozankei above but those mentioned aren't even the best that this area offers to the people that go here. There is a farm called Jozankei Farm that is located here as well and it is a huge attraction. It is 21-hectare space which makes it the second largest farm that can be seen in Japan.
There are plenty of things you can do here. Since it is a farm, a popular activity done here is the fruit picking wherein you are given access to harvest a specific type of fruit of your liking. The types of fruits you can find here are the likes of strawberries, grapes, prunes, apples, plums, and cherries. Judging from their fruits, Japan seems to love their cherries because this farm actually put the most effort in cultivating cherry variants like the Sato Nishiki cherries.
If fruit picking isn't your cup of coffee, you can opt to do activities like tree trekking, pizza making, and mountain stream fishing. There is also a new orchard garden that recently opened here and for those who do not know, these orchard gardens are the type of gardens that showcase exotic flowers like roses that are planted alongside the various fruit trees to be found here as well.
Just like most establishments, the admission fee differs based on age. Gaining access to the farm will cost adults 500 yen while it would cost children 300 yen. Guests categorized under adults would be the people who are in junior high or older. Contrary to this, the ones considered children are those who are younger than those in junior high. Sadly, this admission fee does not include the fruit picking but paying an additional fee to gain access to this activity can easily be done. You should note that the fee for fruit picking varies depending on the fruit to be picked.
Aside from the farm, another main attraction in Jozankei are their onsens or hot springs. These hot springs have been in Jozankei since the Keio 2 which dates back to the year of 1866. It was originally discovered and opened by a monk as a healing spa in the upper Toyohira River. After years of land development and natural interventions, it has become a place that is seen by many as the finest hot spring spa in all of Hokkaido.
There is something special about the hot springs in this area. It contains sodium chloride or salt and this does wondrous things to those using this hot spring. Apparently, that small amount of salt that can be found in the water of the hot spring make it so that when you soak in it, your body sweats more. This is because the salt prevents your sweat from evaporating hence giving you more of a cleansing as compared to bathing in other hot springs.
You do not have to travel miles to go to a hot spring like that nor do you need an address to a specific hot spring establishment because there are a lot of hot springs establishments you can go to in Jozankei and all of them would have that salt water mentioned above. This long list of possible establishments to go to may create indecisiveness on your part though so to make it simpler, here are some recommendable hotels for booking that have indoor onsens and other bathing facilities. The first would be the Shogetsu Grand Hotel. Getting a room in this hotel to stay would cost you 15,000 yen and this package would include 2 meals for you. They also allow daytime access to their facilities for a price of 1500 yen but you can only check in during the time of 1 PM until 4 PM. Afterwards, all daytime visitors will have to check out by 5 PM.
Another hotel worth mentioning is the Hotel Sansui. Compared to the Shogetsu Grand Hotel, the prices of the admission and the other night stay here are relatively cheaper. An overnight stay would cost you 8500 yen and this package would also include 2 meals for you. They also entertain daytime visitors and this access to their facilities would cost 640 yen. Of course, their facilities are a little smaller than the ones in Shogetsu Grand Hotel but nonetheless, they are very well maintained which still makes it a great place to rest and relax in. You should note that the daytime hours here are a little longer with it opening at 12 NN and ending at 7 PM. These types of hotels usually have a free internet connection so just ask for their password if you are in need of such services.
How to Get to the Main Attractions of Jozankei
Whether you are going to the Jozankei hot springs or the Jozankei Farm, the place to want to head towards to get there is Sapporo. Once you find your way to Sapporo, you have to take a bus to get to the hot springs area of Jozankei. If you are headed to the farm, you will still need to pass the same route as going to the onsens because there is no public transportation that provides service to the farm. The farm is, however, just a 5-minute drive away from the hot springs area so riding a taxi or renting a car to get there would be your best option.
The buses you want to get on when you are already in Sapporo are those buses with the numbers 7 or 8. These buses pass the Sapporo Station Bus Terminal and riding these buses to Jozankei would take about 75 minutes and would cost you about 800 yen for a one-way trip. These particular buses travel at least 3 times a day so you won't have a hard time getting a ride to Jozankei. If you find yourself near to the Sapporo Namboku Subway Line, you may take an alternative route using the Jotetsu Bus number 12 from the Makomanai Station. From this station, you can go directly to the Jozankei Onsen and it would only cost you 610 yen for a 50-minute ride. These buses leave more frequently as they depart from the Makomanai Station every 30 to 60 minutes. If by any chance, you are traveling via an airline that lands you in the Shin-Chitose Airport, you may also opt to take a through-bus that heads out of the airport once a day. This ride would take about 40 minutes and would cost you 1650 yen.
With all these things mentioned above, going to Jozankei seems like a great idea if you are looking for a unique kind of rest and relaxation. They have attractions for all seasons and the hot springs you can find here are considered to be one of the best ones in Japan so you are sure that the money you will spend to go here and enjoy their many attractions will be well worth it. The only thing left for you to do as a traveler is to pick the date for your adventure and once that is in order, you make enjoy and treat yourself to all the rest and relaxation for body and soul need.