Every country has its own set of holidays that it celebrates or commemorates every single year. These holidays are set due to its significance to the country and its people. Japan has numerous holidays, festivals, and celebrations that it holds each year. These celebrations are fully enjoyed by the Japanese as its importance is close to their hearts. These holidays also show meaning to the different stages of their life as well as their culture and history. One of the holidays that they commemorate every year is the Seijin no Hi.
Facts: Pronunciation, History, and What It is All About
Seijin no Hi, also known as the Coming of Age Day, is a traditional holiday in Japan. This holiday is typically held every second Monday in the month of January. In Japan, the considered age of majority is 20 years old. Initially, this holiday was held for people who have turned 20 years old between the two certain days of the year or on the day of the celebration itself. However, this rule was altered in recent years.
Today, the Coming of Age Day includes people who just turned 20 years old as well as those who are 19 years of age but would turn 20 between the 2nd of April of the past year and the 1st of April of the present year. Also known as the Adult's Day, this holiday is celebrated to honor each person who has turned or will turn 20 years old within the designated period.
This is because, in Japan, young people are officially considered an adult at the age of 20. After turning the age of 20, they now have responsibilities that they need to uphold as well as newfound liberties. These liberties include being legally allowed to smoke, drink, gamble, and drive. Previously, it also included being able to legally vote; however, the voting age was changed to 18 years old in the year 2015.
The ceremonies held in dedication to the Coming of Age Day are known as "seijin-shiki." These ceremonies are generally held at different local offices as well as prefectural offices. There are many theories that surround the origins of this holiday. Some say that this tradition dates back to the 700s. It is said that at that time, as a symbol of growing up and turning into an adult, a young price presented his clothes as well as his hair.
On the other hand, the official holiday was established in the year 1946. It started when a city now known as Warabi City situated in Saitama prepared an event that aimed to provide hope to the youth following the Second World War. After this, other municipalities started to do the same until Seijin no Hi was finally made a national holiday in the year 1948. The holiday is dedicated to young adulthood. It also serves as a celebration as the new adults take on another chapter of their life.
Initially, the Coming of Age Day was celebrated every 15th of the month of January. However, this day was altered in the year 2000. Because of the Happy Monday System, also known as Happi Mande Seido in Japanese, that was introduced by the Japanese government, a number of national holidays were moved to a Monday.
Through this, people would be able to enjoy longer weekends when there is a holiday. The Coming of Age Day was included in those days. Hence, the Coming of Age Day began to be celebrated every second Monday of the month of January.
Prior to officially becoming an adult in Japan, young people at the age of 20 who are registered in the area would be invited by their respective municipalities to the event that would be held at the local city hall. The Coming of Age ceremony includes a series of lectures to be conducted by established adults. These adults are usually key figures in the city hall. The lectures would be about what it means to be an adult. It also includes the responsibilities of the young people as they build the future of their country.
Typically, celebrants are treated to small presents as well as souvenirs of the ceremony. This event is then followed by private events such as family occasions and parties. Other progressive municipalities even organize visits to temples, shrines, as well as other famous places that can be found in their respective areas or regions.
The biggest Coming of Age ceremonies occur in Shibuya, Meiji Jingu Shrine located in Tokyo, and even Disneyland. Usually, these ceremonies may also be held at the offices of some local authorities accompanied by speeches given by government officials.
A Holiday with Food, Photos, and Proper Clothing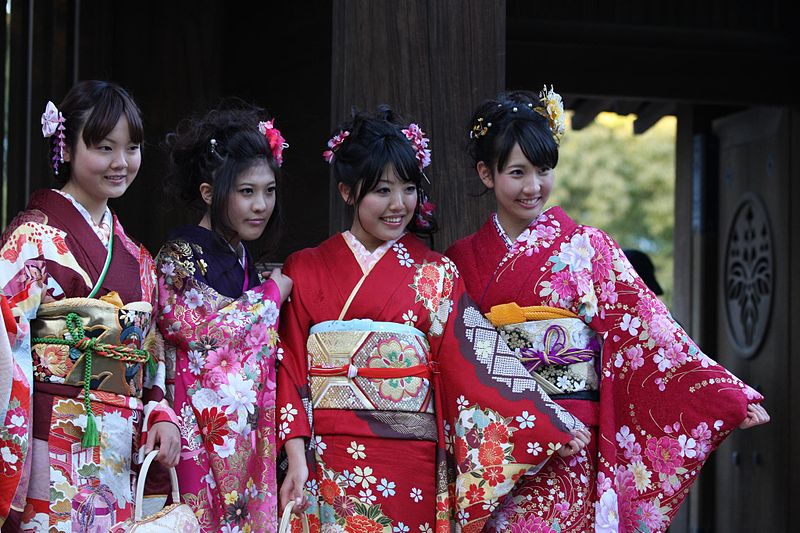 Each city ward in the country holds the Coming of age ceremony. Any person can attend the occasion located usually at the local city office. Around 11:30 AM, the ceremony begins. However, prior to the ceremony itself, preparing for the event already takes hours especially for the young people who would be personally celebrating it. Countless hours are being spent just to prepare the hair and makeup of the girls who are excited to celebrate this day. It also takes time to properly wear a kimono. After which, they would be congregating at a certain place where their pictures would be taken.
The attire for this event is highly important. Generally, the young women are supposed to wear a furisode. A furisode is a kimono that comes with long sleeves. This is a type of clothing that is only supposed to be worn by women who have not yet married. Months before the Coming of Age Day, salons and photo studies also start to endorse their services as well as run campaigns for the booking and preparation for the actual event.
Translating to "swinging sleeves," the furisode worn by the young women at the event are not just the usual kimonos. Because of the importance as well as the significance of this event, the furisode of these women are intricately designed and are quite expensive. Some outfits even cost to about 1,000,000 yen. Due to its steep price, some women opt to just rent the furisode for the day.
The sleeves of the furisode usually have a length of about 99 centimeters to 107 centimeters. The furisode in this event usually comes in bright and vibrant hues. These colors are meant to attract attention to the wearer of the kimono. Back in the day, only the middle and upper-class children, both girls and boys, would wear furisode that also came with shorter sleeves. However, this is certainly no longer the case today.
This changed in the 17th century when only boys below the age of 18 were allowed to wear their furisode. Either that or they would only wear it until their Coming of Age ceremony. As for girls, they were allowed to wear furisode until they got married. Come the 20th century, wearing furisode became restricted to only young girls and women. They are usually worn by single women to show that they are available for marriage.
For the feet, the young female celebrants wear zori, which is a pair of traditional Japanese flat and thong sandals. If the weather is a bit cold, scarves may also be worn. Getting a hairdresser is also a must during this special event, as most women would want to get a special hairstyle just for the Coming of Age Day.
On the other hand, young men typically wear a hakama. A hakama is a traditional Japanese clothing. The clothes are to be tied around the waist and should only have a length reaching the ankles. At present, some men have also started wearing other variations of clothing such as Western-style suit and tie.
Generally, there are two kinds of hakama. The first type is the divided umanori, which translates to "horse-riding hakama." It is a type of hakama that consists of divided leg pants. The second type is the undivided andon hakama, which translates to "lantern hakama." This type of hakama can be worth by both men and women. It is a custom for the new adults to visit a shrine after the Coming of Age ceremony. After which, they would get together with friends or old schoolmates.
Celebrating Seijin no Hi in Shibuya, Tokyo
One of the largest Coming of Age celebrations occurs in Shibuya, Tokyo. It is also one of the most popular spots for Seijin Shiki. It is tradition for the new adults to be greeted by several families after the ceremony. They are also welcomed by photographers taking photos of this important event. Even huge television networks like CNN and NHK cover this event and report it as news.
Programs in this event may also include the new adults taking part in presentations. The mayor of the city would also congratulate the new adults in their new chapter in life as well as remind them of their responsibilities. Performances are also being held for the enjoyment of not just the celebrants but for everyone in attendance.
Even after the ceremony, the celebrants would continue their celebration somewhere else. It is typical for young female celebrants to go around Shibuya and shop to their hearts' content. On the other hand, there are also others who prefer to spend more time with their friends and family. As the Coming of Age Day is a celebration of them being legal adults, the new adults would also go out drinking.
Because the Coming of Age Day is a holiday, most people would have this day off. Hence, more people are able to celebrate with their families and loved ones. During this day, there are also other events that take place around Tokyo. Several food stands can be found along the streets with some major arteries being closed for human traffic. Instead of finding cars on the road, one would find street performances.
Aside from Shibuya, there are also other city wards that celebrate their Coming of Age Day in a big way. These include Shinjuku and Nakano. Find out the exact time and place where they would be celebrating and join in on the fun.
The Modern Festival of Coming of Age
While most people would want the celebration of Coming of Age Day to be joyful, some problems also arise during this celebration. Recently, it was often found that these celebrations transform into wild parties as the new adults try to maximize their "freedom" and liberties in a way.
Alcohol consumption and rambunctiousness are rampant during this day. In the past few years, it has become common for some new adults to get arrested for behaving badly or even illegally. Some cities like Saga have also been thinking of ways to confront this behavior seen in these events.
A bill is also being studied at present regarding the age of adulthood under the civil code. There is a plan to lower the age from 20 years old to 18 years old. Should this bill be passed, Seijin no Hi would then celebrate adulthood at the age of 18 instead of the usual 20.
A concern regarding this celebration is the decreasing number of participants that attend the event the past few years. This outcome is attributed to the declining birth rate of the country. Nonetheless, the government is looking for ways to boost the birth rate of Japan. Hopefully, more and more young adults would be able to celebrate this Coming of Age Day.
The celebration is so significant that even Tokyo Disneyland began to organize a Coming of Age ceremony every year. So far, the theme park has gathered more than a thousand people that celebrate this important day. The biggest Coming of Age Day ceremony in Japan was held in Yokohama Arena, where it gathered over 36,000 people to celebrate the event.
While wildness has been present in some places in the country during this event, most Seijin no Hi ceremonies are still held in a serious manner. Its importance is not just for the new adults but for their parents and families as well. While the celebration is primarily about new rules, liberties, and responsibilities, one may also look at it as the day to think back on one's magical childhood. Moreover, it is a day to start thinking about not just one's life but also one's future.