Japan has a lot of attractions that both locals and foreigners love going to. There are so many things worth seeing here that it some less talked about places can easily be overlooked. With this being said, you should know that those places are the ones you should be looking for if you want a bit of privacy on your trip or vacation because these overlooked places will surely have fewer people roaming the area. A perfect example of a place in Japan that has these qualities is the Shiretoko Peninsula in Shari Icho, Hokkaido.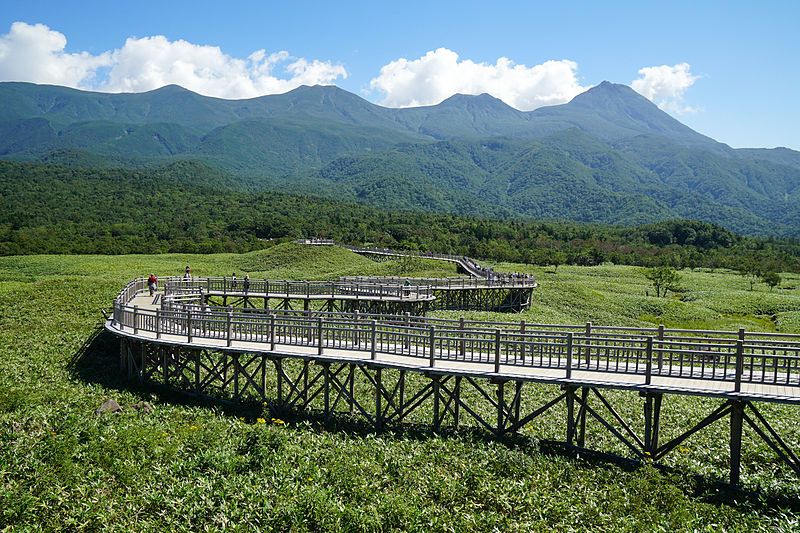 General Information about Shiretoko Like the Weather There
The Shiretoko area is found in eastern Hokkaido, particularly just beside the Sea of Okhotsk. Hokkaido is filled with natural attractions but none of them are like Shiretoko because this part of Japan is considered to be the last unexplored area of Japan because of all the steep mountain ranges that are covered abundantly by the virgin forests found there as well. Being that this place is as "untouched" as any area can get in this day and age, you can already expect to see numerous wildlife living here.
It was also for this reason that in the year of 2005, Shiretoko became a world heritage site. Because of its location and the purity of nature here, it contributed tremendously to the ecosystem and biodiversity of the whole peninsula. It is an area that showcases all kinds of marine and terrestrial ecosystem interaction and it also happens to be a home of some endangered animals like the Blackiston's fish owl as well as some threatened seabirds and migratory birds.
You can see how much they value the purity of the ecosystems here because they never bothered to create more roads to make this area easily accessible via car, bus, or train. The only way to see the whole peninsula, specifically the tip of the peninsula which lies in the north, is through a trip on a sightseeing boat that starts from the towns known as Rausu and Utoro which are also on the eastern side of the peninsula. These boats are free of charge but they are worth their price because you get to travel around the coast to see what locals and foreigners appreciate about the diversity and beauty of the ecosystems and wildlife to be found here.
Aside from the amazing wildlife that can be seen and enjoyed here, their climate or weather is also one thing that attractions people. It isn't everywhere in the world where you can wear the latest winter fashion clothing because not all places are cold enough for those types of outfits. Luckily, going to Shiretoko gives you a reason to be as fashionably warm as you want and having the view it has doesn't hurt the pictures and digital images you'll probably take there as well. The hottest time of the year for this area is in the month of August which is when temperatures reach as high as 23 degrees Celsius or around 74 degrees Fahrenheit. If you want to catch the coldest month in this area, you'll want to be there on any date during January to February because this is when the air temperature reaches lows of -10 degrees Celsius or 14 degrees Fahrenheit.
The Attractions to be found in Shiretoko Like the National Park, Five Lakes
Now that you have information on when to go to Shiretoko depending on the weather you want to experience, you should now find out about the different places you cannot miss on your visit. As mentioned earlier, there are a lot of things to be seen here but the perfect appetizer for the things to come would be the Shiretoko Pass. This pass is actually a road that connects Utoro, which is found on the western coast of the Shiretoko Peninsula, and Rausu, which is found on the eastern coast of the peninsula.
Passing through this road is free if you have a car and it gives you a breathtaking view of the highest mountain in this area which is Mount Rausu that stands at a height of 1661 meters. If you don't have a car, you can try your luck to get on a bus that travels the Shiretoko pass from mid-June to mid-October and a ride on that bus would take about 50 minutes and would cost you 1380. Since the road is around 30 kilometers long, you can estimate the bus to be running at a speed of 0.6 kph or 0.4 mph which is a slow enough speed to get a really good look at the view of the mountain. Note that this road is closed during the winter, particularly in the months of November to late April for safety reasons.
If you liked what you saw on the pass, you'll love what you can see at the Shiretoko Goko or the Shiretoko Five Lakes. Like most lakes, these five small lakes were formed by the eruptions that happened around Mount Io long ago. Some people refer to this place as god's five fingerprints because of the way they are arranged that make it seem like a hand pushed down on the earth to make the craters of these lakes.
Since there aren't many roads here, you can tour all five lakes through an elevated boardwalk that extends 800 meters long. The walk was elevated to prevent any damage to the plants and trees found there as well as to provide safety to the tourists because there are frequent brown bear sightings in this area. Just so you know, bear sighting reports aren't a good thing if you want to tour these lakes because when that happens, they close the attraction for safety reasons.
Bear sighting aside though, you should be able to tour all five lakes on foot in about 90 minutes. If you go to this attraction from the period on May 9 or from the period of August 1 to October 20, you may walk the boardwalk without a guide. You need only pay an entrance fee of 250 yen. You can also pick between two routes to take for your hike. There is the 90-minute one that takes you to all five lakes and then there is the 40-minute one that takes to you the first and second lake.
These rates change from May 10 to July 31 because it period in time is when the bears in the area become most active. It is for this reason that tours during this time can only happen with a licensed, Japanese speaking nature guide. The price for these guided tours are about 5000 yen per person and although it is a big jump from 250 yen, it is worth it because you are practically paying extra to ensure your safety in case you find yourself in a bear encounter. If you're on a budget, try to go to this tour from October 21 until the park's closure because, during this time, the trails are free of any charge and can be walked without a guide.
This place is accessible via car from Utoro. You can take the main road until you reach the Shiretoko Nature Center and it should be a short walk from there. Alternatively, you can take a bus operated by the Shari Bus that travels between the JR Shiretoko Shari Station and the five lakes attraction. From late April to October, this bus ride would take about 85 minutes and would cost you 2000 yen for a one-way ticket. If you are lucky, you may also get the chance to buy a ticket from other bus companies that travel between Utoro and the five lakes. These additional buses have a travel time of 25 minutes and would cost you a lot less because they are sold for 700 yen only. Unfortunately, this is also the reason why it is so hard to find because it is usually sold out immediately.
Now, you might be wondering where the national park is in Shiretoko because all that has been mentioned are the other attractions to be found here. You'll be surprised to know that all the attractions mentioned above are actually addressed at or located in the Shiretoko National Park's vicinity. This is because the national park actually makes up the majority of the peninsula since it is the area that is protected by several environmental laws and is also the area where all these wildlife and ecosystems are found. Some other attractions that can be found in the national park are the likes of the Furepe Falls, Seseki and Aidomari Onsen, Kamuiwakkayu Falls, and the Shiretoko Nature Center.
The Notable Hotels to Stay in Like the Shiretoko Noble Hotel
There are a lot of hotels to be found in this area but the thing you really have to consider what you intend to do in this area. This is what you take into consideration the most because this park of Japan doesn't provide the extensive public transportation systems you usually get in other parts of this country. Luckily, there is a hotel that provides the best location for such activities as well as clean rooms and great baths and that is the Shiretoko Noble Hotel.
Guests booking for rooms in this hotel may opt for their "Room Only Plan", "Breakfast Plan", or "Dinner Plan". Booking the room alone would cost you 57.4 USD per night. Booking the breakfast plan would cost you 61.82 USD per night while booking the dinner plan would cost you 66.23 USD per night. Since the majority of activities to be done in the national park should be planned beforehand, those who plan their activities earlier might want to avail of this hotels early booking discount plan. This plan is inclusive of breakfast and dinner and would only cost the guest 63.8 USD a night. Of course, this plan would only be possibly booked by a guest their itinerary has been fixed months before the actual trip. Note that this hotel operates the same as other hotels to their check-in time and check-out time should pretty much be the same as other hotels as well.
With all this information shared with you, you should be able to plan your trip to Shiretoko down to the last detail and knowing about the discounts you can get from the hotel if you do plan in advance should be a good enough incentive to do so. Either way, if you do get the discount or not, you will still surely enjoy your time here because of the unique animals and nature that you will get to set your eyes upon. Just remember to pack accordingly and dress warmly because it is pretty chilly in this place all year long.