With an estimated population of 42,000, a population density of approximately 200 per square kilometer and a total area of 156.6 square kilometers, Kasumigaura is a city located in Ibaraki Prefecture in the northern Kanto region of Japan. It is bordered by Lake Kasumigaura, from where it got its name, on two sides to the southeast and southwest. The city is about 60 kilometers northeast of Tokyo and across Ishioka city.
As many cities have a tree, flower, and bird to represent it, Kasumigaura's representative tree is the Japanese chestnut, its flower is the Hydrangea, and its bird is the Japanese bush warbler.
Life in Kasumigaura
Kasumigaura's economy is basically agricultural, relying on lotus roots and various fruits as its major cash crops. Lake Kasumigaura also contributes to the city coffers with its aquaculture products. Today, the city has 14 elementary schools, 3 middle schools, and 1 high school but is not served by any passenger railway service.
The History of Kasumigaura
A notable fact about Kasumigaura is that it has the longest name of any city in Japan (in terms of characters). Much of the city lies within the Suigo-Tsukuba Quasi-National Park borders. Formerly the village of Dejima which resulted from the merger of the villages of Shimootsu, Minami, Ushiwata, Saga, Anshoku, and Shishiko, Kasumigaura was elevated to town status in 1997.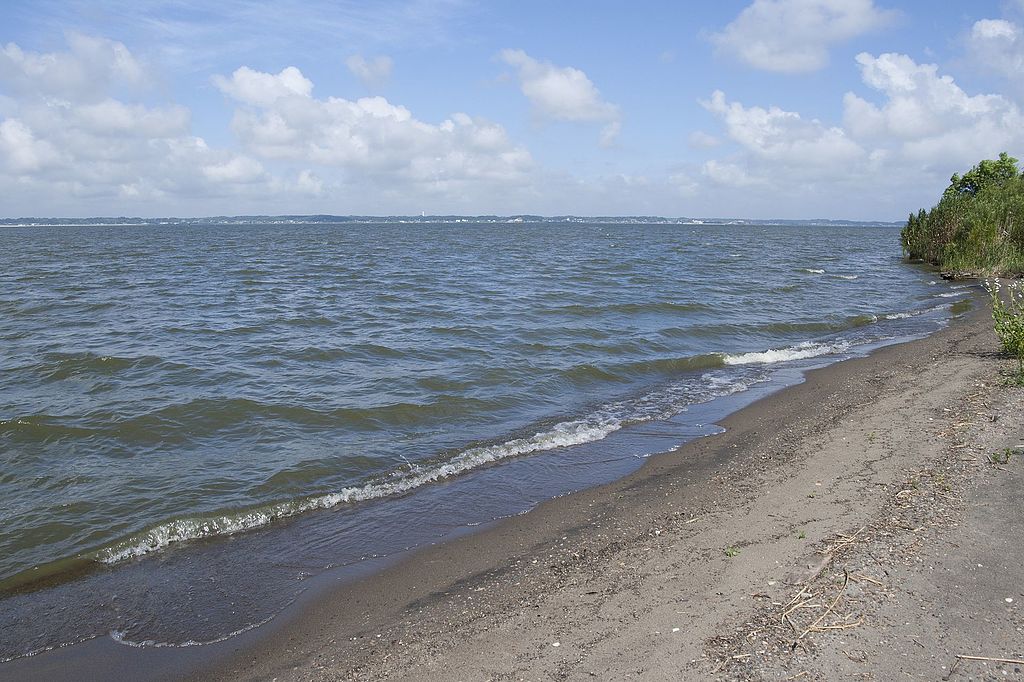 Located in Niihari District, Ibaraki Prefecture, it merged with the neighboring town of Chiyoda, finally becoming the city of Kasumigaura on March 28, 2005.Kasumigara Lake was originally a bay. Some 20,000 years ago, Lake Kasumigaura was part of the Pacific Ocean, reaching all the way to the foot of Mount Tsukuba. From the 10th to the 15th century, a great amount of sand was carried by rivers, which turned the lake brackish. Purification of the brackish water was initiated in the 1960s, the government ordered the sluice gates on the Tonegawa's Hitachitone Dam to be closed, which turned the bay into a freshwater lake.Salient Facts About Kasumigaura Lake in Ibaraki, Japan
Since ancient times, fishermen fished on the lake, often living on their boats, which they propelled with a sculling oar on the stern. Fishermen often had their wives and children living on the 6-meter longboats.
Visitors troop to the lake in the summer to watch the Hobikibune sailed fishing boat groups, which are particular to Lake Kasumigaura. Located in Tsuchiura City, the Suigo aquapark is a must-see during the hot summer months.
Kasumigaura Lake; An Important Resource
Apart from its agricultural background, Kasumigaura is known for its Lake Kasumigaura, which takes second place when it comes to the biggest lakes in Japan.
Combined with a group of contiguous lakes, Kitaura and Sotonasakaura, with the rivers connecting them, Lake Kasumigaura's total area would encompass about 220 square kilometers. The water from Lake Kasumigaura supports the irrigation of the surrounding paddy fields that produce primary crops such as rice and lotus root. Other crops grown are tomato, eggplant, sweet potato, cucumber, peanut, watermelon, corn, edamame, kabocha, and daikon.
Fun, Fishing, and More in this Recreation Hotspot
Sports fishers and anglers abound close to shore and near the river mouths around the lake. Yachts, sailboats, powerboats, and all sorts of recreational boats are regularly spotted on the lake on warm weekends. Birdwatching is also a popular activity in the surrounding wetlands, since many kinds of waterfowl may be observed especially during the winter time. Japanese cormorant, swans, egrets, herons, mallards, Eurasian wigeons, green herons, sandpipers, bush warblers and Japanese reed buntings are just a few of the birds that frequent the surrounding areas of the lake.
Most people head to Kasumigaura by first going to Tsuchuria. Located at the western end of the lake, pleasure boats leave the port near the JR Tsuchiura Station. By railroad, it takes about a 45-minute ride on the JR Limited Express from Ueno to Tsuchiura or approximately 1 hour and 10 minutes by local train on the Joban Line. By car, drive down the Joban Expressway and exit at Sakura-Tsuchiura Exit about 60 kilometers from Tokyo. It's about 6 kilometers from there to central Tsuchiura.
Pick Fruits in a Rural Farm in Kasumigaura
Kasumigaura is heaven on earth for fruit lovers. Check your calendar, because, in autumn, many farms and orchards open their gates to visitors and allow them to pick fresh seasonal fruits with their friends and families. Among the fruits that are available for picking are Asian pears from August to September, grapes from July to October, apples between September and October, persimmons between September and late November, melons from early September to mid-October, mandarins from mid-October to late December and chestnuts from early September to late October.
Thinking of picking fruits out on that farm yet? They are usually open every day during the season from 9:00 am until sunset. Admission fees vary.
Take a Walk Around Kasumigaura General Park
When it comes to reviews on this park found on TripAdvisor, it is ranked 2nd place out of the other 43 things to do in Tsuchiura. Out of the 56 reviews, it was given an average rating of 4 stars out of 5. Found in 1051 Oiwata, Tsuchiura 300-0835, Ibaraki Prefecture, Kasumigaura Park is a beautiful place with a big windmill, koi ponds, waterfalls and cherry trees. It possesses play equipment for kids, a swimming pool, a gymnasium, a rest house, a guest house and many other facilities that park goers are sure to enjoy.
Buy special Pearls from Kasumigaura
The Kasumigaura Pearl is a freshwater cultured pearl from Lake Kasumigaura in Japan. These pearls were initially cultivated by Kazuhisa Yanase in sizes larger than 10 mm with a round nucleus. Yanase set up his own nursery for rearing the mussels for three years, after which another three years are spent before the pearls can be harvested.
The Kasumigaura cultured pearls are available in many different colors from white, apricot to deep purple. The rarest color is neon green. Compared to other mussels, the Kasumigaura hybrid mussel is superior to other mussels because they have a greater resistance to pollution; and they can accept a round nucleus.
Join a Marathon in Kasumigaura in 2018
Set to happen on April 15, 2018, a full marathon called the "Kasumigaura Marathon 2018" will take place. The entire event officially starts at 9:20 AM, in the Athletics Stadium in Kawaguchi, Athletic Park, Tsuchiura, Ibaraki Prefecture. The event will push through no matter what the weather.
There will be four different activities that start at different times. The 10-mile run starts at 9:20 AM, the wheelchair race begins at 9:50 AM, the full marathon commences at 10 AM, and the 5 km happens last, at 10:30 AM.
As for the fees, the Full Marathon, and Wheelchair Race cost 6,000 yen to join. The 10 Mile Run is priced at 5,500 JPY, and lastly, the 5 km run costs 4,500 yen to join. Set aside an extra 200 yen that you may be obligated to donate to funds that support causes dealing with and supporting service dogs for the blind, as well as water purification of Lake Kasumigaura.
Play a round of golf at the Kasumigaura Kokusai Golf Course
Established in 1961, this golf course is found at 368 Shimohara, Tsukuba-shi Ibaraki 305-0063. In the website "Golf In Japan", it scores 4.66 in the Overall Golfing Experience chart, rated by 58 people. Its highest strength is its value for money when you play here, at 4.78. Its lowest is English Ability, at 3.66.
Many of those who played here find that the course has wide fairways, is flat, and long. Comments say that the holes often come with patches beside them, and the plants aren't as robust and healthy as other golf courses keep them. On the bright side, it's close to Tokyo so it's easily accessible, and can be fun to play if you're still new to golf, or trying to re-familiarize yourself with the sport.
Visit Kasumigaura Fureai land; A Special Museum
Ranked 4th place on the list of things to do while in Namegata, Kasumigaura Fureai Land is. Its address is 234 Tamatsukuriko, Namegata 311-3512, Ibaraki Prefecture. You can go up the tall building and stay in the observatory to have a birds' eye view of Kasumigaura. Within this area are several museums, and a place where kids can play in the waterpark. It's perfect if you want to take your children out for some educational and active fun.
The Only High School in Kasumigaura
It may seem that around Kasumigaura, there is an abundance of children compared to that of teenagers. In the entire city, there are 14 elementary schools and 3 middle schools, but only one high school.
Staying in Kasumigaura for a While? Here are Options for Your Accommodations
There aren't many widely known hotels in Kasumigaura; many of them are located in Tsuchiura. Nearest Kasumigaura is this pair that is recommended:
Business Hotel Kohoku, 9.3 kilometers away from the center of Kasumigaura, is ranked as having 3 stars out of 5, but is one of the most affordable hotels near Kasumigaura, costing only around 6,667 yen per night. It provides all the basic services you'll need without the extra flair; air-conditioning, high-speed wifi, a mini refrigerator in your room, and laundry services - but those who work here may be a little rough around the edges when it comes to English. The address of this hotel is 1-1-8 Kohoku, Tsuchiura 300-0032, Ibaraki Prefecture, a little far from the Tsuchiura Station, so it's recommended to take a taxi from there.
Bell's Inn Tsuchiura, 10.2 kilometers away, is ranked as number 1 out of all the hotels in Tsuchiura. Though it's a kilometer farther, it's even more affordable, with rooms available for 5,556 yen a night. Located at 6-5 Yamatocho, Tsuchiura 300-0036, Ibaraki Prefecture, this hotel serves a decent morning breakfast at their restaurant and has a good location, near amenities. It's a very clean hotel, with dedicated employees.
Transportation Options Around Kasumigaura
Interestingly, this city does not have a passenger railway service to itself, like most cities usually do. Instead, those who live here must use Kandatsu Station, which is in Tsuchiura. It serves the JR East Joban Line. Aside from that, it has 3 highways; the Joban Expressway (Chiyoda-Ishoka IC), and Japan National Routes 6 and 354.
A Quaint And Kid-Friendly City, Nonetheless
Kasumigaura, from the outsider's point of view, is a humble city whose citizens have an easygoing culture. Whether it's fishing in the lake, going for a run in a marathon, picking fruits, or playing golf, the locals here know how to live life. If you want to see a side to Japan that is more laid-back than the bustling life that awaits you in Tokyo, come over to Kasumigaura city.