One of the most popular places in all of Tokyo in Japan is Shinjuku. Many people, locals and tourists alike, consider Shinjuku as one of the best shopping areas in the metro. However, Shinjuku is also well-known for other things such as for being a business center as well as a music hub. There are several music spots and bars in Shinjuku that one may as well lose count of them all. However, probably one of the most popular music spots in Shinjuku is none other than Shinjuku Loft.
An Overview: Shinjuku Loft and Loft Plus One in Tokyo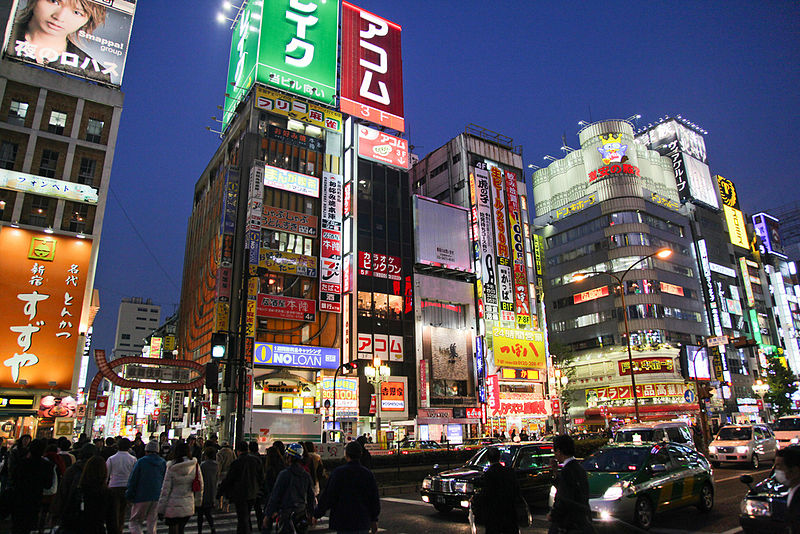 Known as a dedicated promoter, Shinjuku Loft has been in the industry for over 25 years. The venue itself is composed of two areas, namely, one that serves as the main stage and another that serves as a bar. The main stage is used for shows and gigs while the bars contains a small stage. Be aware that anyone who wishes to visit Shinjuku Loft should expect loud music, as the lounge plays music of all genres. There are times when DJs also perform in the venue.
Close to Shinjuku Loft is its sister venue known as Loft Plus One. Located at 1-14-7 Kabukicho, this venue is typically used for live talk events. The range of events that take place in this venue is considerably wide, ranging from erotic performances to political discussions. Suffice it to say, this sister venue of Shinjuku Loft is not exactly what music enthusiasts are usually looking for.
On the other hand, Shinjuku Loft remains popular and relatable to this day. The main theme of the live house is "Rockin' Communication." The venue has a pub-style communication space that can accommodate up to about a hundred people. This space can be used for chilling out and relaxing. As for the live floor, it can accommodate up to 500 people.
The purpose of their theme is to let guests be open and express whatever emotions they feel while listening to live music and watching artists perform on stage. Music of any genre is played in the venue. Other events in Shinjuku Loft include fashion shows and haircut shows. They also accommodate private parties.
The venue aims to be a place where guests are allowed to create communication that is new, open, and free. As communication is essential for human to human contact, the venue strives to breed that communication through its live music and fun atmosphere. The goal is to let its guests connect with each other through their love of music.
Guests can head on over to the Bar Floor. It is a space where people can freely express themselves. It is also known as the "Communication Lounge." People with different skills and talents can perform and showcase themselves in front of an audience. From there, they can express their passion or their love for art and music. Guests can sing or dance to their hearts' content.
What's in Store for Shinjuku Loft Members
For regular customers of Shinjuku Loft, they can opt to become a member of the group. Loft/Shelter members have a membership card that they can use to avail certain discounts on ticket fees as well as accumulate special points. Members can also book tickets in advance by only making a phone reservation. There are definitely perks in being a member of Loft.
A person can become a Loft member by registering his or her name and details at a Loft venue. One may also opt to register online for convenience. For people who would be registering in person, kindly proceed to the reception desk where registering guests would be issued their membership cards on the spot. Cards would be shipped for people who registered online. The validity of the membership card is 1 year from date of registration.
For people wishing to renew their membership card, they would have to undergo the renewal procedure only at the actual Loft store. The renewal fee costs about 700 yen. The renewal period would begin a month prior to the enrolment date up to a month after the enrolment date. Should one's membership get lost or stolen, one should immediately inform Loft of the loss. For re-issuance, one would need to reapply. The fee would cost about 700 yen.
Benefits are offered to Loft members, so as to entice new customers as well as maintain the membership of the current members. For one, members are entitled to 1 point for every ticket they purchase. However, the point corresponds to the number of shows or performances. The card must be presented when purchasing the ticket in order to get the point.
Once the member accumulates 10 points, he or she is entitled to a discount of 700 yen for the next ticket that he or she will purchase. These discount tickets are only valid for advance tickets that stores are selling. Furthermore, this discount is only valid for advance tickers that are priced at 700 yen or more.
Upon the expiration of the membership card, no points and discounts can be added during the renewal period of the membership. Moreover, it is important to note that even if the membership has been renewed, the expiration date stated on the membership card will not be updated. Instead, a new membership card would be provided upon acceptance of membership renewal.
Members can purchase a ticket, reserve a ticket, register, and renew their membership at the reception desk in Loft. Visit the desk during reception hours. Members can also reserve tickets via phone call. The telephone number at the reception desk is 03-5272-0382.
However, before calling, one should know that one might have to wait for quite a while before a receptionist can answer the call due to the number of calls that they receive in a day. This is especially true on days when there are performances or events scheduled.
Access to the Club's Address, Tickets, and Schedule/Hours
For people who would be reserving tickets for performances in Shinjuku Loft, one important thing to take note of is that only 1 ticket can be booked by a person per performance. The reservation must be made by a principal member. Otherwise, the reservation would be canceled. For people who booked two tickets for a single performance, the two tickets would be canceled as well. One would have to make a reservation again.
Reservation of tickets done via phone can only be done for a certain period of time. This period begins 3 days prior to the release date of the tickets and ends 3 days prior to the day of the performance. One cannot reserve tickets any time before or after this period. Furthermore, ticket reservation can also not be made after one's membership card already expired even if the membership is already in the renewal process.
While reserving a ticket, members should have a pen and a piece of paper on hand. This is because a reservation number would be provided by the receptionist upon the reservation of the ticket. This reservation number is important upon claiming the ticket. Should the reservation number get lost, the reservation of the ticket itself would become invalid. An over-the-counter sales ticket is also needed to make the reservation possible.
Members can claim their tickets only during the redemption period. This period begins 3 days priors to the release date of the tickets and ends on the day of the performance. Do not forget to bring the membership card when claiming the tickets in order to get the allotted points. No membership card, no points. To know more about the release dates of the tickets so one can reserve in advance, kindly call the reception desk for details.
For members of Loft, calls are accepted starting at 3 in the afternoon. Waiting during the phone call is to be expected. Members can rest assured that receptionists and operators are doing the best that they can to accommodate all customers and callers.
Shinjuku Loft can be easily accessed via public transportation. Simply ride the train bound for Shinjuku Station. Upon arriving at the station, take the East Exit. Head over to the road situated between "shakuya" and "shakuen." It is located on the left side just opposite of Alta. From there, one shall cross the Yasukuni Street. Look for the entrance to Kabuki-cho and head straight along Chuo-Dori. One would, then, be facing TOHO Cinemas Shinjuku.
While facing the Cinemas, one shall turn right and then turn left. Walk straight ahead for about a hundred meters until one finds Tatehanavil. It is located in a corner to the right. The loft is located in the second basement of this building. While looking for this place may not be easy for people who are new to Shinjuku, Loft is definitely worth the hassle.
Shinjuku Loft is composed of two floors. The first floor is called the Live Floor. The size of this stage is around 41 square meters, which is equivalent to 441.32 square feet. This stage can accommodate around 500 to 550 people. On the other hand, the second floor is called the Bar Floor. The size of this stage is around 11 square meters, which is equivalent to 118.40 square feet. This floor can accommodate around 100 to 150 people.
The Type of Food in Shinjuku Loft's Menu
Although most people visit Shinjuku Loft for the live music and performances, the venue still serves great food for its guests that might get hungry during a certain event. Shinjuku Loft has its own set of food and drinks menu that strives to fill the stomachs of its visitors. After all, music is best enjoyed with food and drinks.
For the famished, they may opt to order Shinjuku Loft's homemade sesame seed rice bowls. They also offer noodles instead of rice. Coupled with juicy meat and a rich egg yolk, this meal would surely fill one's stomach. Each bowl costs 650 yen.
As for people who would like a spicy kick, try the Loft's kimchi fried noodles with pork. Their kimchi is not only spicy but a bit sweet as well. Coupled with some fried noodles and juicy pork, this is a meal unlike any other. Cooked at high heat, the noodles are mixed with dumpling sauce to add extra flavor to the dish. This meal costs 600 yen per bowl. Additional cheese to this meal costs 650 yen.
For people who love eggs, take a bite of their original omelet rice. Even though it sounds so plain, the meal definitely tastes great. Each order costs 500 yen. Another meal on the food menu that is mainly comprised of eggs is their fluffy egg with some noodles. Get your protein and carbs from this meal. It costs 650 yen per order.
As for another protein-included meal, one may also opt for the beef curry. Each order costs 650 yen. A dish inspired by Hawaii is also included in their food menu. This dish is known as locomoco. This hamburger is best paired with some ketchup to add some kick to the flavor. It costs 650 yen per order.
If one is craving for some pasta, try the Loft's super tomato sauce pasta. Unlike some places that offer sweet tomato sauce that is not like how it is served in Italy, this pasta by Loft would remind one of fresh, ripe, and juicy tomatoes. Each order costs 650 yen. Guests may also try their university potato. This costs only 400 yen per order.
As for their side menu, a staple would be an order of French fries, which costs 400 yen per order. One may also go for the fish and chips, which costs 500 yen per order. Another option would be to try their mochimoki cheese rice, which costs 450 yen per order. These side dishes are great with alcoholic beverages.
For people who are craving for something sweet, check out their three sweet potatoes, which costs 500 yen per order. They also offer vanilla ice for dessert, which costs 300 yen per order. Springs rolls can also be found on their side dish menu, which costs 250 yen per order.
Whether it is the food, the drinks, or the music, Shinjuku Loft is most certainly a must-visit for people who happen to be in the area of Shinjuku. Chill out in the lounge, listen to good music, and munch on some snacks while having a great time at Shinjuku Loft.