Many people wake up every day wishing and dreaming that they were part of something bigger, something that could change the world. These dreams and aspirations are within everyone but only some actually decide to pursue and do something about it. These pursuers are the reason why a non-profit organization was born in Japan and it has since been dedicated to funding research for renewable energy sources as well as raising awareness for the global issues that they wish to make better for the work. This organization is no other than the AP Bank which you might know of or hear of because of their famous project that is known as the AP Bank Fes.
The Background of AP Bank and The CD and DVD Funded Projects
It all started in a series of seminars that happened in the year of 2002 amongst the musicians of Japan which were intended to raise the awareness and responsibility of musicians to aid their country financially. These meetings were what triggered the idea of creating a citizen's bank to fund what projects they truly wanted to support. For those who do not know, a regular bank is far from a citizen's bank because, in a regular bank, the depositor would hardly ever know where money is being spent while in a citizen's bank, the depositor has full control over where his money will go.
With the help of a man named Yu Tanaka, who was the executive director of the non-profit organization called Mirai Bank, and with the initial investments made by the music producer, Takeshi Kobayashi, the musician and lead of the band known as Mr. Children, Kazutoshi Sakurai, and the composer, Ryuichi Sakamoto, these artists and musicians realized their dream and mission as they were able to start their own bank to invest in the research and development of the things that were mentioned previously. The AP Bank, whose abbreviated AP stands for either Sakamoto's Artists Power or Alternative Power, was officially founded in the June of 2003 and they have been nothing but true to their purpose and word.
Before they got to start any projects towards their goal, they first needed to handle the business and financial part of things. They needed to create money from their investment and they did so by operating as a lender with very low-interest rates. Having low-interest rates always catches the eye of loaners which is why it didn't take long before the applications to their bank and services came flooding in. They also raised money through sales of CDs and DVDs of Sakurai's Bank Band performances which made sense because there were mostly composed of great artists and musicians.
The fact that the first projects that they accepted were the likes of a bicycle rental service which made use of abandoned bikes and a forest revival project in Kagoshima made it clear to the public that they were serious about their goal to give back to the community and make the world a cleaner and greener place. They even focused their loan target to small businesses that were operated by everyday folk such as decentralized energy creation, which is another term for renewable energy creation.
They are well known for the AP Bank Fes but there are many other projects that they have which also contribute tremendously to their goal. These projects are the likes of the Eco-Reso Web which is a network of websites and blogs funded by them to spread and share news and information about global environmental issues and ways to solve these issues through things like eco-farming and other sustainable development projects. There is also the Yoyogi Village which is an AP Bank project that was intended to revitalize the area of Yoyogi. They did so by improving the tourism there through the establishment of more cafes, restaurants, and stores which are vital to the recreational needs of both locals and tourists alike. There was even an all-night club event that they hosted for artists called the AP BANG! Tokyo Creators' Meeting and the intention for this event was to engage people's minds, particularly the artists', on how they might be more effectively raising awareness through their beautiful craft.
More About The AP Bank Fes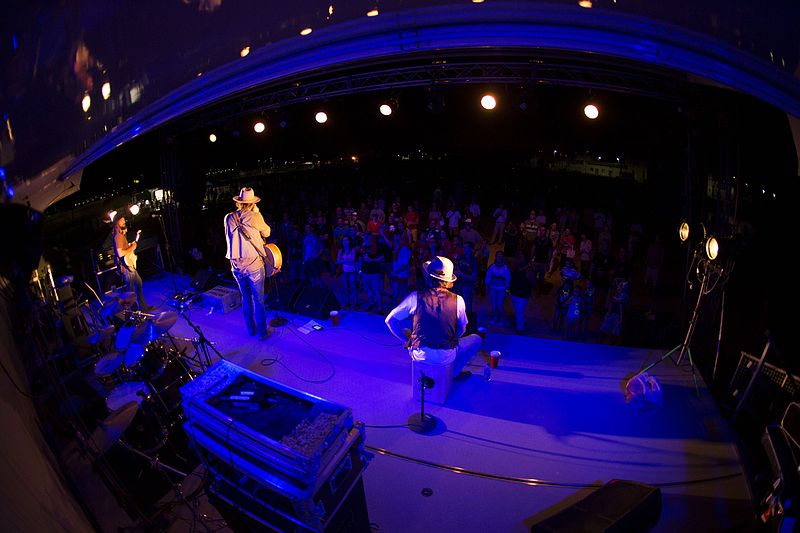 The first ever AP Bank Fes was held on July 16 to 18 in the year 2005. Despite the fact that these types of festivals would be great in a dome-like establishment, it took place in Kakegawa Shizuoka which turned out to be the perfect venue for such an outdoor music festival like the AP Bank Fes. It was an amazing music festival but moreover, it was also an event that opened the people's eyes to the environmental issues of the world as well as the ways to resolve these issues through things like natural farming and the implementation of solar power generators. They even encouraged the people to bring their own cutlery to reduce waste and they also created nine categories for garbage to maximize the recyclability of the trash at this festival.
This festival never feels like a lecture despite all the features included in the program because the organizers of the event also took into account that it is supposed to be a fun and entertaining event. With this said, they also placed a marketplace that sells all kinds of natural goods and you can also find relaxation areas scattered around the festival grounds in case you need to rest or simply take a breather from the party. The festival grounds itself is provided by the Yamaha Corporation and its concept actually started the initiative known as the Japan Natural Energy "Green Power Certificate" which aims to provide green power to the other events at this site. Because of this initiative, the festival is able to conserve 500,000 kWh of electricity as well as reduce the carbon dioxide emissions by 230 tons every year since it started in 2005.
Now that you know what things are usually always present in the AP Bank Fes, you should probably know about the quality of the artists and music that is played here. What better way to know this than to know who has played for this momentous event in the past. So it started in 2005 and, back then, no international acts were booked but the artists who were booked were also highly skilled in their craft. These artists were Salyu, Chara, Hitoto Yo, Tortoise Matsumoto, Mika Nakashima and many more. In 2006, the artists who graced the stage among others were Kobukuro, Kreva, Quruli, and Miki Imai. In 2007, Tortoise Matsumoto played for AP Bank Fes once again but artists like Kumi Koda, Rip Slyme, and Sukima Switch were canceled due to the weather conditions during that period in time. In 2008, the headliners for the event was Glay, My Little Lover, Ayaka Hirahara, Yzu, Aska, and Chihiro Onitsuka while the headliners for the year that followed were the likes of Juju, Yuni Ito, Porno Graffitti, and Kumi Koda. You may not know most of these artists if you are accustomed to seeing the names of international artists but if you take the time to check out the sound and music that these people make through mediums like Youtube, you will surely understand why those festivals were a success with these artists playing.
The years of 2010 and 2011 were more of the same as there were still no international artists that were booked but the fans and festival goers still loved it all. Artists like Cocco, Mongol800, Puffy, and Dragon Ask played during the 2010 AP Bank Fes while in 2011, it would be the likes of Shikao Suga, Funky Monkey Babys, and Naoto Inti Raymi who would take the spotlight on the big stage. It wasn't until the year 2012 that AP Bank Fes was able to bring in an international artist who was none other than Jason Mraz. This international artist fit the green theme of the AP Bank Fes because he has been known to be an advocate of the same sort of causes in his own way and it showed in the messages that his music sent out to his listeners. Aside from Mraz, artists like Crystal Klay and the Gospellers were also present during this festival.
With the show of Jason Mraz during the 2012 AP Bank Fes, more people got excited because they felt like it was going to be the start of more international artists performing for this meaningful event. Unfortunately, this wouldn't be the case because the AP Bank Fes would be canceled throughout the years from 2013 to 2015. It was not canceled due to a lack of interested people. It was canceled because AP Bank decided to focus their resource spending on their other projects that were involved in the reconstruction assistance of the Great East Japan Earthquake. It was definitely a sad announcement at the time but it truly proved and showed that AP Bank was really in it for the betterment of the environment. They could have push through with the event and thousands of people would have still given their money to support the festival but, instead, AP Bank decided to do more good with the cash they had already raised and they made something more concretely helpful with it.
The Rebirth of the AP Bank Fes in 2016 and how it led to the AP Bank Fes 2017 and 2018
The noble reason for why the AP Bank Fes had to stop for a couple of years made its resurrection something that was taken it with more than open arms by the people. It was brought back by the AP Bank in 2016 in the festival called "Reborn-Art Festival x AP Bank Fes 2016". This event was held in the Miyagi Prefecture, particularly in the Ishinomaki Port Hibarino Apache, and it was the first time it was used as the main venue in four years. It happened from July 29 to 31 and The Bank Band played in this festival along with artists like Salyu, Ukasaki, Fujimaka Ryota, LEGO BIG MORL, Cocco, ACIDMAN, and many more. Even the band of one of the founders of the AP Bank played which was the Mr.Children band led by Kazutoshi Sakurai.
As expected, the event was an absolute success and it led to the "Reborn-Art Festival x AP Bank Fes 2017" which happened from July 28 to 30. This event was held in the lakeside park of Michinoku which was where the festival was held 5 years earlier, particularly during the AP Bank Fes 2012. Mr. Children and the Bank Band played once again and were accompanied by artists likes Elephant Kashimashi, Awesome City Club, KICK THE CAN CREW, Chara, and even Mrs. GREEN APPLE. It still had all the environmental lectures about going green and all that other jazz so it was certain that you could learn something useful by going there.
The list of live performers, you can check out the copy of this list of their official website which is "fes.apbank.jp/artist". These artists are still subject to change but more often than not, what you will see on their released list is what you will get during the actual event. Staying active on tweeter may make it easier to catch the minor changes in the line-ups if ever there are any. With all this said, all that is left for you to do now is to save enough money to get your ticket and bring your cameras or phones so that you can make your own documentary of this amazingly innovative event. You can't sell that documentary but it would surely be something you can share privately with friends and family so that they would know that such a unique event has already been existing in this world for almost 2 decades now.