Piss Alley Tokyo Japan
Over the years, Tokyo has always been a favorite destination for travelers all around the world. It is filled with busy streets, tall skyscrapers and most of Japan's workforce. Opposite of the modern world in Tokyo, this city is also filled with alleyway or Yokocho. One of the most famous that is frequented by locals and tourists is the Piss alley, which translates to Shouben Yokocho in Japanese. It is also sometimes called Memory Lane or in Japanese, Omoide Yokocho.
In the 1940s, the Piss alley started out as a drinking place for the locals. It was filled with small yakitori stalls, cheap booze and black market bars that looks more like a cabaret for a hostess. It has earned its name by how the people from the past would just relieve themselves at the nearby train tracks due to lack of restrooms. According to Mr. Sato Yoichi from the Waseda University of Tokyo, after the World War II, the Piss alley became a black market that was born out of economic poverty during that time. In 1999, most of the food stalls and restaurants were severely destroyed by a tragic fire. Fortunately, the local government restored the place and gave a more authentic and antique feel to the place. It is like stepping into another world, particularly Japan during the Showa era.
As of today, this small alleyway is filled with small food stalls that serve delicious and sometimes unconventional Japanese cuisine. It is also a great opportunity to get to know some locals and be able to look into their rich culture. Upon entering the Yokocho, it almost seems like magical especially at night when all the lanterns are lit. This place also loves the camera as it brings out wonderful snap photos and will definitely capture the essence of authentic Japan.
Tokyo map: where is the Piss Alley?
According to some tourists, this hole-in-the-wall is hard to find and easy to miss. It is located at 1 Chome-2-8 Nishishinjuku, Shinjuku. The Yokocho can be reached through the east or west exit of JR Shinjuku station by walking approximately for 2 minutes. The Shinjuku Station can be accessed through the following train lines JR Yamanote Line, JR Chuo Line, JR Sobu Line, JR Saikyo Line, JR Shonan-Shinjuku Line, Tokyo Metro Marunouchi Line, Toei Shinjuku Line, Toei Oedo Line, Keio, and Odakyu line.
It is important to get familiar with the way to the alley. From the east exit of the Shinjuku station, there is an underpass pedestrian exactly at the left side. The underpass can be seen before reaching the road. By following the path of the underpass after around a minute of walking, the sign of the Omoide Yokocho can be found.
From the west exit of the Shinjuku station, walk along the right side with the Keio department and Odakyu department at sight. Then, walk straight up to the Uniqlo building. At the back of the building, the neon sign of the Omoide Yokocho can be seen.
Piss Alley: Tokyo opening hours
Since it is a favorite leisure spot not only for the tourists but also for the working class of Japan, the place is basically alive during the night. For the locals, it serves as their time to unwind before they go home. It normally opens in the late afternoon around 3 or 4 and stays open until midnight. Though, there are stalls and restaurants until the wee hour of the morning.
Wiki: Piss Alley Tokyo
The Wikipedia provides a lot of information about a certain place. One type of information it can provide is the hotel accommodations. There are several hotels available that can be rented throughout Tokyo. For budget-friendly places, there are Sakura Hotel, Ten Ten Guesthouse, Tokyo International Hostel, Green Plaza capsule hotel, Ace Inn Shinjuku and many more. For the middle range priced hotels there are Hotel Sunlite Shinjuku, Hotel Sunroute Plaza Shinjuku, and New City Shinjuku, Tokyu Stay Yotsuya and Kadoya hotel. For the luxury hotels, the choices are the Hyatt Regency Tokyo, Keio Plaza Hotel, and Park Hyatt Tokyo. For rental apartments, the available choices are Sakura house and Private Garden Suite.
Piss Alley versus Tokyo Golden Gai
Near the Kabukicho area lies the drinking and nightlife sanctuary for the locals and tourists. Some years ago, it was a known red light district and a place for prostitution. This shabby looking alley is another favorite go-to place for locals, musician, tourists and even celebrities. English signs and price lists are placed outside the Golden Gai to be able to get more foreign customers, though the regular customers would usually be frequent at this place.
Inside this district, there are over 200 small bars and food stalls that can accommodate only up to 8 people. Despite the ramshackle look, the place is not cheap as one can expect and generally attracts well-off people. For example, the typical charge for drinks would be around 1,000 Yen and seating charge needs to be also for another 1,000 Yen. The exact location is at 1 Kabukicho, Shinjuku-ku, Tokyo 160-0021. From the east exit of JR Shinjuku station, it is a 10-minute walk along Yasukuni Dori.
Piss Alley Tokyo food
A tourist's visit to Tokyo would not be complete without visiting the Piss Alley. Though it is not really a tourist type of place, it has gained the curiosity of foreigners and is now a part of the itinerary guide. This place has attracted people because of their authenticity and the Japanese cuisine it offers. Though, Omoide Yokocho has a number of Yakitori or Sukiyaki place.
The place also offers Yakiniku or grilled meat like beef, soba, sushi and ramen. Aside from delectable Japanese food, they also have various Izakaya place or Japanese style bars. The casual food diners or coffee shops are also a must try in this area. Since the alley is just narrow so there is really no place for a big restaurant. Tiny eateries are famous here, normally a long table and few chairs.
Piss Alley Tokyo: Home of the yakitori
A yakitori is a Japanese term for skewered chicken meat that is cooked over a charcoal fire. Once cooked, it is dipped into the tare sauce. Yakitori can take many forms such as momo or grilled chicken thigh, sasami or grilled gizzard, sasami or grilled chicken breast, negima that is a combination of chicken and spring onion, tsukune or chicken meatballs, kawa or chicken skin that is grilled until it turns crispy, tebasaki or chicken wings, bonjiri or chicken tail, shiro or chicken small intestines, nankotsu or chicken cartilage, kokoro or chicken heart, reba or chicken liver, and yotsumi, which are pieces of chicken breast.
The most famous go-to place for Yakitori in the Omoide Yokocho is the Agasshai. The two-floor restaurant is located at 1-2-8 Nishi-Shinjuku, Shinjuku Ward, Tokyo. It is popular among the tourists and locals because aside from a feasible large eating area (compared with the other Yakitori place), they only serve high-quality chicken meat. Their chickens were raised specifically in Daisen City in Tottori Prefecture and only given clean water and natural feeds. Also, they cook it over a high-quality charcoal called Bincho. Then, to top it all off they also serve a traditional sake to complement the flavorful meat.
Piss Alley Tokyo restaurants
Asadachi
For those who are a little adventurous when it comes to food, the Asadachi is the place to be. The word Asadachi literally means morning wood. They serve an odd and extremely bizarre menu and definitely not for the soft-hearted. Though, some people would eat here for the belief that it cures ailments and is supposed to enhance a person's virility, or in other words stamina food.
The list of food on their menu include frog sashimi, horse penis, grilled salamander and a pig's testicle. In addition to this, they also serve soft-shelled turtles, a frog's heart that is still beating, horse meat (penis) and snake liquor. The food is prepared right in front of the customers (in short, it is killed on the spot) to assure that they only serve the freshest odd food there is. It is located at 1-2-14 Nishi-Shinjuku.
Wakatsuki
Of course, Japan experience would not be complete without eating a warm and hearty bowl of Ramen noodles. In the Omoide Yokocho, the Wakatsuki is the choice of place for eating ramen that has been in the business of providing delicious ramen for over 50 years. They only serve hot ramen with light and well balance seasoned soup.
The homemade ramen noodles are submerged in their soup, which is a soy-sauce based flavor. The homemade menu includes yakisoba (noodles that are fried on an iron grill and generously mixed with sauce), cha-shu (pork fillet that is cooked through roasting), memma (pickled bamboo shoots), onsen-tamago (soft boiled egg), and gyoza (Japanese version of dumplings).
The small restaurant is located at 1-2-7 Nishi-Shinjuku, Shinjuku-ward. They operate 6 days a week from Monday to Saturday and is normally close on Sunday. They accommodate customers from 11 in the morning to 1 in the morning the next day. Their food is not only amazing but also very cheap. A bowl of handmade ramen noodles is around 450 Yen. While a 6-piece plate of gyoza is priced at 350 Yen and the yakisoba is sold for 380 Yen. It is better to reserve a seat through phone since they could only accommodate 13 customers at a time.
Gyoza no Antei
For over 50 years in the business, they serve dumplings that are worth the travel. The place can accommodate at most 78 people, so parties for a special occasion can be held here. It is located on the 2nd floor of Tokyo Five K building marked in the map at 1-2-1 Nishi-Shinjuku. During weekdays, the time it is open is from 11:30 in the morning to 3 in the afternoon for lunch and dinner is served from 5 PM to 11:30 PM. Then, for Saturday, Sunday and holidays the operating hours are from 11:30 AM to 11:30 PM.
Isuzu
The Isuzu is another yakitori place in the Yokocho. Their very own version of grilled chicken skewer oven charcoal fire is especially dipped into their original sauce recipe. In addition to this, they also serve draft beer, soda drinks, and side dishes. The good thing about this place is that the owner is very hands-on that assures the best quality of the food being served. It is located at 1-2-7 Nishi-Shinjuku, the two-floor eatery can accommodate at most 30 people at a time. The Isuzu is open during weekdays and Saturday from 4 PM to 11:30 PM.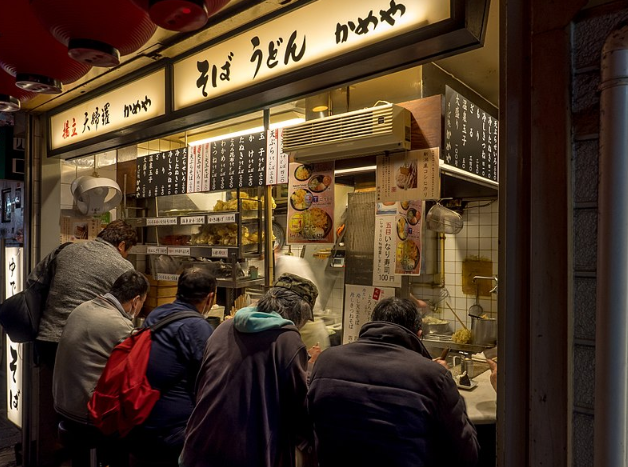 Daikoku-ya
This restaurant along the alley of omoide serves sake like no other. From their wide selection of sake from every part of Japan, any guest will surely enjoy it with the food. Aside from their fresh sashimi, they also sell their very own version of a homemade omelet. They are open every day except on Mondays. During weekdays, they operate from 4 PM up until 12 midnight. While during Sunday and holiday except it to be open a little earlier at 3 PM and closes by 11:30 PM. This restaurant can accommodate at least 62 guests.
Tajima-ya Coffee shop
For the coffee lovers, this place would definitely awaken their palates. This humble little coffee shop offers freshly brewed home-roasted coffee. The original blend coffee that is considered their specialty is sold for 700 Yen. Also, they serve tea and different variants of cakes. The shop is located at 1-2-6 Nishi-Shinjuku. The shop operates every day, 7 times a week from 10 AM to 11 PM. The shop can receive at least 45 guests at a time.
ALBATROSS
This is a sophisticated bar along the Piss alley and attracts guests by its decorative candles and chandelier. This place is popular to get drinks, beers, and cocktails. Also, the second floor caters to an art gallery. For a reasonable price, customers should pay 300 Yen for the table and around 500 Yen for the drinks. Their most popular drink is the Shogure. While the must try is their original drink called Yasu Magic. This bar is open every day and operates until 5 in the morning during Friday and Saturday.