The Legacy of Honda in Japan
Honda is one of the most popular Japanese brands of vehicles in the world. It is a conglomerate known internationally that designs, manufactures, and distributes not just cars but trucks, vans, equipment, machinery, motorcycles, and aircraft. It is actually known to be the second-largest manufacturer of automobiles in Japan and currently ranks eighth in the world.
It was originally established in the late 1930s as a small firm that manufactures piston rings in a small garage of the founder, Soichiro Honda. Now more than seven decades later, it is a trillion-yen company with employee cunt reaching up to around two hundred thousand all over the world. They have diversified their products from piston rings to luxury vehicles, jets, equipment, generators, and other machinery. Their latest ventures even include robotics, solar cells, and telematics – leagues away from where Honda all started.
Popular Honda Vehicles
Honda Fit
The Honda Fit is a car model categorized as a supermini type that was first manufactured in 2001. It instantly became popular with the local and international consumers due to its efficiency and performance despite its size. It is normally branded as Fit in countries like Japan, Taiwan, China and the United States. While, it is called Jazz in other parts of Asia, Europe, and Africa. It is a 5-wheel hatchback 4-wheel drive car. The first generation was produced from the year 2001 to 2008. It was equipped with 1.2 Liter Petrol, 1.3 L Petrol, and 1.5 L Petrol engine. The central fuel tank was located in the front contrary to normal, which was in the rear. In addition to this, it was also made with a 5-speed manual transmission, 5-speed automatic transmission, and continuously variable transmission (CVT). The dimensions of the car were measured at 3,845 mm for the length, 1,675 mm for the width, and 1,525 mm for the height.
The second generation that came out from 2007 to 2014 was a little bit longer and wider than the first generation. It was first introduced in October of 2007 at the Tokyo Motor Show. Aside from the usual, a 6-speed manual transmission was also available. In 2010, Honda also released a hybrid version of the Jazz model. Then, in 2011, the Fit Shuttle came out that was a hybrid of the station wagon. The third generation was first manufactured in 2014 and is continuously being produced until today. It is available with the new I-VTEC engine and also a 1.5 L D-TEC diesel engine. Moreover, it has an additional 7-speed semi-automatic transmission (DCT).
Honda s660
For the car enthusiasts, the Honda s660 is quite popular. It is a two-seater sports car that was first manufactured by Honda in the year 2015. It runs on the S07A engine and matched with both a 6-speed manual and 7-speed manual transmissions. It is very lightweight (ranges at 830 to 850 kg) that it makes the vehicle maneuverable. The measurements of this model, which are within the Kei car category limit, is at 3,395 mm for the length, 1,475 mm for the width, and 1,180 mm for the height. As of today, the price range for this model is at around $17,000 to $26,000.
Honda NSX
The NSX model of Honda is categorized as a sports car that was first produced in 1990. The word NSX has a meaning of N for New, S for Sports car and X for unknown world or variable. The first generation that was manufactured with an all-aluminum body that was powered by a 3.0 L VTEC engine. The new engine introduced the VTEC system that has either a 5-speed manual transmission or 4-speed automatic transmission.
Then, in the year 2016, the second generation came out showcasing a whole new level of performance. The new unveiled vehicle was a four-wheel drive, 2-door coupe sports car. It is powered by a 3.5 L Twin Turbo with three electric motors (two at the front and one at the rear) that have an output of 573 hp. Moreover, it has a dual clutch 9-speed transmission that boosts its acceleration effectively. The new model has the dimensions of length at 4,470 mm long, 1,940 mm wide, and 1,215 mm tall. Currently, the base price for the Honda NSX 2018 is around $158,000.
Honda Vezel
A crossover SUV was also created by Honda in the year 2013. In other international markets, it is sometimes branded as Honda HR-V. It is a 4-door, all-wheel-drive SUV that is available in both 1.5 L and 1.8 L iVTEC in-line engines. In addition to this, it has maintains a 7-speed continuously variable transmission or CVT. The dimensions of the Vezel model is measured at 4,295 mm for the length, 1,770 mm for the width, and 1,605 mm for the height. There was a news that the July 2013 to February 2014 Honda Velez models that were produced has to be recalled. This is due to a program glitch in the transmission that caused the vehicle not to move. Several units were recalled but it did not affect the sales of Honda.
At present, the new 2018 model has a facelifted design that features an enhanced LED headlights and front bumper. At present, the price range for the Vezel model is at around $30,000 to $35,000. It is believed to be a combination of some features of the SUV, the luxurious facet of the coupe, and the efficiency of a mini-van. The Honda Velez Hybrid is also available in a 7-speed dual clutch transmission with an enhanced high-powered engine.
Honda Freed
The Honda Freed is under the class of mini-van or multi-purpose vehicle (MPV) that was debuted during the year 2008. It has different variations that include a seven-seat version, an eight-seat version, and a five-seat version. The first generation of the Honda Free models was produced from the year 2008 to 2016. It was a 5-door MPV all-wheel drive vehicle that was equipped with a 1.5 L engine. Thus, it produced approximately 118 horsepower and matched with 5-speed automatic CVT. The dimensions were at 4,215 mm for the length, 1,695 mm for the width, and 1,715 mm for the height. An exclusive series was released in 2010 that was sold only to the Japan market, the model was called Freed Spike.
The second generation was first introduced in 2016 and is continuously being produced up to the present. It is a 5-door mini multi-purpose van that is powered by a 1.5 Liters i-VTEC engine. In addition to this, it has 7-speed automatic continuously variable transmission. The dimensions of this model are 4,265 mm to 4,295 mm for the length, 1,695 mm for the width, and 1,710 mm to 1,735 mm for the height. In fact, there is a 5-seater option, Freed+ that was created as a replacement for the Freed Spike. The price range for the 2018 Honda Free model is around $26,000 to $28,000.
Knowing the Honda Classics
Honda Civic
This line of cars is probably one of the most popular and affordable in all of Honda's line of cars. It is designed to be sub-compact which could cater to the daily driver. It could be used by individuals and small families on their daily commute. It could easily be thought of as the people's car since it was highly sellable to ordinary individuals wanting cars, not only in Japan but all over the world. It was first introduced in 1972 and its production continues up to present, proving the ever durability and sustainability of the Honda Civic.
Honda CRV
This is one of the most popular compact crossover cars in Japan. It has an SUV body with a 4-seat capacity. Compared to normal sedan-type vehicles, the CR-V has a much larger interior. According to the designers at Honda, the term CR-V stands for Comfortable Runabout Vehicle. It was originally released in 1995 and is still ongoing production to present. What it is raved so much about is the fact that it is ranked five-star for safety by the National Highway Traffic Safety Administration (NHTSA) in the US just in 2017.
Honda Accord
The Honda Accord is pretty much Honda's Luxury Classic which is the top-of-the-line variant of sedan-type vehicles that Honda produces. It was originally introduced in 1976, a few years after the Honda Civic and is continuously produced up to present. For the decades that it has been in production, there had been a number of variants for the Accord like cross-overs and hatchbacks
The Honda Accord is also one of the most sellable vehicles that Honda has to offer its clientele. Since its production, annual sales don't go less than 300,000. Also, through the years, it became one of the most award-winning variants of Honda vehicles. Just in 2018 alone, it has been dubbed as "Canadian Car of the Year" and "North American Car of the Year".
Honda Motorcycles
In the world, Honda is known as one of the most popular motorcycle manufacturers of all time. It exceeds in sales of popular brands like the Ducati, Harley-Davidson, and BMW. In fact, in 2014, it was dubbed as the top-selling brand in the world. Among the known factors affecting its sales is the fact that it is among the most affordable of all. It provides quality parts, unparalleled services, and top-of-the-line experience for a very low price.
Honda Motorcycles are quite popular in Asia, for it is one of the most viable means of transportation in the region. It is said that in Vietnam, one in every 2.5 people own a motorcycle. In Thailand, a third of the population actually own a motorbike or two. Because of this, there are numerous assembly plants for Honda in Asia. This makes their products much more affordable and easily available to the consumers.
Honda Jet: Honda's Prime Aircraft
The HondaJet or the HondaJet HA-420 is the first lightweight airplane designed, developed, and manufactured by Honda. Their goal was to diversify their products which are seen in how they tap into other fields like aircraft production and robotics. The HondaJet was originally designed in the late 1990s where the prototype first flew in 2003. After further improvement and production, it started to be widely manufactured in 2015. Each unit costs roughly 4.9Million USD.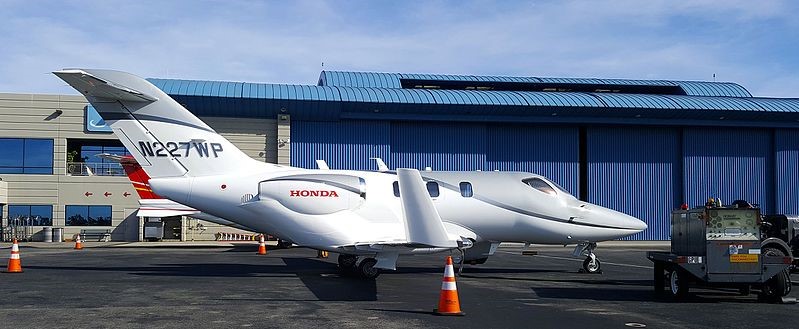 Honda Offices outside Japan
There are a number of Honda assembly plants all over the world despite having its main headquarters in Minato, Tokyo, Japan. Since the beginning of its sales increase in the 1950s, millions of Honda units are being sold in different parts of the world. Because of this, they have opened up assembly plants in many parts of the globe.
Honda in Europe
Honda may not be as popular in Europe than in other places in the world but they can still sell hundreds of thousands of cars and motorcycles in these countries. Impressively, the largest sales Honda has in Europe are machinery and equipment which sells by the millions. There are assembly plants in the United Kingdom and Belgium.
Honda in Asia (Thailand, Philippines, China, and More)
Maybe due to proximity, but Honda is quite popular in Asia for which their main selling point would be motorcycles. In a year, they are able to sell about 14 Million units of motorcycles all over Asia. There are also so many assembly plants here. There is one in the Philippines and another in Taiwan. Sometimes, there are more than one assembly plants in certain countries like Thailand, Indonesia, and India where the sale of motorcycles are very high. There are also a number of plants in China, where the sales of cars and motorcycles reach millions every year.
Honda in North America
What sells the most in North America is the equipment that Honda could offer. These pumps, engines, and other machinery are widely used in agriculture and farming, especially for countries that mass produces goods with the help of machines. There are assembly plants in Ohio and Alabama in the US and Ontario in Canada.